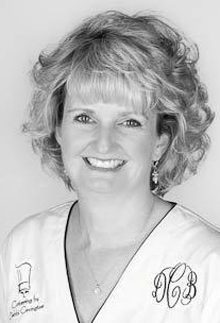 I didn't grow up eating lamb. In eastern North Carolina we regularly dined on fried chicken, barbeque and chicken and dumplings. In fact, Vince and I had been married for several years before I tasted my first lamb at a restaurant in Charleston, SC. It was love at first bite!
Rack of lamb, leg of lamb, lamb chops – they're all wonderful! I especially like this simple recipe for rack of lamb that has been frenched and sliced into lollipop chops. Besides being a delicious entree, the lollipops can also be served as a fun-to-eat hors d'oeuvre.
My recipe for tzatziki-like sauce is made with sour cream and dill but could easily be substituted with Greek-style yogurt and fresh mint.
Mediterranean Salad and Oven-Roasted Cauliflower are excellent accompaniments for a quick and delicious dinner. All you need to complete the meal is a glass (or bottle) of pinot noir or merlot. Enjoy!
Crunchy Lamb Lolliops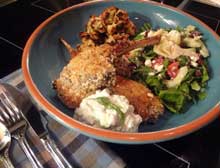 For the tzatziki sauce:

1 cup sour cream

2 tablespoons chopped fresh dill

2 cloves garlic, minced

1 shallot, minced

1 tablespoon fresh lemon juice

Salt

Freshly ground black pepper

For the lamb:

2 tablespoons Dijon mustard

1 clove garlic, minced

2 teaspoons fresh thyme, chopped

1 (1¼ pound) rack of lamb, frenched and cut into lollipop chops

Salt and pepper, to taste

1 cup panko bread crumbs

In a small bowl, combine mustard with garlic and thyme. Sprinkle lamb with salt and pepper on both sides. Spread mustard mixture on both sides of seasoned lamb and refrigerate for up to 6 hours. Preheat oven to 450 degrees. Just before cooking, pat panko on top of mustard mixture on both sides of lamb lollipops. Place lamb on a lightly greased baking sheet and bake for 5 to 7 minutes, turn and bake for an additional 5 to 7 minutes or until just crispy for medium-rare. Let rest for 5 minutes before serving. Serve with tzatziki sauce on the side. Serves 3 to 4.
Mediterranean Salad

For the vinaigrette:

6 tablespoons olive oil

1 teaspoon garlic powder

1 teaspoon dried oregano

1 teaspoon dried basil

1 teaspoon Dijon mustard

1 teaspoon fresh lemon juice

½ cup red wine vinegar

For the salad:

1 head romaine lettuce, torn

1 large cucumber, peeled, seeded, halved and sliced

8 to 12 cherry tomatoes, quartered

12 artichoke hearts, halved

½ cup sliced kalamata olives

4 ounces feta cheese, crumbled

Fresh dill

In a small bowl, whisk vinaigrette ingredients together until well mixed; set aside. Place lettuce, cucumber, tomatoes, artichoke hearts and olives in a large salad bowl. Dress with vinaigrette; toss to coat. Top with feta cheese and season to taste with fresh dill. Serves 6 to 8.

Oven-Roasted Cauliflower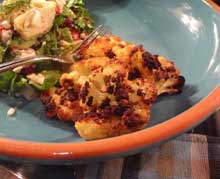 1 head cauliflower

4 tablespoons olive oil

¼ – ½ teaspoon salt

Preheat oven to 425 degrees. Cut cauliflower into florets, about the size of ping pong balls. In a large bowl, combine the olive oil and salt; whisk, then add the cauliflower pieces and toss thoroughly. Line a baking sheet with aluminum foil. Spread cauliflower pieces evenly on baking sheet and roast for 1 hour, turning the pieces every 20 minutes, until most of each piece has turned golden brown. Serve immediately. Serves 3 to 4.
The writer owns Catering by Debbi Covington and is the author of two cookbooks, Celebrate Everything! and Dining Under the Carolina Moon. Debbi's website address is www.cateringbydebbicovington.com. She may be reached at 525-0350 or by email at dbc@cateringbydebbicovington.com.