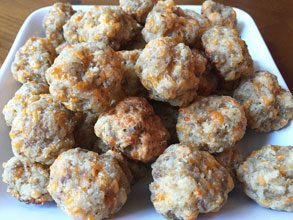 Christmas may be over, but the New Year's bashes are just beginning. Pop open a bottle of champagne, invite some friends over and enjoy these easy and delicious party nibbles. Happy New Year!
Cream Cheese Sausage Balls
1 pound hot sausage, uncooked
1 (8-ounce) package cream cheese, softened
4 ounces shredded cheddar cheese
1¼ cups Bisquick
Preheat oven to 375 degrees. Mix all ingredients in a large bowl until well combined. Roll dough into 1-inch balls and place on lightly greased baking sheet(s). Bake for 15-17 minutes or until browned. Serve hot. Makes about 60.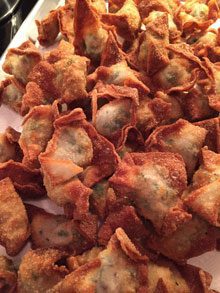 Beef Wontons
1 pound ground beef, uncooked
1 cup bean sprouts
1 (1.4-ounce) package (Lipton or Knorr) Vegetable Soup Mix
1 (10-ounce) package frozen chopped spinach, thawed and squeezed dry
1 tablespoon white wine
½ teaspoon finely minced fresh ginger
Refrigerated wonton wrappers
Vegetable oil, for frying
In a medium bowl, combine ground beef, bean sprouts, soup mix, spinach, wine and ginger. Place 1 teaspoon of filling mixture on center of each wonton wrapper and fold over diagonally to seal. Heat oil in a deep and heavy pot to 375 degrees. Drop wontons in hot oil, a few at a time, and fry until golden brown. Drain on paper towels. Serve hot with sweet and sour sauce. Makes about 45.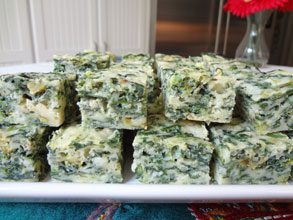 Spinach Squares
4 tablespoons butter, melted
3 eggs
1 cup all-purpose flour
1 heaping teaspoon baking powder
1 cup whole milk
1 scant tablespoon salt
White pepper, to taste
1 pound monterey jack cheese, grated
1 small onion, grated
2 (10-ounce) packages frozen chopped spinach, thawed and squeezed dry
Preheat oven to 350 degrees. Melt butter in the oven in a 9×13-inch backing dish. In a large bowl, beat the eggs and add the flour, baking powder, milk, salt and pepper. Mix well. Add the cheese, onion and spinach and mix well. Pour the mixture into the baking dish and bake for 35 minutes. Cool slightly. Cut into small squares and serve hot. Makes 24.

Blue Cheese and Walnut Crostini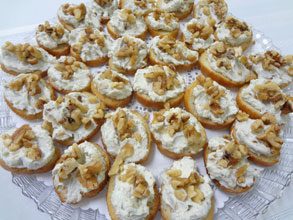 1 cup crumbled blue cheese
8 ounces cream cheese, softened
3 tablespoons heavy cream
1/3 cup walnuts, chopped
1 loaf French bread (12-inches long), cut into 1/2-inch slices
1/3 cup extra virgin olive oil
Chopped walnuts, to garnish
Combine cheeses, heavy cream and walnuts. Mix well; set aside. Brush both sides of each bread slice with olive oil. Preheat broiler; broil bread slices until lightly browned on both sides, turning them once. Spread each slice with the cheese mixture; garnish with chopped walnuts. Serve 2 slices per person. Serves 6.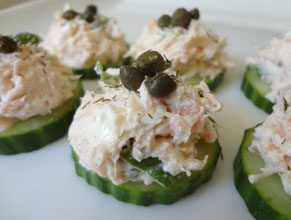 Salmon Canapes
1 (4-ounce) salmon filet
1 (8-ounce) package cream cheese, softened
1 tablespoon prepared horseradish
¼ cup mayonnaise
3 green onions, chopped
¼-½ teaspoon dried dill weed
Salt and pepper, to taste
2 English cucumbers, sliced
Capers, to garnish
Season salmon with salt and pepper. Bake in a preheated 350 degree oven until fish flakes easily with a fork. Cool to room temperature and break into small pieces. In a medium bowl, mix cream cheese with horseradish, mayonnaise and green onions. Add salmon and combine. Season with dill weed, salt and pepper. Chill until ready to serve. Place dollops of salmon mixture on cucumber slices. Garnish with capers. Makes about 40.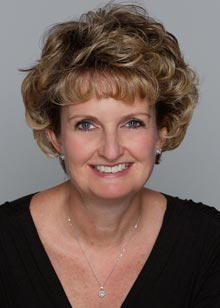 The writer owns Catering by Debbi Covington and is the author of two cookbooks, Gold Medal Winner of the Benjamin Franklin Award, Celebrate Everything! and Dining Under the Carolina Moon. Debbi's website address is www.cateringbydebbicovington.com. She may be reached at 525-0350 or by email at dbc@cateringbydebbicovington.com.