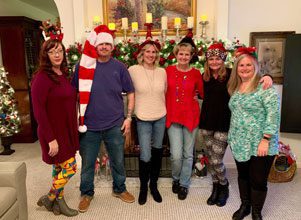 2020 started out as a slap-bang year for catering. I had parties booked from January through December. Unfortunately, around the middle of March, like with most event businesses, Covid-19 started ruining lots of party plans. During the entire 33 years that Catering by Debbi Covington has been open, I've done all of the cooking. I don't have an on-site staff. However, I could never do what I do without the help of my "trusty sidekicks." I'm blessed to have an event staff that assists me off premises at actual events. Melissa, Tami, Miriam, Rob and Ellen are all professionals. All five of them work full-time jobs that have nothing to do the food business. For the past six years, they've been my event support, doing everything from assembling hors d'oeuvres, serving, bartending, cleaning up and keeping me sane. We have such a good time together and if you've ever attended one of my events you can understand why I appreciate them so very much. The six of us hit a busy patch in October and catered a number of dinners and small parties until the second way of Covid-19 reared its ugly head once agains. With Christmas on the way, the holiday season seemed like a good time to thank the darlings that are more than partly responsible for my catering success. The recipes and photos in this issue are from our staff Christmas party in 2019. We have plans for a small, masked and socially distanced 2020 get together later in December. When Covid-19 is behind us, we'll have much to celebrate. And when celebrations begin again, my "trusty sidekicks" and I will be there with delicious food and fabulous service. That's our promise.
P.S. Are you looking for some delicious Christmas desserts? Be sure to check out the LCW Holiday Guide in this issue for three more fabulous recipes. Merry Christmas!
Christmas Party Sausage Balls
Cream cheese sausage balls loaded with cheddar, bacon and ranch seasonings.
Seriously the best sausage balls you'll ever eat!
1 pound bacon, cooked and finely chopped (about 1¼ cups)
1 pound breakfast sausage, uncooked
1 (8-ounce) package cream cheese, at room temperature
1½ cups grated sharp cheddar cheese
1½ cups baking mix (Bisquick)
1 (1-ounce) package ranch dressing mix
Bottled ranch dressing, for dipping
Preheat oven to 375 degrees. Mix all ingredients in a large bowl until well combined. Roll dough into 1-inch balls and place on a lightly greased baking sheet. Bake for 10 to 13 minutes or until golden brown. Serve warm with bottled ranch dressing for dipping. Makes 55 to 60 appetizers.
Grapefruit Salad with Honey-Lime Vinaigrette
I used no-sugar added red grapefruit premiums that are sold in jars in the produce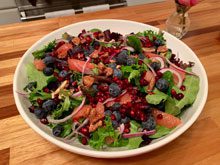 section of the grocery store.
For the vinaigrette:
¼ cup red wine vinegar
1 tablespoon Dijon mustard
1 tablespoon lime juice
1 tablespoon honey
1/8 teaspoon salt
¼ teaspoon black pepper
1/3 cup extra-virgin olive oil
For the salad:
6 cups mixed salad greens
½ small red onion, thinly sliced
1 cup grapefruit sections
1 cup fresh blueberries
½ cup pomegranate arils
¼ cup chopped pecans, toasted
Combine the first 6 ingredients in a small jar with a tight-fitting lid. Shake well to mix. Set aside until ready to serve. Place salad greens on a serving platter. Top with red onion slices, grapefruit, blueberries, pomegranate arils and toasted pecans. Drizzle with vinaigrette. Serves 6 to 8.
Roasted Beef Tenderloin
Always a favorite!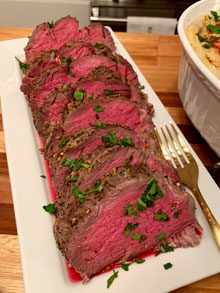 1 whole (4 to 5 pounds) beef tenderloin, trimmed and tied*
1/3 to ½ cup Monterey steak seasoning
*Ask your butcher to trim and tie the tenderloin. Preheat oven to 450 degrees. Cover a baking sheet with aluminum foil for ease in cleaning. Spray foil lightly with cooking spray. Place trimmed and tied tenderloin on baking sheet. Coat all sides liberally with steak seasoning. (You can't over-season the beef tenderloin. More is better.) Place prepared tenderloin in preheated oven. Cook for 30 to 35 minutes. Remove from oven and immediately cover tenderloin with aluminum foil. Press foil around sides of tenderloin to retain the heat. Let meat rest under the foil for 30 to 45 minutes. The tenderloin will continue to cook under the aluminum foil. Transfer to a carving board and slices into steaks. Serves 12 to15.
Easy Cabernet Gravy
Double or triple this yummy recipe to accommodate a crowd.
½ cup cabernet savignon
½ cup beef broth
1 (0.87-ounce) package brown gravy mix
Add the wine and beef broth to a small saucepan. Add brown gravy mix and stir to combine. Cook over medium-low heat, stirring constantly for 3 minutes. Remove from heat. Gravy will thicken upon standing. Serves 4.
Mashed Potatoes Chantilly
Over mashing potatoes turns them into a sticky mess. The trick is to mash the spuds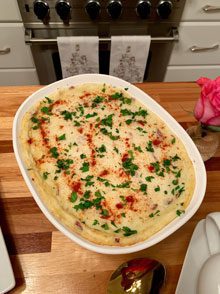 with an electric mixer just enough to break up the lumps, then fold in the milk, butter, sour cream, and seasonings by hand.
8 to10 medium red skinned new potatoes, skin on
½ cup milk
8 tablespoons butter
½ cup sour cream
Salt
Pepper
Slice potatoes ¼-inch thick. Cook in boiling water for 15 minutes or until fork-tender. Whip unpeeled cooked potatoes with electric mixer; mix until moderately smooth. Add hot milk, butter, and sour cream. Whip until mixed. Adjust thickness by adding more milk. Salt and pepper to taste. Serves 6 to 8
Tiramisu
1¾ cups heavy whipping cream
2 (8-ounce) containers mascarpone cheese, at room temperature
½ cup sugar
1 teaspoon vanilla extract
2 cups very strong coffee, cooled
2 tablespoons rum or brandy, optional
2 dozen ladyfingers
Cocoa powder, for dusting
Beat the whipping cream until stiff peaks form; set aside. Mix the mascarpone, sugar and vanilla, until well-combined. Add in the whipped cream and beat again until smooth. Stir the coffee and liquor together. Lightly dip each ladyfinger into the coffee mixture. Do not soak or the ladyfingers will be soggy. Place half of the ladyfingers in a single layer in a square baking dish. Spread half of the cream mixture over the ladyfingers. Repeat with another layer of ladyfingers and cream. Refrigerate for 4 to 6 hours. Dust with cocoa powder before serving. Serves 9.