A few weeks ago, Vince and I invited two dear friends over to our house for an old-fashioned family supper and game night. Vince found a board game called Smart A** almost a year ago and the four of us had been talking about playing it for months. Smart A** is a "Who am I?" "What am I?" "Where am I?" question and answer game for ages 12 and up. It's very fun and very kid friendly. I must admit however, some of the questions, aka Hard A** questions, were kind of tough.
Since the game had a donkey/burro on the box cover, and since I like to always have an event motif, I opted for a Mexican themed menu. We began our evening with Mexican Mules, ended with Un-Fried Ice Cream Cake and ate lots of yummy offerings throughout the evening. We enjoyed several rounds of Smart A** and still have a pile of question cards that we didn't get to play. I'm thinking we'll have to host a rematch very soon. 
P.S.  We practiced social distancing, washed our hands multiple times – and we're all four safe and healthy more than a month later. Life goes on.
Mexican Mule
Simple and delicious, this Mexican Mule will give your favorite margarita a run for its money!
½ cup Tequila (I used Reposada)
1 tablespoon freshly squeezed lime juice
16 ounces pineapple juice
4 ounces ginger beer
Fresh pineapple, cubed
Fresh lime slices, to garnish
Mix all ingredients in a small pitcher. Serve over ice. Garnish with pineapple and lime. Serves 4.

Cilantro Lime Shrimp and Avocado Salad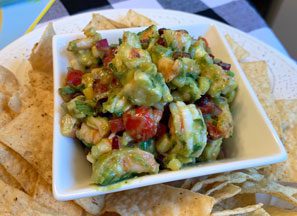 This salad is very easy to make, light and refreshing in flavor, and can be made in minutes. It's the perfect low-calorie meal or side dish if you're looking for something simple and quick.
For the dressing:
¼ cup freshly squeezed lime juice
2 tablespoons extra-virgin olive oil
2 cloves garlic, minced
¼ teaspoon sea salt
¼ teaspoon freshly ground black pepper
¼ cup chopped fresh cilantro 
For the salad:
1 pound medium shrimp, cooked, peeled and deveined
½ cup cooked corn kernels
½ cup black beans, rinsed and drained
1 cup grape tomatoes, diced
¼ cup diced red onion 
1 avocado, pitted and mashed
Salt and pepper, to taste
Tortilla chips
Place dressing ingredients in a small bowl and whisk together until combined. Cut shrimp into bite-sized pieces. In a large bowl, combine all of the salad ingredients, adding the shrimp and avocado last. Add the dressing. Toss to coat. Season with salt and pepper, if needed. Serve with tortilla chips. Serves 4 to 6. 

Mexican Watermelon Salad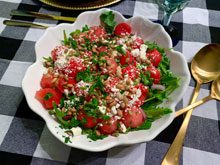 Fresh watermelon salad gets a makeover with crunchy pepitas, salty queso fresco, fresh cilantro and a tangy lime vinaigrette. Perfect for any Mexican fiesta!
For the vinaigrette:
2 tablespoons white wine vinegar
1 tablespoon freshly squeezed lime juice
2 tablespoons olive oil
1 teaspoon honey
Salt and pepper, to taste
For the salad:
3 cups arugula
¼ cup thinly sliced red onion
2 cups fresh watermelon (balls or cubes)
½ cup queso fresco or feta cheese, crumbled
¼ cup chopped fresh cilantro
½ cup roasted pepitas
In a small bowl, whisk together vinaigrette ingredients. Place arugula in a serving bowl. Top with onion, watermelon, queso fresco, cilantro and pepitas. Drizzle with vinaigrette before serving. Serves 4.

Chorizo Meatloaf with Spicy Queso Sauce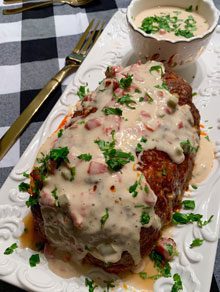 Who doesn't love meatloaf? This Mexican version is the ultimate comfort food! I used Ro*Tel diced tomatoes and green chiles. 
For the meatloaf:
1 pound lean ground beef (85/15)
1 pound Mexican ground chorizo
½ medium sweet onion, diced
3 cloves garlic, minced
1 teaspoon ground cumin
1 egg
2/3 cup panko bread crumbs
½ (10-ounce) can diced tomatoes with green chiles, drained 
For the queso:
1 (15-ounce) jar queso blanco
½ (10-ounce) can diced tomatoes with green chiles, drained
Chopped fresh cilantro, to garnish
Preheat oven to 350 degrees. In a large bowl, mix all of the meatloaf ingredients together. Mix well. Place mixture on a baking sheet lined with aluminum foil and form into a loaf. Bake in preheated oven for 60 to 75 minutes or until a thermometer inserted in the center reaches 165 degrees. Heat queso in a small saucepan. Stir in drained tomatoes with green chiles and cook until heated through. When meatloaf is through cooking, transfer to a serving platter. Spoon queso over the top and sprinkle with chopped cilantro. Slice meatloaf and serve with remaining queso on the side. Serves 6 to 8.

Cilantro-Lime Cauliflower Rice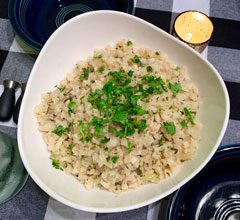 Enjoy this cauliflower rice as a side dish or as a base for a favorite Mexican recipe.
1 tablespoon olive oil
½ cup sweet onion, chopped
2 cloves garlic, minced
12 ounces riced cauliflower
½ cup chicken or vegetable broth
½ teaspoon salt
½ teaspoon ground cumin
½ cup chopped fresh cilantro, divided
Juice of 1 lime
Heat olive oil in a large skillet. Add the onion and saute over medium heat until they are soft and translucent. Add garlic and cook until garlic becomes fragrant, stirring constantly. Add the cauliflower to the skillet. Stir to mix well. Add the chicken stock, salt, cumin and half of the cilantro. Cook for several minutes until cauliflower begins to get tender. Add lime juice. Taste and season with more salt, if needed. Stir in the remaining cilantro. Continue to stir until warmed through. Serves 4 to 6.
Mexican Street Corn 
Yummy! Yummy! Yummy!
4 ears fresh corn 
4 tablespoons butter, melted
½ cup grated Parmesan cheese 
Zest of 1 lime
Salt and pepper, to taste
Fresh lime wedges
Grill or roast corn until cooked through. Brush hot corn liberally with melted butter and roll each ear in grated Parmesan cheese. Place on a serving platter. Top with fresh lime zest and season with salt and pepper. Squeeze fresh lime over corn just before serving. Serves 4.

Un-Fried Ice Cream Cake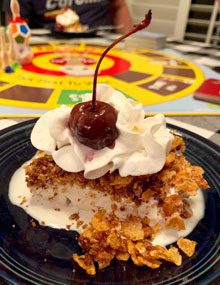 All the flavor of fried ice cream without the mess. Be sure to let it freeze for at least five hours before serving.
1 quart vanilla ice cream 
3 cups corn flakes
2 tablespoons salted butter, melted
2 tablespoons light brown sugar, firmly packed
¾ teaspoon ground cinnamon
4 tablespoons honey, divided
Whipped cream, for serving
Preheat oven to 350 degrees. Set out ice cream to soften at room temperature. Have an 8×8-inch pan ready. Place cornflakes on a baking sheet, crush lightly. Add melted butter, brown sugar and cinnamon. Toss to combine. Bake cornflake mixture until toasted, 7 to 8 minutes. Remove from oven and let cool completely. Spread softened ice cream in 8×8-inch pan. Spread the cooled cornflake mixture onto the ice cream in a even layer. Gently pat topping down with your hand. Drizzle with 2 tablespoons of honey. Cover pan tightly with saran wrap or aluminum foil and freeze for a least 5 hours. Remove ice cream cake from freezer at least 10 minutes before ready to serve. Cut into slices. Drizzle with remaining honey. Top with whipped cream. Serves 6.
The writer owns Catering by Debbi Covington and is the author of three cookbooks, Celebrate Beaufort, Celebrate Everything! and Dining Under the Carolina Moon. Debbi's website address is www.cateringbydebbicovington.com. She may be reached at 525-0350 or by email at dbc@cateringbydebbicovington.com.