We all have friends that deserve a special "thank you." I must admit, as I write this, I'm thinking about wedding party hosts that need reciprocating, but a thank you party for any reason is a good thing. Wouldn't it be fun to host a small party for the people who celebrate with you when you're happy and lift you up when you're down – just to say "thank you?"
Your party doesn't have to be a fancy affair. Keep it small. Limit the guest list to family and special friends. Keep the event intimate and informal.
Coordinate the menu with the tone of your party. If you're planning a casual event, opt to serve the food buffet-style. Tailor your food to the time of day. If you are hosting a luncheon, you may want to stick to less elaborate, lunch-appropriate dishes. Generally lunch is a small meal so your spread doesn't have to be as large as an evening event. If you're hosting a dinner buffet, add a couple of passed hors d'oeuvres. Do the passing yourself and be sure to speak with each guest individually. After all, the party is your gift to them.
Set up your buffet table in an area that's easily accessible. When decorating the buffet table keep it simple. The focal point of the table should be the food.
Coordinate beverages with the cuisine. If you are serving red meat offer red wine, if you are serving seafood or poultry offer white wine. You may also want to offer beer. Be sure to provide iced tea or lemonade and pitchers of water, too.
Seafood is a favorite choice for a small and casual party. All of the recipes this week are delicious and easy to prepare and most can be made the day before serving. Mix and match the menu items to fit the theme of your party.
Most importantly, don't forget to have fun! Spend some quality time with the people you love and be thankful for them.
P.S.ÂÂÂ  I owe a huge thank you to Susan DeLoach Photography for the beautiful pictures. Susan takes time out of her busy schedule, comes to my kitchen, and shoots these wonderful images for some of my columns and blogs. All I have to do is feed her. I'm very thankful for my dear friend.

Outer Banks Clam Chowder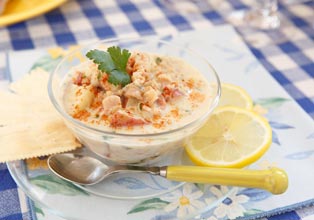 The word chowder comes from the French word for "stew pot" but chowder is an American original, developed during Colonial times. To be true chowder, the soup must contain a pork product, onions and potatoes.
1 pint clams
4 slices bacon, diced
1 small onion, chopped
1 cup clam liquor and water
1 cup diced red potatoes
½ teaspoon salt
Freshly ground black pepper
1½ cups whole milk
½ cup heavy cream
Chopped fresh Italian parsley
Drain clams and save liquor. Pour liquor into a 1-cup measuring cup; add water if needed to make a full cup of liquid. Chop clams; set aside. Fry bacon until lightly brown. Add onion and saute until tender. Place bacon and onion in a medium saucepan. Add clam liquor and water, potatoes, seasonings and clams. Cook for about 20 minutes, or until potatoes are tender. Add milk and cream; heat through. Garnish with chopped parsley. Serves 6.

Mesclun Salad with Bacon-Wrapped Scallops and Champagne Vinaigrette
Wrap the scallops in prosciutto before baking for a different twist on a classic recipe.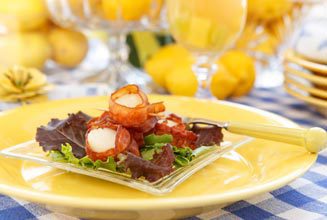 12 slices bacon
24 sea scallops
Freshly ground black pepper
Mesclun salad greens
For the vinaigrette:
2 tablespoons champagne vinegar
1½ teaspoons Dijon mustard
6 tablespoons vegetable oil
1/8 teaspoon salt
Freshly ground black pepper
Preheat oven to 375 degrees. Cut bacon slices in half to make 24 pieces. Wrap each scallop in a piece of bacon. Place wrapped scallops on a lightly greased baking sheet. Sprinkle with black pepper; to taste. Bake for 15 to 20 minutes or until scallops are cooked through. In a small bowl, combine vinegar and mustard; blend well. With wire whisk, slowly incorporate oil until thick. Season to taste with salt and pepper. Place greens in a large salad bowl; add dressing and toss to coat. Place dressed greens on 8 individual salad plates. Add 3 bacon-wrapped scallops to each salad. Serves 8.

Steamed Snow Crab Legs with Lowcountry Cocktail Sauce
I know that many chefs advocate using crab boil seasonings, but I like the simplicity of the naturally sweet and rich flavor of crab legs that have been steamed.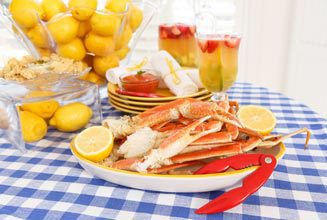 For the cocktail sauce:
½ cup ketchup
3 tablespoons prepared horseradish
1 teaspoon Worcestershire sauce
For the snow crab legs:
3 to 4 cups water
2 pounds snow crab legs, frozen
Melted butter, for dipping
Make cocktail sauce by combining ketchup, horseradish and Worcestershire sauce in a small bowl; set aside. In a large steamer pot with strainer insert, bring 3 to 4 cups water to a boil. (Water should be just below the level of the strainer portion of the pot.) Rinse ice from frozen crab legs and place in the strainer insert of the pot. Cover and steam for 4 to 6 minutes or until heated through. Serve crab legs with cocktail sauce and melted butter for dipping. Serves 4.

Cold Poached Salmon with Dill Sauce (pictured at top)
Delicious served chilled or at room temperature. It's always a hit!
For the dill sauce:
¼ cup fresh dill weed, chopped
1 cup sour cream
½ cup mayonnaise
1 teaspoon dried tarragon
1 teaspoon Dijon mustard
Salt
Freshly ground black pepper
For the salmon:
1 (2-pound) center-cut salmon fillet
4 cups water
½ cups dry white wine
1 stalk celery, sliced
½ red onion, sliced
1 carrot, sliced
1 lemon, sliced
½ teaspoon whole black peppercorns
¼ teaspoon salt
Suggested garnishes:
Red onion, chopped
Hard-boiled eggs, chopped
1 lemon, sliced thinly
1 small jar capers, drained
Fresh dill weed
Make dill sauce by combining all ingredients in a small bowl; refrigerate until ready to serve. To prepare the salmon, place all ingredients except for the salmon in a shallow pot or fish poacher. Bring to a boil and let let simmer for 15 minutes. On extremely low heat, add the salmon fillet and cover. Poach for 12 to 15 minutes or until desired doneness. When salmon is cooked through, remove from cooking liquid to a platter. Cover and chill for at least 3 hours before serving. Assemble salmon on platter with chopped red onion, chopped hard-boiled eggs, lemon slices, capers and fresh dill weed. Serve with dill sauce on the side. For appetizers serve with water crackers or toasted baguette slices. Serves 10.

Baked Shrimp with Feta Cheese (Girades mi Feta)
A fabulous Greek recipe that's perfect for small plates and great served over hot pasta!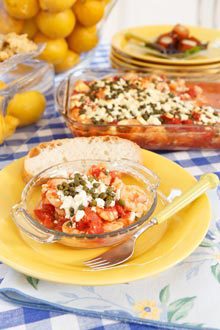 1 tablespoon olive oil
1 teaspoon minced garlic
1 teaspoon dried oregano
½ teaspoon red pepper flakes
1 (28-ounce) can diced tomatoes
1 (3.25-ounce) jar capers, drained
Salt
Freshly ground black pepper
1 pound fresh shrimp, peeled and deveined
4 ounces crumbled feta cheese
Crostini
Heat olive oil in a large skillet over medium-high heat. Add garlic, oregano and red pepper flakes. Sauté briefly, without allowing the garlic to brown, about 1 minute. Add the tomatoes, stirring well, and bring to a boil. Simmer, stirring frequently, until juices are reduced and sauce is slightly thickened, about 5 minutes. Add capers and season to taste with salt and pepper. Spread half of sauce in a lightly greased baking dish and top with the shrimp. Top with remaining sauce and sprinkle with the crumbled feta. Bake for 15 to 20 minutes, in a preheated 350 degree oven, until bubbling hot and the shrimp are pink. Serve with crusty rustic bread or crostini. Serves 6 to 8.
The writer owns Catering by Debbi Covington and is the author of two cookbooks, Gold Medal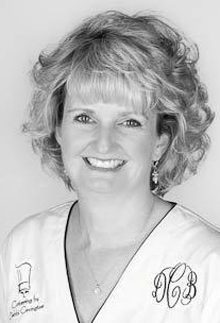 Winner of the Benjamin Franklin Award, Celebrate Everything! and Dining Under the Carolina Moon. Debbi's website address is www.cateringbydebbicovington.com. She may be reached at 525-0350 or by email at dbc@cateringbydebbicovington.com