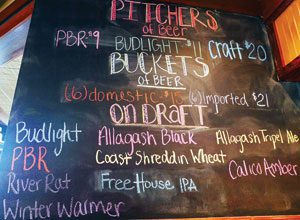 Story and Photos by Mark Shaffer

Woody: "Hey Mr. Peterson, Jack Frost nipping at your nose?"
Norm: "Yep, now let's get Joe Beer nipping at my liver, huh?"
            – From "Cheers"
There's a scene in Lawrence Kasdan's classic 1985 western Silverado that's stuck with me over the years. It's the first meeting of Kevin Kline's Paden and Linda Hunt's diminutive saloonkeeper, Stella. Paden sips a whiskey and eyeballs the place, obviously impressed. She pours a drink and sizes him up.
            "You like a good saloon?" she asks coyly.
            He grins.
            "The only place I'm happy."
            She leans in as if to share a secret.
            "Me too," she says. "What's wrong with us?"
            Deep down inside I'm sure many of us who spend far too much time holding down a bar stool ask ourselves the same question. The answer's not complicated. In fact it's in the root of the word "pub," short for "public house," a tradition most commonly associated with the British Isles. And it's a tradition taken very seriously. Sean's Bar in Athlone, Ireland, is listed by the Guinness Book of World Records as the oldest bar in the world, dating back to around 900 AD. That's a lot of stout and shepherd's pie. This isn't just a bar, it's an ongoing story of untold generations gathering to share the news of the day and argue politics over a pint or two, maybe mingle with travelers from faraway lands. It represents more than a millennium of Athlone's history, which I'm betting is just about all of it. And speaking of travelers, the pub business has always been risky, but when Sean's opened its doors Vikings were still raiding Europe – and they weren't looking for hot wings or a fun Ladies' Night.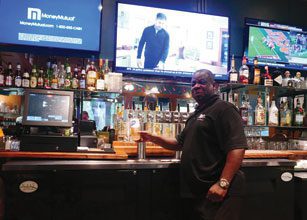 In short, a great bar/pub/saloon – call it what you will – can and should be a reflection of a community, the whole community. When Cris Morrison and Palmer Sims (right) began mulling the idea of opening up a place on Lady's Island they discovered this was a void that needed filling.
            "When Cris and I decided to do this we looked around to see what was missing, to see what we could do," says Sims. "And we decided that we wanted to be a neighborhood bar where everyone could come and participate and be comfortable."
            Morrison's a longtime veteran of the area restaurant and bar scene, most recently of the Foolish Frog where the two met and struck up a friendship. Sims' family roots run deep on St. Helena (his grandmother wrote "The Gospel According to Gullah"). And although he grew up in Maryland, summers were always spent on the island with his cousins – some of whom now work at Brody's. After a stint in the Marine Corps, Sims had a career as a private security specialist with clients like the NFL's Minnesota Vikings. Then life intervened and brought him back to the Lowcountry and an opportunity to pursue a longtime dream of owning a bar.
            Once the partnership was formed, Morrison and Sims began looking for a location. It didn't take long. The old Barbara Jean's building behind the Publix was ready made for what they had in mind.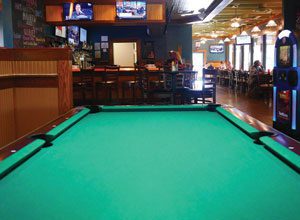 "It seemed like the perfect spot between Parris Island, Beaufort, Fripp and Lady's Island," says Sims. The perks also included plenty of parking and a huge covered porch shaded by a giant live oak. Morrison and Sims plan to light the oak and add a few touches to highlight the ambience. It's part of a four-phase plan of improvements and upgrades to take place in the months to come.
            What doesn't need any improvement as far as we can tell is the food coming out of the kitchen. Morrison and Sims are proud – damn proud, as a matter or fact – of serving up their own style of Classic American Bar Food made with fresh and local ingredients. And the prices are guaranteed to keep you coming back for more.
            "We make sure that what we do, we do really well," says Sims.
            "All the sauces (14 so far) are made in house and we'll do whatever you want with them," says Morrison. "You can have the Sriracha honey garlic sauce on your wings or your burger. Whatever you want."
            That customer-comes-first philosophy also extends to the bar. If you can't find your favorite adult beverage, just ask and they'll stock it.
            Four of us recently sat down to sample some of the fare and came away duly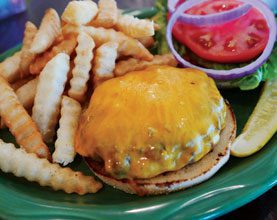 impressed. The Lowcountry Weekly regulars include Publisher Jeff Evans, Editor Margaret Evans, Media Specialist Amanda Hanna and myself. Trust me, we've eaten our share of bar food (and probably yours, too) and Brody's ranks among the best we've had in nearly eight years of Life Behind Bars columns. In fact, there was some discussion as to whether Brody's fit better in the bar column or The Moveable Feast. For that matter, the half pound any-way-you-friggin'-want- it house burger deserves a spot in The Burger Beat. Then again, the name on the sign is Brody's "Bar" and Grill. So we're going with bar, although just to be fair we should probably come back and do the other things; you know, just to be sure.
            "This mac & cheese tastes like my mama's," says Amanda.
            "And everyone's mother's is different," says Margaret.
            Good point. Classic mac & cheese may be the perfect comfort food. Period. Long ago when I did this column in Seattle, we had a special section devoted to Mac & Cheese, it was so popular. Brody's version is the kind of rich and gooey melt-in-your-mouth goodness you remember from Sunday dinners and holiday buffets – the first dish to be scraped clean. Savvy cooks always had a backup warming in the oven. To this day Christmas lunch with my in-laws means at least half a dozen variations on macaroni and cheese, all of them good and each one unique as a signature. We dub Brody's version Southern Mama Mac & Cheese.
            With 29 flat screens, a pool table and beer sold by the pitcher, Brody's is essentially
a sports bar. And apart from the games and the beverages, sports bars live and die by their wings and ribs. We would add to this that the ribs and wings at Brody's are simply to die for. The ribs come 14 ways, and are fall-off-the-bone tender, juicy and meaty. Go ahead and take a side home for later. The wings fall in the same category, even impressing Margaret, our resident wings expert.
            "The Sriracha Honey wings are amazing," she says.
            "And they're not greasy," says Jeff. "And I don't like sauces that hide the flavor of what you're eating and this is not doing that."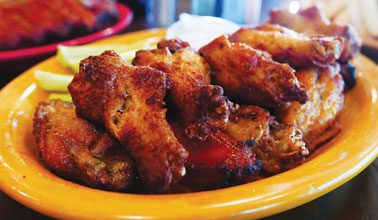 "The chicken's perfectly cooked and the sauce makes things pop."
            Cris says despite having been open just a short time, customer demand means they'll probably offer their sauces for sale by the bottle sometime soon.
            The fried chicken tender basket and the house chili also stand apart. Brody's hand cuts generous portions of breast meat for their tenders. They come grilled or fried with your choice of sauces and sides. The fried tenders were crisp on the outside, tender and juicy on the inside.
            "There is something for everyone on the menu," says Cris. "We even have a totally vegan black bean burger that's awesome and more vegetarian items on the way."
            As for the actual bar, there's a definite Cheer's vibe in the works with plenty of Norm Peterson's preferred beverage on tap, including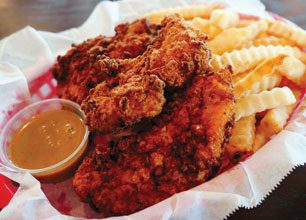 a good selection of craft brews. Morrison and Sims have hired a staff of veteran bartenders – no beginners – and there's something special going on just about every night. Mondays mean SIN (service industry night), with trivia on Wednesdays, live music Thursdays and Fridays reserved for karaoke.
            "Like I said, we're part of the neighborhood," says Sims. "Bring the family."
THE LOWDOWN
Brody's Bar & Grill
47 Ferry Drive (off of 802 just before Publix)
Lady's Island
843-524-2500
Open Daily 11:00am – 2:00am