Center for the Arts brings original radio-style broadcast of 'A Christmas Carol' to stage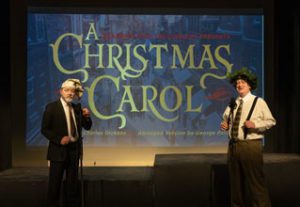 You may think you know "A Christmas Carol" inside and out, but chances are you haven't seen anything like this version.
In a one night only event, the Beaufort Theatre Company will present a broadcast-style take on the Charles Dickens classic with all the action set in a 1940s radio studio, complete with vintage commercials and live sound effects.
Those who want to "tune in" can watch the production via live stream on Saturday, Dec. 5.
The idea behind the production harkens back to a time when families used to gather at home to listen to radio dramas.
"That was part of what we liked about the idea," said the production's director and USC Beaufort assistant professor Libby Ricardo. "It felt warm and family centric and it fostered community."
The idea also resonated for the times, Ricardo said.
"I think we've all be gathering around televisions or radios in cars, just listening to every thing that's happening in the world right now," she said.
So in a sense, the format allows people to be together while being apart, she said.
A cast of eight actors will portray dozens of characters – from Ebenezer Scrooge to the three spirits who help Scrooge realize the true meaning of Christmas. Actors on stage will be spaced six feet apart.
Instead of rehearsing in person, the cast has been using Zoom to rehearse – a first for Ricardo though she found she didn't mind the experience so much.
"I actually really enjoyed it," she said. "It allowed me to focus on vocal textures and performances of the show. This is an entirely new landscape and it's been really fun."
What's more, George Pate, USCB Associate Professor of English in Drama and Theater, wrote the adaption for the radio styled play – making it a true original production. Pate also happens to be Ricardo's husband.
While pulling from the original story, Pate knew they had to make sure the stage production was lively and would hold an at-home audience's attention, Ricardo said.
"You have to make sure they are entertained," she said.
Those familiar with Beaufort Theatre Company productions may recognize veteran actors Brad Ballington as Scrooge, James Duffy as Marley and Ghost of Christmas Present. Also Curtis Dansby, Emmitt O Brien, Dan Hodges, Julie Siebold, Rosie Lyda, Greg Rawls along with Ricardo will play multiple roles.
So if you're feeling a little "Bah, humbug" or looking for something to encapsulate the magic and wonder of the holiday season, tune in to this one of a kind production of "A Christmas Carol."
"It's still the same story and we hope that people will join us," Ricardo said. "We're excited to do something and gather even in this capacity."
Want to Watch?
"A Christmas Carol: A Radio Play" will be available by live stream only at 7:30 p.m. on Saturday, Dec. 5. Tickets are $35-$100. For more information call (843) 521-4145 or visit www.uscbcenterforthearts.com.