Beaufort is buzzing with excitement in anticipation of the 8th Annual Pat Conroy Literary Festival. Pat Conroy is a legend around here. Everywhere you turn, someone is talking about him, relating a tall tale or two, or just missing him. My relationship with Pat was centered around food. Pat loved to cook, he loved to eat, and he loved to share his culinary skills and his recipes.
This week I'm taking a bit of creative license with Pat's cookbook, The Pat Conroy Cookbook: Recipes and Stories of My Life. I've paired Pat's famous Pickled Shrimp with his delicious Grits Casserole and swiped his simple recipe for Insalata Mista to fashion a dinner menu featuring a new and mouthwatering way to serve shrimp and grits. I wonder what Pat would think of this repast.
I hope to see you at the Festival. Festivities kick off on October 26th and run through October 29th. I'll be catering the Wrap Party at the Pat Conroy Literary Center on October 28th. Please join us!
Insalata Mista (Mixed Lettuces and Greens)
4 handfuls mixed young lettuces and greens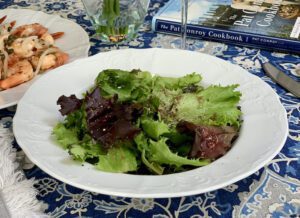 ¼ cup extra-virgin olive oil
Sea Salt
1 tablespoon red wine vinegar
Freshly ground black pepper
Inspect the lettuces. Remove any brown or old leaves. Wash the lettuces in a sink filled with cool water. Dry in a salad spinner. If not completely dry, pat with paper towels. Place the lettuces in a salad bowl and set aside. Combine the oil and salt to taste in a small bowl and whisk with a fork to dissolve the salt. Add a small amount of the vinegar. Taste the dressing, then dip a leaf in the dressing and taste again. If the lettuces are young, they may not need all the vinegar. Toss the lettuces with enough dressing to coat well and distribute the salad among serving plates. Offer freshly ground black pepper at the table. Serves 4.
Pickled Shrimp
1 cup thinly sliced yellow onion
4 bay leaves, crushed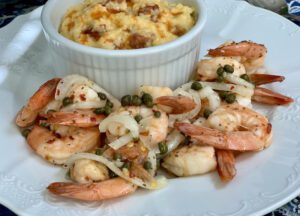 1 (2-ounce) bottle capers, drained and coarsely chopped
¼ cup fresh lemon juice
1 cup cider vinegar
½ cup olive oil
1 teaspoon minced fresh garlic
1 teaspoon coarse or kosher salt
1 teaspoon celery seeds
1 teaspoon red pepper flakes
2 pounds large (21-25 count) shrimp, peeled and deveined
Mix all ingredients except shrimp in a large heatproof glass or ceramic bowl. In a medium stockpot over high heat, bring 4 quarts abundantly salted water to a rolling boil. Add the shrimp and cook until just pink, about 2 minutes. (The shrimp will continue to "cook" in the marinade.) Drain and immediately transfer to the marinade. Bring to room temperature, cover tightly, and marinate overnight in refrigerator. Transfer shrimp and marinade to a glass serving compote or bowl. Serve chilled.
Grits Casserole
½ teaspoon coarse or kosher salt
1 cup slow-cooking stone-ground grits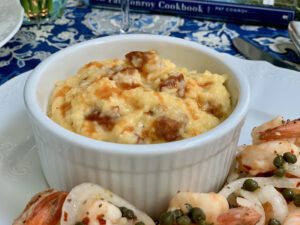 ½ pound andouille sausage, chopped
2½ cups grated sharp cheddar cheese
3 large eggs, beaten
¼ cup heavy cream
Tabasco sauce
Coarse or kosher salt and freshly ground black pepper
In a large saucepan over high heat, bring 4 cups water to a boil. Add the salt and slowly pour in the grits. Reduce the heat and cook, stirring occasionally, until the grits are done, about 40 minutes. Preheat the oven to 350 degrees. In a small saucepan, sauté the sausage until it is slightly crispy, 8 to 10 minutes. Set aside. Remove the grits from the stove and add the cheese, stirring until smooth. Beat in the eggs and cream. Add the sausage and season to taste with Tabasco and salt and pepper. Pour the grits into a 2-quart souffle dish and bake until they are set and lightly browned on top, about 40 minutes. Serve hot. Serves 6.
The writer owns Catering by Debbi Covington and is the author of three cookbooks, Celebrate Beaufort, Celebrate Everything! and Dining Under the Carolina Moon. For more great recipes and to view her cooking demonstrations, visit and subscribe to Debbi's YouTube channel. Debbi's website address is www.cateringbydebbicovington.com. She may be reached at 843-525-0350 or by email at dbc@cateringbydebbicovington.com.