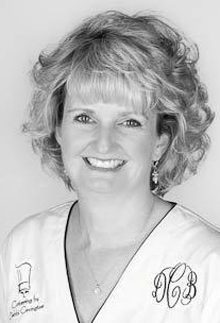 Mardi Gras is forty-seven days before Easter, and this year Fat Tuesday falls on February 21st. The people of New Orleans are planning a grand celebration! Let's join in the fun right here in Beaufort.
Pull out your green, gold and purple decorations, toss a few beads around, don your fanciest mask and eat your fill of these Cajun treats! Begin the meal with delicious Oysters Rockefeller. Enjoy a Broccoli and Orange Salad with warm Black-Eyed Pea Cornbread. Then, spice up your table with Chicken, Pork and Smoked Sausage Jambalaya and top it all off with a King Cake. Keep in mind that the next party will be yours to host if you get the piece of cake with the baby in it!
Oysters Rockefeller
½ (10-ounce) package frozen chopped spinach, thawed and squeezed dry
6 green onions, chopped
2 stalks celery, roughly chopped
¼ cup chopped fresh Italian parsley
1/3 head iceberg lettuce
1 stick butter, softened
¾ cup dry bread crumbs, divided
1 teaspoon Worcestershire sauce
1 teaspoon anchovy paste
Dash hot sauce
1½ tablespoons Absinthe flavored liqueur
¼ teaspoon salt
3 dozen oysters
¼ cup grated Parmesan cheese
Rock salt
Place rock salt on a baking sheet. Heat for 20 minutes in a 450 degree oven. In a food processor, combine spinach, onion, celery, parsley, and lettuce until smooth. In a large mixing bowl, combine softened butter with ¼ cup bread crumbs. Add blended greens and stir to mix. Add Worcestershire sauce, anchovy paste, hot sauce, liqueur and salt; mix thoroughly. Drain oysters from shells. Place oysters back on half shells and set on the heated salt. Spread 2 tablespoons of mixture over each oyster. Combine Parmesan cheese with remaining bread crumbs. Top each oyster with a teaspoon of cheese mixture. Bake in a preheated 450 degree oven for about 15 to 20 minutes or until lightly browned. Serves 6.
Broccoli and Orange Salad
1 cup mayonnaise
1/3 cup sugar
2 tablespoons white vinegar
1 (12-ounce) package fresh broccoli florets
1 cup seedless red grapes, halved
1 (11-ounce) can Mandarin oranges, drained
1 stalk  celery, diced
½ cup roasted pistachio kernels
Stir together first 3 ingredients in a small bowl.  Cover and chill the dressing for at least 3 hours.  Mix broccoli, grapes, oranges, celery, and pistachios. Toss gently with dressing to coat.  Serve with a slotted spoon. Serves 6 to 8.
Black-Eyed Pea Cornbread
2 (8½ -ounce) packages cornbread mix
1 small sweet onion, chopped
1/3 cup chopped green pepper
1 (15-ounce) can creamed corn
1¼ cups (5 ounces) grated Swiss cheese
1 (15-ounce) can black-eyed peas, rinsed and drained
Prepare cornbread mixes according to package directions. Add onion, pepper, corn, cheese and peas to cornbread mixture.  Bake in a lightly greased 9×13-inch dish at 350 degrees for 45 minutes. Serves 10 to 12.
Chicken, Pork and Sausage Jambalaya
4 tablespoons vegetable oil, divided
3 pounds broiler-fryer chicken pieces
½ pound boneless pork loin or tenderloin, cut into thin strips
½ pound andouille or smoked sausage, cut into ½-inch slices
1 cup sliced celery
1 cup chopped onion
1 cup chopped green pepper
2 cloves garlic, minced
4 cups canned diced tomatoes, undrained
1 cup chicken broth
¾ cup tomato paste
1 teaspoon hot sauce
1 bay leaf
½ teaspoon salt
1 teaspoon dried oregano
1 teaspoon dried thyme
½ teaspoon ground allspice
1½ cups uncooked rice
In a 5-quart stock pot, heat 2 tablespoons oil over medium-high heat. Add chicken and brown on all sides, about 10 minutes. Remove. Heat remaining 2 tablespoons oil. Add pork, sausage, celery, onion, green pepper and garlic; cook 8 to 10 minutes or until tender. Stir in tomatoes, broth, tomato paste, hot sauce, bay leaf and spices. Return chicken to the pot. Cover, reduce heat and simmer for 10 minutes. Stir in rice. Cover and simmer for 40 minutes or until chicken and rice are tender; stirring frequently. Add more chicken broth if rice begins to stick to the bottom of the pot. Serves 6.
King Cake
For the cake:
3½ cups cake flour
1½ cups sugar
1 cup water
2/3 cup vegetable oil
1/3 cup non-fat dry milk
3 teaspoons baking powder
1 teaspoon vanilla
½ teaspoon salt
8 egg whites
Small china or plastic baby doll (or dried bean)*
For the glaze and decorating:
1 cup sifted powdered sugar
1 tablespoon fresh lemon juice
½ teaspoon grated lemon rind
2 to 3 tablespoons hot water
Colored sugar crystals and dragees
Preheat oven to 375 degrees. Grease and flour a Bundt cake pan. Sift flour before measuring and combine with sugar, water, oil, dry milk, baking powder, vanilla and salt. Mix until smooth. Beat egg whites until stiff. Fold beaten egg whites evenly into batter. Spoon batter into prepared pan. Bake for 40 to 50 minutes or until cake bounces back when gently touched in the center. Turn out of pan onto a cake rack; cool completely. In the meantime, make the lemon glaze. Mix powdered sugar with lemon juice, lemon rind and 2 to 3 tablespoons of hot water until mixture is smooth and can be drizzled over cake. Drizzle cooled cake with lemon glaze and decorate with purple and green sugar crystals and gold dragees. *Note: Oven-safe doll may be placed in batter; otherwise, insert doll in cake before inverting cake out of pan. Serves 12.
The writer owns Catering by Debbi Covington and is the author of the cookbook, Dining Under the Carolina Moon. Debbi's new cookbook, Celebrate Everything! will be released in May 2012. Debbi's website address is www.cateringbydebbicovington.com. She may be reached at 525-0350 or by email at dbc@cateringbydebbicovington.com.