It's that time of year when we all try to eat a little healthier so that we can squeeze back into our summer clothes. My recipes this week are all vegetarian with a Mexican twist. They're perfect for a Meatless Monday meal. Of course, if you must be a carnivore, you can always add a bit of chorizo to the Chiles Rellenos and/or the Quesedillas. Whatever you do, keep washing your hands and stay healthy! XOX
Chiles Rellenos
For presentation purposes, I used a 9-inch springform pan and sprayed it with cooking spray that contains flour.
2 (7-ounce) cans whole green chiles
1 (4-ounce) can chopped green chiles
8 ounces Monterey Jack cheese, shredded
8 ounces cheddar cheese, shredded
1/3 cup whole milk
¼ cup all-purpose flour
4 eggs, beaten
¼ teaspoon baking powder
Fresh salsa
Sour cream
Lightly grease a 9×9-inch baking dish.  Layer 1 can of chiles in the bottom of dish.  Top with Monterey Jack cheese.  Layer with remaining can of chiles and top with cheddar cheese. Whisk milk, flour, eggs, and baking powder together. Pour over top of chiles and cheese. Garnish with chopped green chiles. Bake in a preheated 350 degree oven for 35 to 40 minutes, until center is set. Serve with salsa and sour cream. Serves 6 to 8.

Corn and Tomato Quesadillas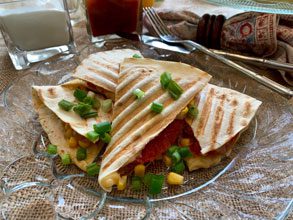 Chihuahua Cheese is Mexican Quesadilla Cheese and can be found on the cheese aisle of your local supermarket. If you own a panini grill, this is the perfect time to use it. Instead of cooking your quesedillas in a skillet, grill them!
4 large flour tortillas
1 tablespoon vegetable oil
1 sweet onion, thinly sliced
2 large tomatoes, cut into thick slices
1 (15-ounce) can corn, drained
1 jalapeno, seeded removed and diced
4 cups shredded chihauhua cheese or monterey jack cheese
2 tablespoons butte, divided
Sour cream
Fresh salsa
2 Green onions, chopped
Heat vegetable oil in a skillet over medium-high heat. Add onion and saute until softened. Add tomatoes and cook for a few minutes more. Add corn and jalapeno and cook until vegetables are warmed through. Divide vegetable mixture between the 4 tortillas. Top the vegetables with 1 cup of cheese. Fold in half. Heat ½ tablespoon in skillet and cook quesedilla until golden brown on both sides. Repeat with remaining quesedillas. Cut into quarters and serve hot with sour cream and fresh salsa. Garnish with chopped green onions. Serves 4 to 6.

Mexican Broccoli Salad
Pepitas are roasted and salted shelled pumpkin seeds. If you can't find them, use sunflower seeds.
For the vinaigrette:
3 tablespoons honey
2 tablespoons fresh lime juice
1 clove garlic, minced
2 tablespoons olive oil
Salt and pepper, to taste
For the salad:
1 large bunch brocolli
2 tomatoes, chopped
Chopped red onion, to taste
½ cup raisins
¼ cup pepitas
Mix vinaigrette ingredients in a small bowl. Remove florets from broccoli and discard the stems. Chop florets into bite-sized pieces. Place brocolli florets, tomatoes, red onion and raisins in a lage bowl. Toss with vinaigrette. Garnish with pepitas. Serves 4 to 6.
The writer owns Catering by Debbi Covington and is the author of two cookbooks, Gold Medal Winner of the Benjamin Franklin Award, Celebrate Everything!and Dining Under the Carolina Moon.  Debbi's website address is www.cateringbydebbicovington.com. She may be reached at 525-0350 or by email at dbc@cateringbydebbicovington.com.