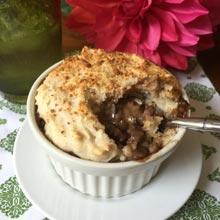 Thanks to the deluge of summer showers that we've been experiencing on Lady's Island, our yard has been full of all kinds of wild mushrooms. The neighborhood squirrels have been feasting, and sometimes gorging, on the various toadstools. Smart little darlings, they are. They can instinctively tell the delicious mushrooms from the poisonous ones.
Vince and I have been going through a mushroom phase, too. Well, at least I have. Vince is kind of an unwitting accomplice since he's subject to dining on whatever I'm inspired to cook. Luckily for both of us, I've recently created a few really tasty mushroom delights. I made Mushroom Cobbler for the first time on Monday. It is honestly one of the very best concoctions that I've ever tasted. It took every bit of my willpower not to eat it straight out of the pot before it was graced with a biscuit topping. Mushroom Cobbler is great to make in a casserole dish, but I chose to make individual servings in ramekins – again, to keep me from eating the whole thing. It really is that yummy! We've also been eating a lot of stuffed portobello mushroom caps. Sometimes I treat them like pizza crusts and bake them filled with the traditional pizza toppings. Crabmeat, ground lamb, Italian sausage and mashed potatoes are also delicious fillings. Be sure to gently scrape the gills out of the mushrooms or you'll have an unappetizing-looking dark liquid in the bottom of your dish. The Beef Stuffed Portobellos are filled with shredded London broil that was prepared in a crockpot. It's a great recipe for your favorite leftover pot roast. Grapefruit and Mushroom Salad with Lime Vinaigrette is actually an oldie-but-goodie that was first published on my website back in 2009. This week's recipe is slightly revamped with the addition of lime zest, a wee bit more sugar and diced pancetta. Mushrooms are flavorful, easy to cook and have only a few calories. I hope you'll enjoy these three mushroom offerings!
 
Mushroom Cobbler (above)

For the mushroom filling:
2½ tablespoons olive oil
2 tablespoons butter
1 cup diced red onion
2 cloves garlic, chopped
8 ounces chopped white mushrooms
8 ounces chopped baby portobello mushrooms
4 ounces chopped gourmet mushroom blend
½ cup red wine
¼ teaspoon ground thyme
Pinch cayenne pepper
Salt and pepper, to taste
2 (.87-ounce) packages brown gravy mix or 2 tablespoons flour
½ cup heavy cream
For the biscuit topping:
1 cup self-rising flour
¼ cup mayonnaise
½ cup milk
¼ cup grated Parmesan cheese
Parmesan cheese, to garnish
Combine olive oil and butter in a medium stock pot over medium heat. Cook until butter is melted. Add red onion and cook until onions begin to become translucent. Add garlic and mushrooms and cook until mushrooms are tender. Add red wine, thyme and cayenne pepper. Season with salt and pepper. Sprinkle brown gravy mix or flour over mixture. Stir well to combine. Continue cooking until mixture begins to thicken. Add cream and heat through. Remove from heat. Pour mushroom mixture into a casserole dish or individual ramekins. (Do not fill to the top. Mushroom mixture may bubble over during baking.) Place casserole on a baking sheet. In a medium bowl, combine flour, mayonnaise, milk and Parmesan cheese. Top casserole with dollops of the biscuit topping. Sprinkle with additional Parmesan cheese. Bake in a preheated 350 degree oven for 15 to 20 minutes or until biscuit topping is browned. Makes approximately 3 cups of filling. Serves 6.
Beef Stuffed Portobellos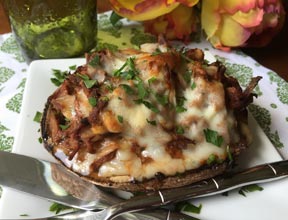 1 (2½-pound) London broil
1 (.60-ounce) package Italian dressing mix
1 (.87-ounce) package brown gravy mix
1 cup water
6 (3-ounce) portobello mushroom caps
2¼ cups shredded Mozzarella cheese, divided
¾ cup gravy from London broil
¾ cup tomato sauce or pizza sauce
¼ cup chopped fresh Italian parsleyItalian parsley, to garnish
Place the London broil in a crock pot. In a small bowl, combine dressing mix and gravy mix with water. Mix well to combine. Pour mixture over London broil. Cover and cook on low for 6 to 8 hours or until meat shreds easily with a fork. When meat is done, remove London broil from gravy and shred. Gently remove gills from the portobello mushrooms by scraping them with a spoon. Place prepared mushrooms on a lightly greased baking sheet. Place 3 cups of London broil in a large bowl. Stir in 1½ cups Mozzarella cheese, ¾ cup gravy from London broil, ¾ cup tomato sauce and parsley. Spoon meat mixture into mushroom caps. Top with remaining Mozzarella cheese. Bake in a preheated 350 degree oven for 30-40 minutes or until mushrooms are tender. Garnish with extra parsley, if desired. Refrigerate remaining London broil and gravy for later use. Serves 6.
Grapefruit and Mushroom Salad with Lime Vinaigrette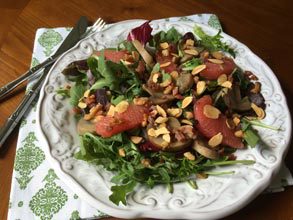 For the vinaigrette:
¼ cup red wine vinegar
2 tablespoons Dijon mustard
1 tablespoon fresh lime juice
Zest of 1 lime
1 tablespoon plus 1 teaspoon sugar
¼ teaspoon salt
¼ teaspoon black pepper
1/3 cup olive oil
For the salad:
4 ounces pancetta, diced
6 cups mixed salad greens
½ small red onion, thinly sliced
1 cup sliced mushrooms
2 cups pink grapefruit sections
¼ cup sliced almonds, toasted
Combine red wine vinegar, mustard, lime juice, lime zest, sugar, salt and black pepper in an electric blender. Process until smooth. Add oil in a slow, steady stream with blender running to emulsify. Cook pancetta in a skillet over medium heat until crispy. Drain on paper towels. Combine salad greens with vinaigrette. Top with pancetta, onion, mushrooms and grapefruit sections. Sprinkle with toasted almonds. Serve immediately. Refrigerate leftover vinaigrette. Serves 4.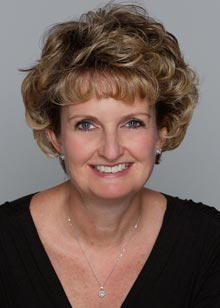 The writer owns Catering by Debbi Covington and is the author of two cookbooks, Gold Medal Winner of the Benjamin Franklin Award, Celebrate Everything! and Dining Under the Carolina Moon. Debbi's website address is www.cateringbydebbicovington.com. She may be reached at 525-0350 or by email at dbc@cateringbydebbicovington.com.