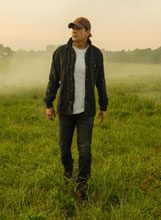 The Beaufort Water Festival is excited to announce that Rodney Atkins will be headlining this year's Concert in the Park on July 18. Over the years Water Festival has brought in talent from all over the country, and we believe he will be another great addition to our lineup. 
Opening for the evening will be up and coming artist Scott Stevens, followed by Lainey Wilson as the second act.
Rodney Atkins' fifth studio album, Caught Up in the Country (5/10/19), reveals an artist who is confident enough to know that making your best music can require patience and experimentation. While his storied career has reached such heights as being named the Top New Male Vocalist at the 2006 ACM awards and seeing his single "Watching You" become the Number One Song of the Decade according to Country Aircheck, it's been more than seven years since Take a Back Road, his last record of new material. But Atkins knew that this time, he wanted to bring his songs further than he had ever gone before. 
"I've never taken it lightly," he says, "but with some of the other albums, I got to take my time 
for part of the album. But then when you get that first single finished, you gotta go, and you start working at a faster pace for the second half of the album. This time, I got to take that time with every song." 
The results, he believes, are the most daring collection of his career, touching on emotions and sounds which continue to expand his range—from the twangy celebration of the album's title track (featuring the roof-raising vocals of the Fisk Jubilee Singers) to the slow-burn cover of Jason Isbell's "Cover Me Up." 
And with six Number One singles, eight Top Five singles, and over 13 million units sold, Atkins sees that his track record validates his approach. 
With Caught Up in the Country, one of country music's biggest stars is starting his next chapter.
The 65thAnnual Beaufort Water Festival will take place July 17 – 26 in Waterfront Park.