I keep a list of recipe ideas on my desk. Some are for my catering business, others are for my column. When Hurricane Florence cancelled or postponed all of my events last week, I did what I do best. I trashed my kitchen. I don't get to do it often but when I do it, I do it well.
It's so much fun to play in the kitchen and create new dishes. I tested all kinds of new hors d'oeuvres, a few new salads and a couple of entrees. I tried a new cocktail. I even baked cookies. I don't like to bake, and I actually baked. It was fun and fattening and therapeutic. Then, I cleaned up the mess. That part wasn't quite as much fun, but it was worth it. I hope you'll like these new recipes. Stay tuned, I'll be sharing more from my test kitchen.
Chorizo, Tomato and Green Chile Quiche
Mexican chorizo is a spicy ground meat sausage. It's super delicious but can be very greasy. Be sure to drain cooked chorizo really well on paper towels before adding it to your egg mixture.
1 (9-inch) deep-dish frozen pie crust, thawed
3 large eggs, beaten
1/3 cup milk
½ pound Mexican chorizo, cooked and drained on paper towels
1 medium tomato, chopped (about 1 cup)
1 (4-ounce) can diced green chiles
1 cup shredded sharp cheddar cheese
Salt and pepper, to taste
Prick bottom and sides of crust with a fork. Follow directions on package and bake until pastry is nearly done. Remove from oven. Meanwhile, in a mixing bowl, stir together eggs, milk, chorizo, tomatoes, chiles and cheddar cheese. Season with salt and pepper. Mix well. Place prepared pie crust on a baking sheet. Pour egg mixture into pastry. Bake in a preheated 350 degree oven for 35 to 45 minutes or until a knife inserted near the center comes out clean. If necessary, cover the edge of crust with foil to prevent over-browning. Let stand for 5 minutes before serving. Serves 4.
Berry Cobbler Oatmeal Cookies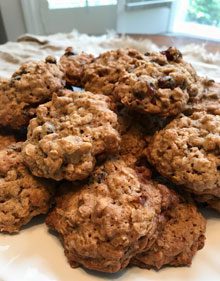 I used a combination of dried blueberries, cherries and cranberries. I saw a 5-ounce bag of mixed dried berries on the aisle with the raisins in the grocery store. Five ounces isn't quite a full cup but it would work. You could substitute raisins or golden raisins, too.
1 stick plus 6 tablespoons salted butter (14 tablespoons)
¼ cup firmly packed brown sugar
½ cup sugar
2 eggs
1 teaspoon vanilla
1½ cups all-purpose flour
1 teaspoon baking soda
1 teaspoon cinnamon
¼ teaspoon nutmeg
¼ teaspoon ground cloves
Dash salt
3 cups oats (quick or old-fashioned)
1 cup dried berries
1 cup chopped walnuts
Preheat oven to 350 degrees. Lightly grease three baking sheets. In a large bowl with an electric mixer, beat butter and sugars until creamy. Add eggs and vanilla; mix well. Add flour, baking soda, cinnamon, nutmeg, ground cloves and salt; mix well. Stir in oats, berries and walnuts; mix well. Using a small ice cream scoop, drop dough onto prepared baking sheets. Bake 15 to 18 minutes or until light brown. Cool on wire racks. Makes 3 dozen.
Gin and Ginger Cocktail
This is a refreshing drink that also has that little kick of heat from the ginger in the liqueur and in the ginger ale. I let the candied ginger garnish melt in my cocktail. It added another yummy dimension of ginger.
6 ounces gin
4 ounces ginger liqueur
1½ – 2 cups ginger ale
Juice of 2 limes
Candied ginger
Lime slices, to garnish
Mix gin, ginger liqueur, ginger ale and lime juice in a small pitcher; mix well to combine. Serve over ice. Garnish with candied ginger and a slice of lime. Serves 4.
The writer owns Catering by Debbi Covington and is the author of three cookbooks, Celebrate Beaufort, Celebrate Everything! and Dining Under the Carolina Moon. Debbi's website address is www.cateringbydebbicovington.com. She may be reached at 525-0350 or by email at dbc@cateringbydebbicovington.com.