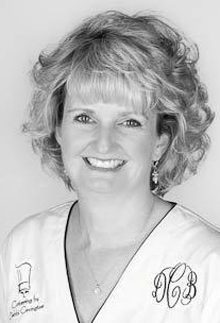 Keep it fresh! Good salads are only made with good ingredients and freshness is all-important when it comes to purchasing salad greens. Let your eyes guide you. Fresh greens look fresh. They won't have any leaves tinged with brown nor will they be wilted or slimy.
Take a look around the produce section and you'll see leaves in many colors and textures ranging from pearly, pale Belgian endive to bright red and white radicchio. Greens also have a variety of flavors from robust and peppery arugula to sweet, nutty and mild lamb's lettuce or mache.  The greater the variety of leaves you include in your salad, the more interesting it will be, and the more nutrients it will contain. Because of the salad greens' high water content, they are very perishable, so buy them as close as possible to serving.  When you get salad ingredients home give them a rinse in cold water then spin them dry or use a tea cloth to pat them dry. Never leave salad to soak in a sink of cold water because all of the water-soluble vitamins and minerals will leech out.  Once you open a bag of prepared greens they should be used within 24 hours. You can prepare most salads several hours in advance and store in the refrigerator, but do not dress until just before serving, because the acid in most dressings causes the leaves to wilt.
Baked Goat Cheese with Garden Lettuces
For the cheese:
½ pound fresh goat cheese
2 cup extra-virgin olive oil
4 sprigs fresh thyme, chopped
1 small sprig rosemary, chopped
½ sour dough baguette, preferable a day old
For the lettuces:
1 tablespoon red wine vinegar
1 teaspoon sherry vinegar
Salt
Freshly ground black pepper
¼ cup extra-virgin olive oil or walnut oil
½ pound garden lettuces, washed and dried
Carefully slice the goat cheese into 8 disks about ½-inch thick. Pour the olive oil over the disks and sprinkle with the chopped herbs. Cover and store in a cool place for several hours.  Preheat the oven to 300 degrees. Cut the baguette in half lengthwise and dry out in the oven for 20 minutes or until dry and lightly colored. Process the bread into fine crumbs in a food processor. Preheat the oven to 400 degrees. Remove the goat cheese disks from the marinade and roll them in the breadcrumbs, coating them thoroughly. Place the cheeses on a lightly greased baking sheet and bake for about 5 minutes, until the cheese is warm.  In the meantime, measure the vinegars into a small bowl and add a pinch of salt. Whisk in the oil and freshly ground black pepper, to taste. Toss the lettuces lightly with the vinaigrette and arrange on salad plates. Carefully place 2 disks of baked cheese on each plate and serve.  Serves 4.
Avocado, Tomato, and Mozzarella Salad
6 medium tomatoes
8 ounces fresh or buffalo mozzarella cheese
1 ripe avocado    
3 tablespoons olive oil
1tablespoon red wine vinegar
½ teaspoon balsamic vinegar
½ teaspoon whole-grain mustard
Pinch of sugar
Salt
Freshly ground pepper    
2 tablespoons chopped fresh basil
2 tablespoons pine nuts, toasted
Using a sharp knife, slice the tomatoes and mozzarella cheese into thin rounds.  Halve the avocado, remove the pit and peel off the skin.  Slice the flesh lengthwise. Place the next 4 ingredients in a small bowl and whisk until well blended.  Season with a pinch of sugar, salt, and pepper.  Arrange the sliced tomato, mozzarella, and avocado overlapping around the edge of a flat serving plate.  Drizzle with the vinaigrette. Sprinkle evenly with chopped fresh basil and toasted pine nuts. Serve immediately. Serves 6 to 8.
Raspberry-Pecan Salad
½ cup raspberry spreadable fruit
1/3 cup raspberry vinegar
1 tablespoon honey
1 tablespoon poppy seeds
¾ cup vegetable oil
8 cups mixed salad greens
1 cup fresh raspberries
1 avocado
½ pound mushrooms, sliced
1 bunch green onions, chopped
½ cup chopped pecans
Combine first 5 ingredients in a blender until smooth.  Place greens in a salad bowl, top with remaining ingredients and toss with dressing. Serves 8.
Salad Greens with Orange-Balsamic Vinaigrette
¼ cup orange juice
2 tablespoons balsamic vinegar
1 teaspoon sweet hot mustard1
1 clove garlic, minced
2 tablespoons vegetable oil
4 cups mixed baby greens
1 tart apple, cored and thinly sliced
½ cup Gorgonzola cheese, crumbled
¼ cup roasted pistachio kernels
For dressing, whisk together orange juice, balsamic vinegar, mustard, and garlic.  Gradually whisk in oil until well blended.  Set aside to mellow flavors.  For salad, divide greens among four salad plates.  Top with apple slices.  Sprinkle with cheese and nuts.  Whisk dressing; drizzle over salads. Serves 4.
Spinach Salad Oriental
¼ cup white vinegar
½ cup ketchup
1/3 cup sugar
2 tablespoons Worcestershire sauce
½ cup vegetable oil
1 tablespoon grated onion
Salt
1 (10-ounce) package fresh spinach, torn into bite sized pieces
3 boiled eggs, roughly chopped
6 slices bacon, cooked and crumbled
10 fresh mushrooms, sliced
1 small red onion, chopped
1 (8-ounce) can bamboo shoots, drained
1 (15-ounce) can baby corn, drained
Combine the first six ingredients in a jar with a tight-fitting lid and shake well.  Season  with salt to taste.  Refrigerate several hours before serving.  In a large salad bowl, toss the spinach, eggs, bacon, mushrooms, onion, bamboo shoots, and baby corn.  Add dressing and toss gently. Serves 6 to 8.
Pear-Blue Cheese Tossed Salad
For the dressing:
¼ cup extra-virgin olive oil
2 tablespoons red wine vinegar
1 teaspoon honey
1 teaspoon Dijon mustard
1/8 teaspoon salt
1/8 teaspoon black pepper
For the salad:
1 (5-ounce) bag baby lettuce mix
½ cup chopped walnuts, toasted, divided
1 medium pear, cored and chopped
½ cup blue cheese crumbles
Whisk oil, vinegar, honey, mustard, salt and pepper in a small bowl. Set aside.  Place lettuce in a large bowl; add half of the walnuts.  Pour dressing over lettuce; toss until coated.  Place equal amounts of salad onto 4 plates.  Top each evenly with pear, blue cheese and remaining walnuts.  Serve immediately.  Serves 4.
Cucumber Salad with Feta and Mint
1 large cucumber, peeled
4 cups mixed salad greens
1 cup feta cheese, crumbled
½ cup chopped fresh mint leaves
6 tablespoons olive oil
3 tablespoons freshly squeezed lemon juice
Salt
Freshly ground black pepper
Cut the cucumber into very thin crosswise slices.  Place salad greens and cucumber slices in a salad bowl; sprinkle with feta and mint.  In a small bowl, whisk the oil and lemon juice with salt and pepper. Pour over the salad and serve immediately.  Serves 4.
Grilled Hearts of Romaine with Sun-Dried Tomato Vinaigrette
For the vinaigrette:
4 sun-dried tomatoes halves
1 cup boiling water
1½ tablespoons balsamic vinegar
1½ tablespoons red wine vinegar
1 clove garlic, minced
½ teaspoon sugar
1/3 cup extra-virgin olive oil
Salt
Freshly ground black pepper
For the salad:
4 hearts of romaine lettuce
Olive oil
Freshly grated Parmesan cheese
Place tomatoes in boiling water. Wait 5 minutes for the tomatoes to rehydrate; remove from water.  In a food processor, combine rehydrated tomatoes, vinegars, garlic and sugar. Puree while slowly drizzling in olive oil.  Season with salt and pepper.  Preheat grill to medium heat.  Cut hearts of romaine in half, lengthwise and set aside.  Drizzle lightly with olive oil.  Place lettuce halves, cut side down, on grill and cook for 2 to 3 minutes until grill marks start to form.  Remove from grill and transfer to a serving platter.  Drizzle vinaigrette over grilled lettuce and top with Parmesan cheese.  Serves 4.
The writer owns Catering by Debbi Covington and is the author of two cookbooks, Celebrate Everything! and Dining Under the Carolina Moon.  Debbi's website address is www.cateringbydebbicovington.com. She may be reached at 525-0350 or by email at dbc@cateringbydebbicovington.com.