It's Saturday afternoon, way more than several days past my column deadline. A few hours ago, I received a gentle reminder text message from Jeff Evans, LCW Publisher extraordinaire, "Hi, how's it goin' there?" Dagnabbit! Busted for being tardy once again. My really good and most-excellent excuse? Life has gotten post-Covid busy. It's wonderful. It's also overwhelming. My fabulous-incredible-can't say enough good things about staff and I just finished catering a brunch downtown. Up at the crack of dawn, with the morning weather forecast promising 100% chance of rain, I was afraid that we might lose power. The wind started whipping on Lady's Island in the wee hours of the night. Lights in the catering kitchen were flickering as I cooked a pot of grits and put together two trays of tomato pies. My husband, Vince, helped me load my vehicle at 8:30. Rain was lightly drizzling. I arrived on Hancock Street just before 9:00 a.m. Trusty sidekicks, Tami and Rob, were there to unload our cargo and set up in the kitchen. The rain stopped. The sun began to shine brightly. The brunch went off without a hitch. I'm finally home, at my computer, eating a piece of leftover pizza from our post-event staff lunch at Hearth. The wind is still blowing. Temperatures are dropping for one last blast of arctic air before Beaufort turns into the summertime town that we love. I have tonight off. Comfort food is on the menu. These delicious recipes are going to be our supper. Mark Twain said that you should "write what you know." This is my truth. (Photography by Susan DeLoach.)

Asperges Francaises
Believe it or not, I found this recipe in an old French cookbook that credits United States President, Thomas Jefferson, with it's creation. Fresh, simple and delicious, this has become one of my favorite ways to serve asparagus.
1 bunch asparagus, stems trimmed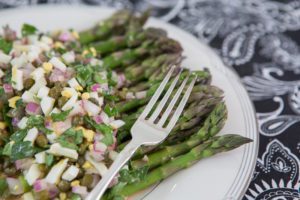 2 tablespoons red wine vinegar
Pinch of fresh thyme leaves
Pinch of chopped fresh Italian parsley
1 egg, boiled and chopped
1 tablespoon finely chopped red onion
1 tablespoon capers, drained
Salt and pepper, to taste
In a large saucepan, bring 2 quarts of lightly salted water to a boil over high heat. Place the asparagus in the water and cook until just tender, 2 to 3 minutes. Remove asparagus from hot water and cool in an ice bath. Drain again and pat dry with paper towels. Place asparagus on a serving platter. In a bowl, whisk together the vinegar, oil, thyme, parsley, egg, onion and capers. Season with salt and pepper. Pour the vinaigrette evenly over the asparagus. Serve at room temperature. Serves 4.
Lowcountry Chicken Bog with Collard Greens
This one pot comfort food is sure to become a family favorite! There's some debate in the south about whether it should be called a perlo or a bog. In the end, chicken perlo and chicken bog are pretty much the same thing. I like to use Conecuh hot sausage.
1 (4½ to 5 pound) whole frying chicken, cut up
1 pound Cajun smoked sausage, sliced
4 cups firmly packed chopped fresh collard greens
4 cups chicken stock, reserved from cooked chicken
1¾ cups long grain white rice
10 to 12 slices bacon, cooked and crumbled
Place chicken in a large Dutch oven; discard giblets. Add just enough water to cover chicken and bring to a boil. Cover with lid, turn heat down and simmer for 55 minutes or until chicken is cooked through and easily falls from the bone. Remove chicken from pot and set aside to cool. When chicken is cool enough to handle, remove meat from the bones and set aside. Discard skin and bones. Pour chicken stock through a fine mesh sieve into a large bowl; discard bits of bone and skin. Reserve 4 cups of chicken stock. Freeze remaining stock for future use. Add sausage and onion to Dutch oven. Cook over medium heat until sausage is browned and onion is tender. Do not add oil or butter; the sausage will release enough fat for sauteing. Add chicken back to the pot. Stir in collard greens, reserved chicken stock, rice, salt and pepper; bring to a boil. Cover, reduce heat to simmer, and cook for 20 minutes. Remove from heat and let rest for 15 minutes. Top with crumbled bacon before serving. Serves 6 to 8.
Strawberry Cobbler
Strawberry cobbler may very well be the best springtime dessert ever!
1 quart strawberries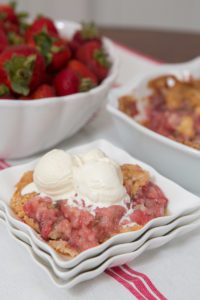 2 teaspoons baking powder
Remove green tops from strawberries and cut into slices. Toss strawberries with ¼ cup sugar; set aside. Meanwhile, place 1 stick of butter in a 2-quart deep baking dish and then place the dish in the oven to melt the butter while preheating the oven to 350 degrees. In a mixing bowl, whisk 1 cup sugar, flour, baking powder, salt and milk together until the batter is smooth. Batter will be runny. Once the butter has melted, carefully remove baking dish from the oven and pour batter over the top of the butter; do not stir. Spoon strawberries evenly over the top of the butter and batter. Do not stir. Place the baking dish back in the oven and cook for 45 to 60 minutes, depending on the depth of the baking dish, until the edges are bubbly and the top is golden brown. Serves 6.