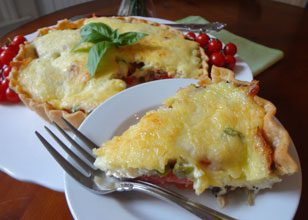 No two tomato pie recipes are the same. If someone actually added them up, I'd be willing to bet that folks from Beaufort have about a zillion recipes for Tomato Pie. They're all just a teeny little bit different.
Some use a variety of fresh herbs, some add bacon, some use salad dressing instead of mayonnaise. No matter which version you prefer, we all agree that tomato pies are one of our favorite local delicacies and something we look forward to every June. It's very interesting to me that tomato pies are pretty much a Lowcountry thing. Most friends from my hometown of Wilson, North Carolina, had never tasted tomato pie until I published the recipe in my first cookbook, Dining Under the Carolina Moon, way back in 2005. Mama made tomato pies for our whole neighborhood. Instant hit! And, she sold quite a few of the cookbooks, to boot. Last week, I catered luncheons for the Technical College of the Lowcountry at the Best Western on Bay Street. Once again, there were brand new palates to introduce to our beloved tomato pies. Of the two-day seminar, the tomato pies were the hands-down favorite. As a thank you for all of copies of Celebrate Everything! that were purchased downtown, I promised to share my most recent recipe for tomato pie in this week's issue. I still change the recipe from time to time. Sometimes, I'll experiment with a gourmet cheese, and Vince and I love the addition of bacon for a summer supper. I'm sure some of our local gourmands will question my use of dried herbs. As much as I love fresh basil, dried basil has an intense, concentrated flavor that I prefer. Use my recipe as a template to concoct your own version. You just can't make a bad tomato pie with our fresh, local tomatoes. Yay for tomatoes! Yay for tomato pies!
Beaufort Tomato Pie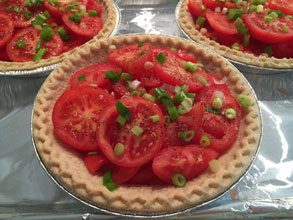 1 (9-inch) deep dish frozen pie crust, thawed in the refrigerator
1 egg, beaten
2 or 3 large ripe tomatoes, thickly sliced
Salt, to taste
Freshly ground black pepper, to taste
3 green onions, chopped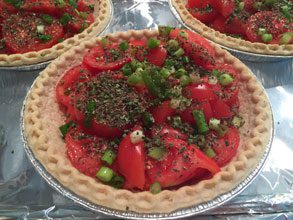 Dried sweet basil
Chopped chives (fresh or dried)
1 cup (scant) mayonnaise
1 cup (8 ounces) shredded sharp cheddar or mozzarella cheese

Place thawed pie crust on a large baking sheet. Using the tines of a fork, prick the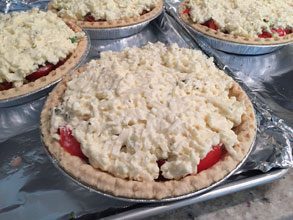 crust multiple times to keep it from puffing up while being par-baked. Break egg into a small dish and beat. Using a pastry brush, brush the bottom and sides of the crust with the beaten egg. Do not brush the top edge. (The egg will help to seal the crust during baking and prevent a soggy bottom after the tomatoes are added.) Bake the crust in a pre-heated 375 degree oven until lightly browned. Remove and cool to room temperature. Fill par-baked pie shell with tomato slices. Sprinkle liberally with salt and pepper. Add green onions. Season, to taste, with dried basil and chopped chives. Combine mayonnaise with cheese in a medium bowl. Using a spatula,
spread the cheese mixture evenly over the seasoned tomatoes, sealing to the edges. Bake for 35 to 40 minutes at 350 degrees. Serves 6 to 8.
The writer owns Catering by Debbi Covington and is the author of two cookbooks, Gold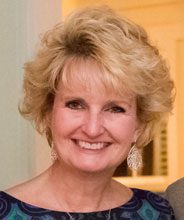 Medal Winner of the Benjamin Franklin Award, Celebrate Everything! and Dining Under the Carolina Moon. Debbi's website address is www.cateringbydebbicovington.com. She may be reached at 525-0350 or by email at dbc@cateringbydebbicovington.com.