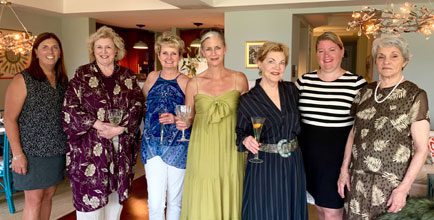 Do you have any idea how hard it is to get ten women together for lunch? When Lowcountry Weekly's Aunt Bossy (Susan Murphy) summons you to her new home, you show up. Still, a couple of us were late, couple of us were very late, and one of us had to leave early. Such are the lives of busy working women. No matter, we pulled it together and enjoyed a lovely luncheon – complete with champagne. Guess who cooked?
Yep, it was me. Susan's still getting settled so I didn't have access to an oven. A big salad with chicken was the perfect entree! All three of these recipes would be great for covered dish luncheons or picnics. Why don't you gather some of your girlfriends, pop open a couple of bottles of bubbly and spend a fun afternoon together? Life goes by too fast. Happy Cooking!
Mexican Chopped Chicken Salad with Honey-Lime Vinaigrette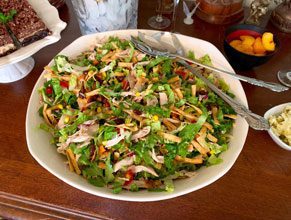 Look for tortilla strips on the salad dressing aisle of your favorite grocery store.
For the vinaigrette:
½ cup olive oil
½ cup lime juice
½ cup red wine vinegar
6 tablespoons honey 
2 garlic cloves, minced
½ teaspoon salt
½ teaspoon pepper
For the salad:
1 deli rotisserie chicken
3 romaine lettuce hearts, chopped
1 (15-ounce) can corn, drained
1 (15-ounce) can black beans, rinsed and drained
1 red bell pepper, seeded and diced
½ medium red onion, chopped
Sliced grape tomatoes
½ cup fresh cilantro leaves
1 (3.5-ounce) package tortilla strips
Combine all vinaigrette ingredients in a jar and shake well to mix. Remove the chicken from the bones and shred into bite-sized pieces. Place chopped lettuce in a large salad bowl. Top with corn, black beans, red bell pepper, red onion, sliced grape tomatoes and cilantro leaves. Drizzle with vinaigrette and toss. Top with tortilla strips. Serve immediately. Serves 8 to 10.
Peachy Jalapeno Cornbread with Jalapeno Butter
I used Jiffy Cornbread mix for this recipe.
For the butter:
1 stick salted butter, softened
1 heaping tablespoon diced jarred jalapenos, drained well
For the cornbread:
1 (8.5-ounce) box cornbread mix
1 egg
1/3 cup milk
1/2 cup chopped canned peaches, drained
1 teaspoon lime juice
1 tablespoon diced jarred jalapenos, drained well
Make the butter. Mix softened butter with diced jalapenos; stirring well to combine. Spoon into a serving dish and cover, without refrigerating, until ready to serve. Preheat oven to 350 degrees. Spray a muffin tin with cooking spray. In a medium bowl, mix the cornbread mix with egg and milk. Stir in chopped peaches, lime juice and diced jalapenos. Pour even amount of batter into 10 of the muffin cups. Bake until the tops are golden, about 15 minutes. Serve warm with Jalapeno Butter. Makes 10.
Fat Girl Brownies
These brownies are over the top! For best results, bake on a day with low humidity and devour within two days.
Brownie layer:
1 (18.4-ounce) package chocolate fudge brownie mix
Cheesecake layer:
2 (8-ounce) packages cream cheese, softened
2 eggs
¼ cup sugar
2 tablespoons all-purpose flour
2 tablespoons milk
Krispie layer:
1 teaspoon vanilla extract
3 cups rice krispies cereal
1 cup chunky peanut butter
1 cup semisweet chocolate chips
½ cup nutella
Line a 9×13-inch baking dish with parchment paper allowing 2 inches to hang over sides. Spray with parchment paper with cooking spray. Preheat oven to 350 degrees. Prepare brownie mix according to package directions; spread evenly in prepared pan. Bake in preheated oven for 20-22 minutes. Brownie layer will not be completely cooked, it will continue baking with the cheesecake layer. Place cheesecake layer ingredients in a medium mixing bowl and mix with an electric hand mixer until smooth. Gently pour cream cheese mixture over the semi-baked brownies and smooth the top with a rubber spatula. Bake for another 20-22 minutes. Let cool completely. In a large pot, melt chocolate chips, peanut butter and nutella over low heat. Cook until the peanut butter and chocolate chips are completely melted; stirring often. Stir in the rice krispies, making sure to coat all of the cereal pieces. Spread the krispie mixture on top of the cream cheese layer. Cover and refrigerate for at least 3 hours before serving. Using the overhanging parchment paper, remove brownies from the baking pan. Cut into pieces and serve. Refrigerate any leftover brownies. Makes 16 to 20 brownies.
The writer owns Catering by Debbi Covington and is the author of three cookbooks, Celebrate Beaufort, Celebrate Everything! and Dining Under the Carolina Moon. Debbi's website address is www.cateringbydebbicovington.com. She may be reached at 525-0350 or by email at dbc@cateringbydebbicovington.com.