On Tuesday, March 29, at 6:00 p.m., the Pat Conroy Literary Center will host an evening with memoirist Carol Lucas, author of A Breath Away: One Woman's Journey through Widowhood. This is a free in-person event held at the Conroy Center (601 Bladen St., Beaufort) with limited seating. To reserve your spot, please call 843-379-7025 by March 27. Books will be available for sale and signing. This event will also be live-streamed on the Conroy Center's Facebook page.
After moving into a new home and believing all of their lifelong plans had been achieved, a happily married couple's existence is shattered by the verdict of incurable disease. When her husband dies, Carol Lucas finds herself immersed in grief and almost dysfunctional. Shortly thereafter, numerous puzzling incidents begin to occur, and she gradually realizes they are more than coincidence. Working her way through sadness, Carol comes to accept that, incredibly, her husband is communicating with her from somewhere beyond this life, and she emerges from this tragedy with a whole new, unexpected outlook.
Carol's memoir is an upbeat, sometimes humorous, always positive story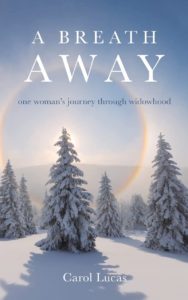 about regaining life-albeit a new one-after loss. In writing it, she wants to provide comfort and hope to those who have lost a loved one, especially grieving widows. After hearing her story, readers just might accept the possibility of life after death and open themselves to ideas they had not considered before.
Retired high school English teacher Carol Lucas grew up in western Pennsylvania, where she also earned her college degree. She went on to do graduate work at the University of Notre Dame. After graduating she started teaching in Pittsburgh and went on to live there for 35 years. During her teaching career she also coordinated a high school Community Service Learning program. Upon retirement, she received an Excellence in Teaching award from state of Pennsylvania. She has since moved to Beaufort, South Carolina, where she enjoys writing, golfing, and going on cruises.