When you hear the expression "urban market," images of an inner-city bodega come to mind, with shelves filled with dry goods, soft drinks and beer, cigarettes and lottery tickets behind the counter, perhaps a deli counter whipping up takeaway items, and plenty of colorful characters.
But when it's spelled Herban Market, a more colorful (and tasty) image comes to mind. At least it does in downtown Beaufort, where Anya Chase and Emily Benson have been creating herbaceous and luscious vegan and vegetarian taste treats, baked goods, juices and smoothies, and more for breakfast and lunch since 2019.
You may recall that there was an Herban Marketplace in Pigeon Point off Boundary Street, which is exactly where Anya and Emily met while working there. When the owner decided to retire and close shop in 2018, they were sad to see it close. Loving what the store offered the community from a health standpoint, chef Anya and pastry chef Emily saw it as the perfect opportunity to open their own business and put their stamp on Beaufort's commitment to healthy food and even healthier eating.
For starters, they moved to the historic district in the storied building that housed Koth's Grocery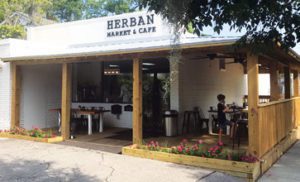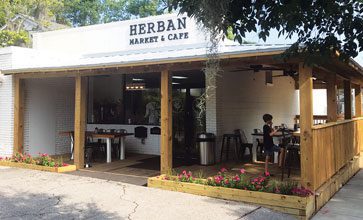 for over 60 years (and then a nut shop briefly after that) at the corner of North and Bladen Streets, just steps away from the Bluff and the newly located Pat Conroy Literary Center. With spectacular river views and plenty of free parking along the street and in the back (how many downtown hotspots can claim that?), Herban Market and Café offers indoor seating at a half-dozen tables and a window counter, plus plenty of outdoor seating in the old parking lot and on a newly built deck alongside the building.
The space is very convivial, with health and veggie-forward cookbooks available to peruse and self-serve coffee and water inside, as well as lots of outdoor tables with umbrellas for alfresco dining, and sumptuous views, and even a wall garden, to get your Zen on. But, enough about the location. Let's get to what most of you read our column for in the first place. The food!
Morning is a great time to get your Herban mojo started, with a coffee and tea menu that's as robust as a steaming cup o' Italian roast. Americano, cappuccino, latte (there's even a beet root latte), espresso, macchiato, chai, matcha chai — you name it— they can make it either hot or cold.
If healthy juices or smoothies are more your thing, Herban Market delivers. Their slogan is "Eat Well Feel Well" after all. Featuring varied vegetables like carrots, celery, cucumbers, spinach, beets and more, combined with a flood of fruits to sweeten the deal, they always have fresh pressed juices to lighten your day.
Smoothies run the gamut, with lots of healthy goodness in a cup in a plethora of playful drinks, like Zenergy, The Antioxidant, Strawberry Sunshine, and the B17 Bomb. Or, have all of your breakfast food groups rolled into one smoothie in the Pitaya Bowl, a blend of dragon fruit, strawberries, bananas, almond or coconut milk, granola, and coconut. Both the juices and smoothies come with optional add-ons like bee pollen, wheat grass, vitaminerals and protein powders to get that extra punch any time of day.
If you are like us, a healthy juice gives you all the justification that you need to indulge in a sweet
confection. Obviously, Anya and Emily Herban Market couldn't agree more, with Herban Market's sumptuous scratch-made daily baked goods tempting you next to the order counter. "I love seeing people looking at the bakery case in awe, or when they take the first bit of one of the pastries and get that look of total satisfaction," says Emily.
Overflowing with mouth-watering croissants, sweet and savory Danish and scones, muffins, sticky
buns and more, many of which are vegan and gluten free, the daily special chalkboard typically features additional hot breakfast options like the Herban Breakfast Croissant with egg, avocado, tomato, spinach and Havarti cheese on a house made croissant, breakfast burrito or vegetarian Biscuits & "Sausage" gravy with an egg to order on top.
If you find yourself hungrier than a smoothie and scone will satisfy, you won't be disappointed. The sandwiches, wraps and salads are loaded with delicious goodness, both literally and figuratively. "I love to take traditional favorites and put a vegan spin on them," Anya says. Sandwich standards include Herban Staples (otherwise known as customer favorites) like a smokey beet reuben, a yellowfin tuna melt (Cele's fave), or grilled avocado and kimchi. They have recently added a house made veggie burger (made with actual veggies!) that has quickly become a fan favorite. Wrap options include veggie with killer hummus, a BLT with tempeh bacon and Vegenaise (Lynn's fave), and Greek falafel with feta, hummus and tzatziki. They also incorporate seasonal items into an ever-changing specials menu.
As you might expect from a health-oriented café, the salads excel, with a Power Salad (including heart-health ingredients like spinach, quinoa, roasted sweet potatoes, edamame, avocado, pea shoots, hemp seeds and more), Cobb Salad (with eggless tofu, black beans, guacamole and tempeh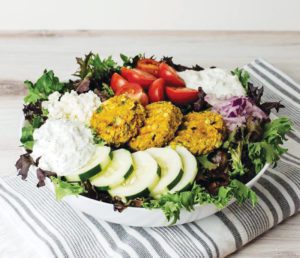 bacon), Falafel Salad and Yellowfin Tuna Salad.
The popular Grab & Go cooler serves up several of the Herban Staples wraps and salads and weekly specials ready to go, along with flavored waters, all different kinds and flavors of Kombucha, jars of pickles and sauerkraut, cottage cheese and other healthy items to stock your own fridge. There are also plenty of pantry items, including coffee and tea, honey, crackers, specialty chips (only in the South could you find Bloody Mary- or pimento cheese-flavored potato chips, praise the Lord), some fresh produce, like the oft-forgotten onion, sweet potato or banana, lots of everyday and hard-to-find herbs and spices, and even personal toiletry items, including body butter, organic insect repellant and CBD products.
Once you are fully sated with a healthy meal, it's time to bring on the good stuff. We're talking an
insane offering of divine desserts, lovingly created and concocted by Emily. Delicacies like blackberry goat cheese cheesecake, berry hibiscus cupcakes, dark chocolate beetroot cupcakes, bread pudding, eclairs, mixed berry crostatas, avocado brownies — we could go on, but you get the idea. And many of them are vegan, gluten-free or both! Now that's a luscious way to end a delicious meal.
"The fact that food brings people together, brings back memories, and can totally fix a terrible day drives us to provide the excellence that we've become known for," reflects Emily. We couldn't have said it better ourselves, ladies. And, for that, we thank you.
Beaufort-based travel journalists Lynn and Cele Seldon (www.seldonink.com) often cover culinary travel around the world, and Lowcountry Weekly recently lured them to write a monthly feature covering the local food scene. This will include articles about restaurants, chefs, food-focused stores, farms, farmers, farmers markets, and more. They welcome suggestions for topics.