My husband Vince and I love Greek food! Whenever we travel, we always look for authentic Greek restaurants. One of our all-time favorite Greek dishes is Spanakopita. It's a vegetarian pastry made with spinach, feta cheese, phyllo dough and lots of butter. I started to wonder if I could find a similar recipe that featured chicken.
As it turns out, Kotopita (Greek Chicken Pie) is made almost the same way as Spanakopita. Diced chicken is tossed with parmesan and feta cheeses in a bechamel sauce and spread between layers of phyllo dough. It's delicious! Serve Kotopita with a classic Greek Salad for an honest-to-goodness Greek meal, Lowcountry style.
Don't forget the ouzo. Opa!
Kotopita (Greek Chicken Pie)
8 cups diced chicken breast
1 cup grated parmesan cheese
1/3 cup butter
1/2 cup diced onion
1 clove garlic, minced
1/3 cup all-purpose flour
3 cups milk
1 cup heavy whipping cream
2 cups crumbled feta cheese
3 eggs
2 teaspoons dried dill weed
1/2 teaspoon salt
1/4 teaspoon black pepper
1/4 teaspoon ground nutmeg
1/2 (1 pound) package frozen phyllo dough, thawed in refrigerator
2 cups butter, melted
Combine chicken with parmesan cheese; set aside. Melt butter in a heavy saucepan over low heat; add onion, garlic and flour. Cook for 1 minute, stirring constantly. Gradually add milk; cook over medium heat, stirring constantly, until thickened and bubbly. Stir in whipping cream. Add chicken mixture, feta cheese, eggs, dill weed, salt, pepper and nutmeg. Mix well to combine. Butter a 9×13-inch baking dish. Layer 8 to 10 sheets of phyllo dough in the dish. Brush each sheet liberally with butter while assembling. Spread chicken mixture evenly over phyllo dough. Top with remaining sheets of phyllo, brushing each one with butter. Brush top sheet with butter and pour any remaining butter over the kotopita. Using a sharp knife, cut through kotopita into 12 servings. Bake in a preheated 350 degree oven for 45 to 50 minutes or until top crust golden brown. Serves 12.
Greek Salad
For the vinaigrette: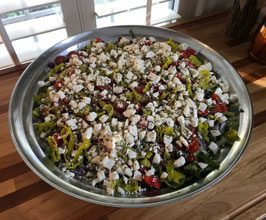 6 tablespoons olive oil
1 teaspoon garlic powder
1 teaspoon dried oregano
1 teaspoon dried basil
1 teaspoon dijon mustard
1 teaspoon fresh lemon juice
1/2 cup red wine vinegar
For the salad:
1 head romaine lettuce, torn
1 large cucumber, halved and sliced
8 to 12 cherry tomatoes, quartered
1/2 cup kalamata olives, pitted
1 small red onion, halved and thinly sliced
12 pepperoncini
4 ounces feta cheese, crumbled
Dried oregano
In a small bowl, whisk vinaigrette ingredients together until well mixed; set aside. Place lettuce, cucumber, tomatoes, olives, red onion and pepperoncini in a large salad bowl. Dress with vinaigrette; toss to coat. Top with feta cheese and season to taste with dried oregano. Serves 6 to 8.
The writer owns Catering by Debbi Covington and is the author of two cookbooks, Gold Medal Winner of the Benjamin Franklin Award, Celebrate Everything! and Dining Under the Carolina Moon. Debbi's website address is www.cateringbydebbicovington.com. She may be reached at 525-0350 or by email at dbc@cateringbydebbicovington.com.