Spring is in the air! Warmer temperatures steer my taste buds away from tummy-warming winter comfort foods to crisp and fresh fruits and vegetables. I do love a good salad. Friends and clients tell me how much they enjoy salads but that they rarely take the time to make them. I understand totally. Chopping and dicing does take some effort but it's worth it in the end. A recipe in hand is very helpful. The next time you write your shopping list, include salad ingredients. You can easily prepare everything ahead of time. Refrigerate individual chopped ingredients in zip-top baggies until you're ready to eat. Layered salads are great to make ahead, too. A layered salad will last for several days in the refrigerator. If all else fails, grab a bag of salad with the fixings. You can add protein and whip up an easy vinaigrette to change it up a bit. Besides, who couldn't stand to drop those few extra holiday pounds? Salads, just sayin'.
Shrimp and Strawberry Salad
This is my all-time favorite springtime shrimp salad. Take advantage of the fresh local strawberries while you can.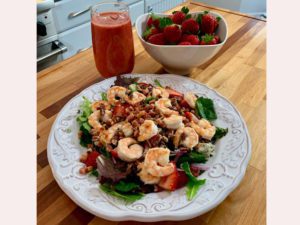 For the vinaigrette:
1 (16-ounce) package frozen strawberries, thawed in the refrigerator
¼ cup honey
¼ cup apple cider vinegar
¼ cup vegetable oil
½ teaspoon
Black pepper, to taste
In a blender, process strawberries with honey, vinegar, vegetable oil, salt and pepper to form an emulsion.
For the salad:
4 ounces diced pancetta
1 small jalapeno, thinly sliced
12-15 medium shrimp, peeled and deveined
Mixed salad greens
Red onion, thinly sliced
Blue cheese, crumbled
Fresh strawberries, sliced
Pecans, chopped and toasted
In a dry frying pan, cook pancetta until crispy. Just before pancetta is cooked through, add jalapeno slices and cook until tender. Remove pancetta and jalapeno with a slotted spoon and drain well on a paper towel. Add shrimp to the grease rendered from the pancetta and cook over medium heat until pink. Place mixed greens on a platter. Top with red onion, blue cheese, shrimp, pancetta-jalapeno mixture and sliced strawberries. Garnish with toasted chopped pecans. Serve with vinaigrette on the side. Serves 2.
Broccoli Salad with Berries
Broccoli salads are great for boxed lunches, picnics and of course, church suppers. I have quite a few different versions on my catering menu. Broccoli Salad with Berries is a client favorite. Make it extra special by stirring in some crispy fried bacon just before serving.
For the dressing:
1 cup mayonnaise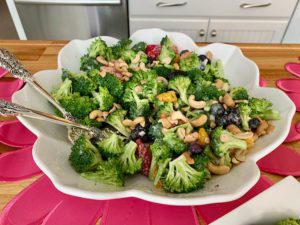 1/3 cup sugar
2 tablespoons vinegar
For the salad:
5 cups broccoli florets, trimmed
1/4 cup chopped red onion
1 cup sliced fresh strawberries
1 cup fresh blueberries
1 cup fresh blackberries
1 (11-ounce) can mandarin oranges, drained
1/3 cup salted cashews
Combine dressing ingredients in a small bowl. Place broccoli, red onion, strawberries, blueberries and mandarin oranges in a large bowl. Toss gently with dressing. Garnish with cashews. Serves 6 to 8.
Classic Seven Layer Salad
Layer this yummy salad in oversized wine glasses for a fun presentation!
5 cups romaine lettuce cut into small pieces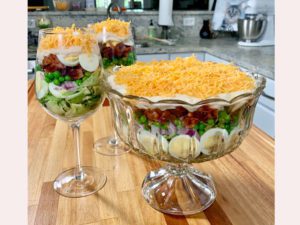 1 cup frozen baby peas, thawed
Chopped red onion, to taste
4 hard-boiled eggs, sliced
1 (12-ounce) package bacon, cooked and crumbled
2 cups salad dressing (Miracle Whip)
2 cups shredded cheddar cheese
Place salad ingredients, in layers, in a large glass bowl or trifle dish. Top with salad dressing and garnish with cheddar cheese. Cover and chill until ready to serve. Serves 12.