After 31 years of marriage, Vince and I spent our very first Christmas alone. Together. Just the two of us – and our 16-year-old-Christmas-loving cat, Belle. It was glorious! Unseasonably cold weather was a great excuse to stay home, sleep late, watch Christmas movies and eat. So, we did just that. I spent several afternoons testing new recipes for catering, my YouTube cooking channel and of course, my Lowcountry Weekly column. Christmas came and went too quickly. Today, Belle and I made the executive decision to start undecorating. It's time to move forward. 2023 is just a few days away. I'm very excited by the notion of a fresh start, a chance to begin again and the possibilities ahead. Happy New Year, dear readers. Cheers to your good health, safety, happiness and prosperity!
Lasagne Soup con Tre Formaggi
The Italian language is so deliciously descriptive. "Con tre formaggi" translates to "with three cheeses." The cheese medley that tops this soup is incredible. Keep in mind that Lasagne Soup will only be soup for an hour or two. After that, the pasta soaks up enough of the broth for the consistency to become more like a casserole. If you need to make the soup in advance, cook the pasta separately and add it just before serving. p.s. "Lasagne" is the plural of "lasagna" and there is definitely more than one piece of pasta in this recipe.  
1 pound ground beef, cooked (about 3 cups cooked)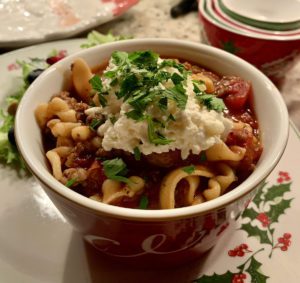 3 (14.5-ounce) cans beef broth
1 large onion, chopped OR 3 tablespoons dried onion
2 (14.5-ounce) cans diced fire-roasted tomatoes
1¼ -1½ cups prepared marinara sauce
2 teaspoons dried oregano
¼ teaspoon crushed red pepper flakes
Freshly ground black pepper, to taste
¼ cup cabernet sauvignon, optional
8 ounces campanelle (trumpets), mafalda or fusilli pasta
For the three cheese topping:
1 cup cottage cheese OR ricotta cheese
½ cup grated parmesan cheese
1 cup shredded mozzarella cheese
Freshly ground black pepper, to taste
Chopped fresh Italian parsley OR fresh basil to garnish
Brown ground beef in a large stock pot until cooked through; drain well on paper towels. Discard grease. In the same pot, pour in 3 cans of beef broth and bring to a simmer. Add onion and cook in broth until tender. Add garlic, fire-roasted tomatoes and prepared marinara sauce. Season with oregano, basil, red pepper flakes and black pepper and simmer until heated through. Add wine; if using. Bring mixture to a low boil. Stir in beef and pasta and cook until pasta is al dente; stirring often. While the soup in cooking, make the cheese topping. Place cottage cheese, parmesan cheese and shredded mozzarella cheese in a bowl; mix well to combine. Season with black pepper. Cheese mixture will be stiff. To serve, add soup to individual bowls and top with a dollop of the cheese topping. Garnish with chopped fresh Italian parsley. Serves 6 to 8.
This is my go-to popover recipe. It's no-fail, ridiculously easy and only uses four ingredients. Serve the popovers with room temperature butter – English or Irish butter is best.
1 cup milk, at room temperature (whole, low-fat or skim)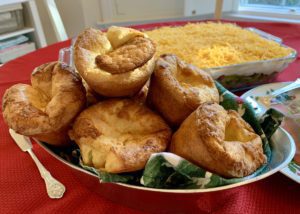 3 large eggs, at room temperature
2 tablespoons cold butter
Place milk, flour, eggs and salt in a blender. It's important that the eggs and milk are not cold. If needed, warm the milk for about 30 seconds in the microwave. Blend all ingredients until the batter is very smooth. Let the batter rest for 15 to 20 minutes. Place oven rack in the center of oven. Preheat oven to 450 degrees. Spray popover pan with cooking spray. Place popover pan on a baking sheet. Place 1 teaspoon of cold butter in each cup of the popover pan. Place pan on baking sheet in hot oven for 1 to 2 minutes, just long enough to melt the butter. Do not stir the batter. Evenly divide the batter into the prepared pan. Each cup should be filled approximately halfway. Bake for 20 minutes until puffed and golden brown. Reduce heat to 350 degrees and continue baking for 10 more minutes until crispy. Do not open the oven door during baking. Serve warm. Serves 6.
Classic Seven Layer Salad (Lowcountry Layered Salad)
I've been making this salad since I was in my teens. It will last in the refrigerator for several days and it's just plain delish. Double or triple the ingredients to feed a crowd.
5 cups iceberg lettuce; cut into small pieces
1 cup frozen baby peas, thawed
Chopped red onion, to taste
1 (12-ounce) package bacon, cooked and crumbled
6 hard-boiled eggs, sliced
2 cups salad dressing (Miracle Whip)
2 cups shredded sharp cheddar cheese
Place salad ingredients, in layers, starting with the lettuce and ending with the boiled eggs, in a large glass bowl or dish. Top with salad dressing and garnish with cheddar cheese. Cover and chill until ready to serve. Serves 8.
The writer owns Catering by Debbi Covington and is the author of three cookbooks, Celebrate Beaufort, Celebrate Everything! and Dining Under the Carolina Moon. For more great recipes and to view her cooking demonstrations, visit and subscribe to Debbi's YouTube channel. Debbi's website address is www.cateringbydebbicovington.com. She may be reached at 843-525-0350 or by email at dbc@cateringbydebbicovington.com.