The words fresh and light perfectly describe the kind of innovative, delicious food that so many of us want to cook and eat today. We like peak-of-the season ingredients prepared in simple ways that best enhance their flavors.
Not so long ago, if friends said they were cooking and eating fresh and light food, we would automatically assume they were on a diet. Low-fat, high-quality foods that are imaginatively prepared actually taste great! Today, fresh and light are two of the adjectives used most often to praise the very best contemporary cooking. Fresh foods and light cooking go hand in hand. Together they offer not just a way to cook and eat but a way of life. The word fresh means in tune with the seasons. Diets rich in fruits and vegetables are naturally healthy, providing plenty of nutrients with less fat and calories. Light cooking is distinguished by simple preparations that highlight the natural tastes, textures and colors of fresh vegetables and fruits, as well as good-quality sources of protein such as seafood, poultry and lean meats. Cooking methods are generally quick to help keep fresh flavors intact and require only a minimum of fat. Once you begin to explore the world of fresh ingredients and light cooking, enjoying colorful and flavorful dishes will become a habit and you will be on the path to a healthier lifestyle. I invite you to try these excellent recipes and discover that freshness and lightness are pleasures to be enjoyed. (Photography by Paul Nurnberg)

Yellow Squash and Basil Soup
To garnish, float fresh basil on the top of the soup or place it on the rim of the bowl.
4 tablespoons butter
1 medium sweet onion, chopped
4 yellow squash, sliced
3 medium carrots, sliced
2 cups chicken or vegetable broth
1 cup water
¼ cup milk
¼ cup heavy cream
½ teaspoon salt
Coarsely ground white pepper
1 cup (loosely packed) fresh basil leaves, chopped
In a 4-quart saucepan, melt butter over medium heat. Add onion and cook about 8 minutes or until onion is tender, stirring frequently. Add squash and carrot slices; stir to coat with onion mixture. Add broth and water; heat to boiling over high heat. Reduce heat to low; cover and simmer 20 minutes or until vegetables are tender. Allow vegetables to cool slightly. In a blender at low speed, with center part of cover removed to allow steam to escape, blend soup in small batches until pureed. Pour pureed soup into large bowl after each batch. Return soup to saucepan; stir in milk, cream, salt and white pepper; heat through. Stir in chopped basil just before serving. Serves 6 to 8.
Salmon with Red Pepper-Hazelnut Pesto
Roasted red peppers are the perfect smoky base for this rustic sauce, brightened with a little
lemon and dotted with fresh chopped chives. But it's the toasted hazelnuts that take this pesto to another level. Enticingly fragrant, they lend a wonderfully rich depth to the finished sauce.
1 (12-ounce) jar roasted red peppers
2/3 cup toasted hazelnuts, chopped
1 clove garlic, chopped
Zest of 1 lemon
Juice of 1 lemon
1 teaspoon apple cider vinegar
¼ teaspoon salt
Freshly ground black pepper
½ cup olive oil
1/3 cup chopped chives
8 (6-ounce) salmon fillets
Olive oil, for drizzling
Salt
Freshly ground black pepper
In a food processor, combine the peppers, hazelnuts, garlic, lemon zest, lemon juice, cider vinegar, ¼ teaspoon salt and several grinds of black pepper. Pulse to combine. With the food processor running, drizzle ½ cup olive oil to emulsify and form the pesto. Taste and adjust the seasoning if needed. Adjust the thickness of the pesto with additional olive oil if needed. Remove the pesto to a bowl and stir in the chopped chives. Preheat the oven to 425 degrees. Place the salmon fillets on a parchment-paper-lined baking sheet and drizzle the top of each fillet with a little oil. Sprinkle a pinch of salt and a few grinds of pepper over each fillet. Place the salmon in the oven and roast until the salmon is cooked through, 15 to 20 minutes. Plate the salmon and drizzle a little pesto over each fillet. Serve immediately. Serves 8.
Blueberry-Wild Rice Salad
Known for nutty flavor and chewy texture, wild rice isn't really rice at all! It's actually a long-grain marsh grass native to the northern Great Lakes area. Wild rice can be a bit expensive — but it's well worth it!
For the dressing:
½ cup freshly squeezed orange juice
2 tablespoons champagne vinegar
1 tablespoon chopped Italian parsley
2 teaspoons chopped fresh thyme
½ teaspoon dried tarragon
¼ teaspoon sugar
3 tablespoons olive oil
For the salad:
2 cups blueberries, washed and drained
2 cups wild rice, cooked and cooled
½ cup coarsely chopped walnuts, toasted
1 head butter lettuce
1 orange, peeled, seeded and cut into segments.
In a small bowl, whisk together orange juice, vinegar, parsley, thyme, tarragon, sugar and olive oil. Set aside. In a large bowl, combine the blueberries, wild rice and toasted walnuts. Pour dressing, to taste, over the blueberry-rice mixture and toss to combine. To serve, divide the lettuce among individual salad plates. Top each with some of the blueberry salad mixture. Garnish with orange segments. Serve at room temperature. Serves 4 to 6.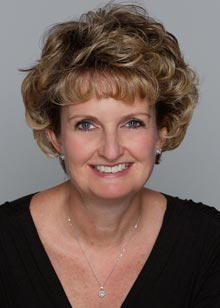 The writer owns Catering by Debbi Covington and is the author of two cookbooks, Gold Medal Winner of the Benjamin Franklin Award, Celebrate Everything! and Dining Under the Carolina Moon. Debbi's website address is www.cateringbydebbicovington.com. She may be reached at 525-0350 or by email at dbc@cateringbydebbicovington.com.