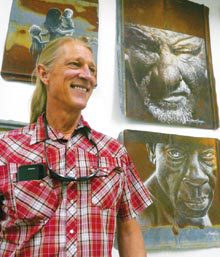 Acclaimed Fine Artist Fleetwood Covington

Comes Home With a Show at Thibault Gallery
 By Mark Shaffer

Up until now Fleetwood Covington has been something of an enigma – a name attached to the local mythology that precedes me. Mostly I know of him through his brother Vince and sister-in-law, Debbi and a handful of mutual friends with longer histories in Beaufort than mine. Artist, musician and songwriter are among the list of words attached to the name when it comes up in conversation along with another: character. A few days before we're set to do this interview I mention to a mutual friend that I'm finally meeting the man himself. "You won't be disappointed," he says. "That Fleetwood, he's quite the character."
            As soon as he walks – no, ambles – into Thibault Gallery, I get it. I've never met, much less heard of any individual named Fleetwood, but the lanky guy in the checked cowboy shirt, jeans and boots with the ponytail could be no one else. Hell, he looks like a Fleetwood. The way I see it, with a name like that you're practically predestined to be an artist or a musician. He's managed to do both.
            His subjects include rockers, blues men, movie stars, hound dogs, homeless people,
motorcycles and mules – or as he says, "Whatever's cool." His work is collected by Rock & Roll Hall of Famers and some of Hollywood's most elite, although discretion prevents name dropping on these pages.
            For his first show in his old hometown he's put together an eclectic collection of painstakingly detailed drawings. Most are "photo impressionistic" images based on photographs and rendered on salvaged tin. Covington is also a passionate blues enthusiast who does big business out of the Big Easy with his blues themed works. But summer's slow in New Orleans and he's included a number of these works in the Beaufort show. One is particularly striking: a stark rendering of blues men Bukka White and Furry Lewis adapted from a snapshot taken during a 1963 studio session.
Prior to Fleetwood's arrival Gallery owners Mary and Eric Thibault marveled at the detail. "Unless you get real close, you'd never know that wasn't a photograph," says Mary. "The detail is meticulous." It is a word I'll add to the list right after "character."
THE METICULOUS ART OF COOL
            Mark Shaffer: This is a homecoming of sorts. You grew up here.
           Fleetwood Covington: My father, Pete Covington, had Broad River Seafood. He was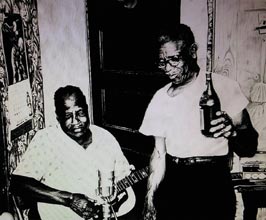 County Councilman, district 9. Everybody knows daddy. I lived here for about 21 years and then he died, I ended up getting a divorce and moving to Wilmington. Mom was there by herself. My brother Vince stayed and my older brother James got on with "Forrest Gump" when it was shooting out at Fripp Island. The guy who owned the scenic company out of New York liked his work so much he invited him to come up and for the last 17 years he's been running the whole scenic company. He did all "The Sopranos," every "Law & Order: Criminal Intent."
            He did a lot of oil paintings when he was young. He was always painting. He was probably my biggest artistic influence. But when he moved I went to school and got a bachelor's in Art Advertising.
            MS: So did this artistic inclination run in the family or where did it come from?
            FC: (laughs) Birth defect. Mom must've taken something when she was pregnant. (Both laugh) No, my dad was kind of artistic. He used to do newspaper ads for different grocery stores. I still have some of his originals. He had that meticulousness it takes to be an artist – a real one, anyway.
            MS: Meticulous is a word I'd use to describe every piece you've got here.
            FC: I don't know, man. I get so disillusioned with art because the market is so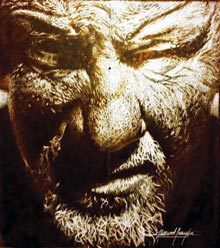 diluted. Anybody with a paint set thinks they're an artist once somebody likes their work. You can build a house but that doesn't make you a carpenter, you know?
            It's like the guy who hires this fellow to build a house and he comes back and the house is all crooked and he says, "I thought you said you were a carpenter?" And the guy says, "I did. I just never said I was any good at it."
            (Both laugh)
            MS: Back to the meticulous nature of this work. The detail is amazing.
            FC: I like anything that's photo impressionistic. When you're up close it doesn't look like anything, but when you pull back it falls right together.
            MS: A lot of this is rendered on tin.
            FC: I like the effect that it has. It's sort of an artifact in a way that makes it seem more precious. It's the last glimpse, so to speak.
            I don't do anything to the metal. I don't even clean the spider webs off because people know my work and it's like I just pulled it out of the field with the work on it.
            I don't like photo-realism. It's too sterile. I could get on this thing with sharper pencils and make it look like a photograph but what's the sense in it? (Pause.) [Marcel] Duchamp called it "the paw." You need to see something kind of raw within the work – something of the paw. That's the true art of it: loose yet controlled.
            MS: This work focuses on a specific aspect of what you do. You're by no means confined to it.
            FC: I do a lot of different stuff. Right now I'm trying to bring back black light (pulls up an image on his phone based on a shot from The Who's "Quadrophenia"). I'm trying to get my inks right. And it's very hard because the old black light temper paint is terrible. Plus I'm trying to do it on black velvet. You'd think that would be cliché but if it's The Who's "Quadrophenia" we're talking a different thing. I want to use the properties of iridescence because there is something universal about black light. I've never seen anyone walk into a black light room and go, "Ooh! I don't like this." (Laughs) I'm trying to take an iconic thing and push it into more modern times.
            MS: The gallery's motto is "Art by Southern hands." As I look at these pieces, I get
the overwhelming impression that most of the subject matter is deeply southern. Am I right?
            FC: Yeah. This (gestures around) doesn't even begin to scratch the surface. I just finished this series last year and sold 86 pieces out of New Orleans. It's all based on William Gedney's photographs of the Cornett family.
            (In 1964 Gedney moved in with the Cornett family in Eastern Kentucky to document the hardscrabble lives of Willie and Vivian and their 12 children in stark, candid black and white images. He visited the Cornetts again 1972. Gedney's works are now part of Duke University Libraries. Covington is licensed by the Gedney Foundation to use the images.)
            He was a gay man from New York. But they weren't threatened by him at all and I mean it's shirts off, cigarette smokin,' holding-a-baby-while-you're-working stuff.
            MS: I'm familiar with it. It's like they forgot he was there. His stuff is as candid as it comes.
            FC: Right. Is this Southern? Well, it's a Southern "take." It could be a Northern thing, I guess. I try to do stuff that ties us all together, but it's coming from a Southern person who has this Southern experience and flare.
            It's like the Grateful Dead. I've never owned a Dead album in my life. I respect them as musicians, but it wasn't a Southern thing. It all depends on locale – how your culture develops you and what you like. People are what mainly impress me. The homeless pieces are based on Lee Jeffries photos. He's an [English] accountant who, in his spare time, photographed homeless people all over the world – real powerful stuff. (Find Jeffries' stunning portraits on Flickr.com) Now he doesn't have to do accounting anymore.
            I met him about four years ago and ended up doing the series two years later. I got a little bit of press after I did it, but it seems like everybody's copying Lee Jeffries' stuff now.
            Most of this collection is what I've been working on over the last year or so except for that piece (points out the Bukka White/Furry Lewis piece overhead). That's from my personal collection. Mary asked me if I was selling it. I said, "Darlin', everything's for sale." (Both laugh) I can always do another. I may never get around to it, but…
            MS: Just about everything in this collection is based on something else – an existing image.
           FC: People ask me if I ever make stuff up. I can do that all day long, but to me it's hollow. It doesn't mean anything. I like documented subjects where something's there, something happened.
            I love Southern images if I can find the right ones. But that doesn't limit me. It's whatever I think is cool. One thing I do like about drawing is the immediacy of it: one man, one tool.
            One job I have as an artist is to reflect what I'm seeing. Take Bukka and Furry there. Some people go, "Why would you waste your time on something like that?" My answer is, "You don't get it. It's not for you, you know?" We don't all have to wear the same color shirt. It's what I like and I get to do what I like.
MEET THE ARTIST
            The public is invited to meet the artist during a gallery reception Monday, June 8 from 5:30 – 7:00 hosted by Covington Blind & Shutter Company and Catering by Debbi Covington.
            Thibault Gallery is located in the heart of historic downtown Beaufort at 815 Bay Street and online at Thibaultgallery.com