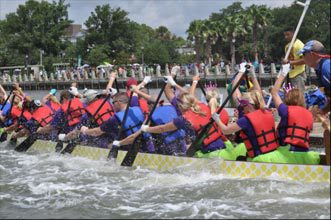 On Saturday, July 25 dragons will invade Beaufort for the 3rd Dragonboat Race Day in conjunction with the 60th Beaufort Water Festival! There will be 30 teams competing for medals during the day, with each team racing three times.
Each team will be provided a 42-foot dragonboat, a professional steerer, personal floatation devices and paddles. A team includes 20 paddlers and a drummer. Teams will be coached on how to safely paddle a dragonboat before competition. Local community organizations, businesses and neighborhoods are encouraged to field a team for Dragonboat Race Day.
Dragonboat Race Day is sponsored by Dragonboat Beaufort, a local cancer survivor/supporter team comprised of men and women of all ages and backgrounds. The Dragonboat Beaufort Fund is housed under the prestigious Community Foundation of the Lowcountry, a 501(c)3 non- profit organization. Dragonboat Beaufort is an organization helping cancer survivors hit the RESET button on their lives by providing a stimulus for cancer survivors to take control of their body and mind by leaving "cancer on the dock."
Formation of Dragonboat Beaufort was Inspired by the documentary film "Awaken the Dragon" shown at the 2012 Beaufort Film Festival. The mission of Dragonboat Beaufort is to provide cancer survivors the opportunity to heal and regain physical and psychological strength and wellness through the camaraderie and competition of dragon boat paddling and racing.
Money raised by Dragonboat Race Day goes to support cancer patients and survivors with needs not covered by usual means. Examples include paying for patients' gasoline so they can afford to drive to medical treatments, delivering food to recovering cancer patients, paying for nutritional supplements, daycare, medical supplies, dental work and stipends toward medical insurance. Dragonboat Beaufort members continually encourage patients undergoing cancer-related treatments with cards and an open invitation to paddle when their strength returns. Money also goes to help heal and support our cancer survivor members and their supporters through paddling. As a volunteer organization with no added administrative cost, we are solely responsible for the maintenance of our team's boats, equipment and its participation in competition.
For more information, contact Dragonboat Beaufort: (843) 473-4477 or info@dragonboatraceday.com or go to the Race Day website and register a team (www.dragonboatraceday.com).