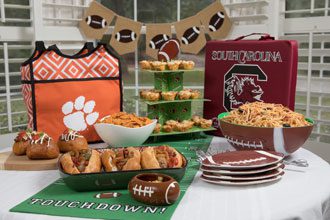 Tailgating: Part Two
Happy Football Season! This week I'm sharing five more delicious and easy recipes that are great for tailgating. I've gotta send a thank you shout out to my dear friend and fabulous photographer, Susan DeLoach, for shooting all of the yummy photos. Enjoy!
Fire Crackers
I just happened across this recipe a few months ago. These snacks are addictive! The original recipe calls for 3 to 5 teaspoons of red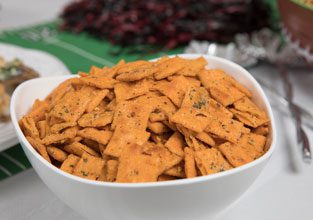 pepper flakes. I like really spicy foods and I think that 3 teaspoons is a gracious plenty. Fire Crackers would also make great hostess gifts at Christmastime.
½ cup vegetable oil
1 (1-ounce) package ranch dressing mix
3 teaspoons red pepper flakes
1 (13.7-ounce) box Cheeze-Its
Preheat oven to 250 degrees. Combine all in ingredients in a large mixing bowl. Toss to coat well. Spread crackers on a large rimmed baking sheet. Bake for 20 to 30 minutes, stirring every ten minutes, until crackers are crispy and completely dry. Cool and store in an airtight container.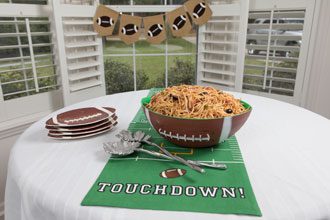 S'ghetti Salad
This is my version of the pasta salad that used to be on the salad bar at Broad River Seafood – way back in day. Tami Taylor and Missy Moberly helped me recreate the original recipe and then I added some additional goodies. It's crazy-delicious! Be sure to let it rest overnight so that the pasta absorbs all of seasonings.
1 (16-ounce) package spaghetti, broken in half
¼ cup vinegar
½ cup vegetable oil
¼ cup ketchup
2 (0.7-ounce) packages Italian dressing mix
3 teaspoons sugar
¼ teaspoon celery salt
1 teaspoon paprika
½-¾ teaspoon salt
3 teaspoons poppy seeds
½ teaspoon celery seeds
½ teaspoon garlic powder
¼ teaspoon black pepper
Dash cayenne pepper
1 (8-ounce) can mushrooms stems and pieces, drained
1 (14.5-ounce) can petite diced tomatoes, drained
2 (2.25-ounce) cans sliced black olives, drained
½ cup chopped green pepper
½ cup diced red onion
1 (5-ounce) package pepperoni minis (or 40 slices pepperoni, quartered)
Cook spaghetti according to package directions, drain. In a large bowl, combine vinegar, vegetable oil, ketchup, Italian dressing mix, sugar, celery salt, paprika, salt, poppy seeds, celery seeds, garlic powder, black pepper and cayenne pepper. Add warm spaghetti and mix well to coat. Stir in mushrooms, tomatoes, olives, green pepper, red onion and pepperoni. Toss to combine. Cover and refrigerate for at least 12 hours before serving. Serves 8.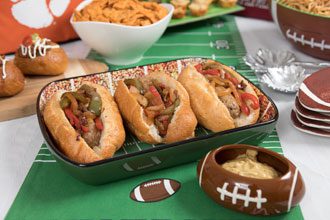 Italian Sausages with Peppers and Onions
Italian sausages are Vince's favorite. These can be cooked in a skillet, on a grill, or reheated in a foil pan on a grill. They're not bad at room temperature either. I took them up a notch by serving Truffle Mustard on the side instead of our regular dijon. Delish!
6 Italian sausages
1 tablespoon vegetable oil
1 medium onion, sliced
1 large green pepper, sliced
1 large red pepper, sliced
6 hoagie buns
Mustard
Cook sausages in a skillet over medium heat until browned and cooked through completely. Remove from skillet until ready to serve. Heat vegetable oil in the skillet. Add onion and peppers and cook until onions are translucent and peppers are soft. Dress hoagie buns with mustard, add sausage and top with onion-pepper mixture. Serves 6.
Philly Cheesesteak Pinwheels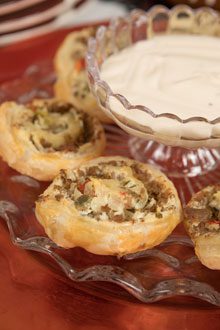 I was surprised at how delicious these actually are. Serving the alfredo sauce on the side is a must for dipping. Frozen sandwich steaks (Steak-Ums) are packaged in a small red box and found in the meat department of the frozen food section at the grocery store. They're frozen in sheets but turn into crumbles when they're cooked. Be sure to let the meat drain on paper towels before adding it to the pinwheels. Seasoning blend is a mixture of diced onions, peppers and parsley. If you can't find it, substitute 1 cup of cooked chopped bell peppers.
4 portions (8 pieces) thinly sliced frozen sandwich steaks
1 (10-ounce) package frozen seasoning blend, thawed and squeezed dry
1 (17.3-ounce) package frozen puff pastry, thawed in the refrigerator
1 cup chive and onion cream cheese spread
1 egg, beaten
Alfredo sauce, for dipping
Preheat oven to 400 degrees. Line a large baking sheet with aluminum foil. Spray with cooking spray. In a skillet, cook thinly sliced frozen sandwich steaks as directed on package until browned and cooked through. Drain on paper towels. Unfold puff pastry. Spread ½ cup of chive and onion cream cheese evenly on each piece of pastry. Top with cooked steak and seasoning blend. Roll pastry up tightly. Cut each roll into 10 equal slices. Place slices two inches apart on prepared baking sheet. Brush with beaten egg. Bake for 20 to 23 minutes or until puffed and golden brown. Let stand for 5 minutes before serving. Serve with heated jarred alfredo sauce. Makes 20.
Indoor Smores
Best on the same day that they're prepared, Indoor Smores will stay crunchy for up to 24 hours. A fun decorating idea would be to use sprinkles that represent the colors of your favorite team instead of the white ones. Be careful to not overstuff them with too much marshmallow cream. In this case, less is more.
2 sleeves of graham crackers (from a 14.4-ounce box)
1 (7-ounce) jar marshmallow cream
1 (12-ounce) package chocolate chips
Candy sprinkles
Place several baking racks on baking sheets. Break cracker sheets along perforations. Spread ½ of the crackers with 1 teaspoon each of marshmallow cream. Top with remaining crackers. Melt chocolate chips in microwave, according to package directions. Dip each prepared cracker into chocolate, coating about half-way. Place on baking racks and sprinkle with candy sprinkles. Let chocolate cool and harden completely before serving. Makes 36.
The writer owns Catering by Debbi Covington and is the author of two cookbooks, Gold Medal Winner of the Benjamin Franklin Award, Celebrate Everything! and Dining Under the Carolina Moon. Debbi's website address is www.cateringbydebbicovington.com. She may be reached at 525-0350 or by email at dbc@cateringbydebbicovington.com.