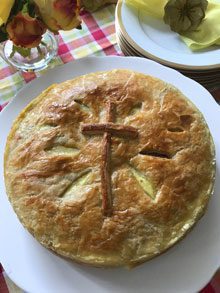 Easter, which celebrates Jesus Christ's resurrection from the dead, is Christianity's most important holiday. Lately I've found myself reminiscing about the church that I grew up in, the churches that I've worked for, and Easters past. Recollections of Easter dresses, little white gloves, Easter bonnets and palm frond crosses quickly come to mind.
Sunday morning flashbacks have my head happily filled with favorite hymns along with memories of what sometimes feels like a whole other lifetime. Many of you already know that I used to work downtown at First Presbyterian Church. I was the church secretary for almost fourteen years. I loved that job. I loved the church. I loved our minister. I loved my church family. More than ten years later, the happiest memories of my tenure at FPC always come flooding back to me at Eastertime. Back in the day, during Holy Week, a noontime service was held Monday through Friday in the church sanctuary. Each service was followed by a soup and sandwich luncheon in the fellowship hall that was hosted daily by one of the five different women's circles. It was my favorite week of the year. We all looked forward to Holy Week as a time of fellowship with our church family and dearest friends. Isn't it wonderful that happy memories only get better with the passage of time? And, isn't it interesting that dining with the people we love is often a part of the process? I hope that this week's recipes will create some new happy Easter memories for you. Thank you for letting me share them with you.
Italian Easter Pie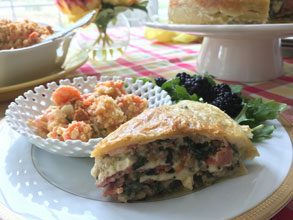 1 (17.3-ounce) package frozen puff pastry (2 sheets), thawed in refrigerator
1 pound mild Italian sausage
½ cup diced fresh tomatoes
¼ cup chopped onion
¼ cup diced bell pepper
1 (10-ounce) package chopped spinach, thawed and squeezed dry
¼ cup grated parmesan cheese
1 (16-ounce carton) whole milk ricotta cheese
6 eggs, divided
8 ounces thinly sliced Italian meats* (calabrese, salami, capocollo, prosciutto and/or pepperoni)
1 pound fresh mozzarella cheese, sliced
Preheat oven to 375 degrees. Lightly grease a 9-inch springform pan with cooking spray. Place on a baking sheet and set aside. In a skillet, over medium heat, cook Italian sausage until browned; drain well on paper towels. Add tomatoes, onion and bell pepper to the skillet and cook until onions and peppers are tender; remove from heat. Place spinach in a medium-sized bowl. Add parmesan cheese and tomato-onion-pepper mixture. Mix well to combine. Place sausage in a large bowl. Add ricotta cheese, 5 eggs and spinach mixture; mix well to combine. Unfold puff pastry sheets. Roll out one sheet to about a 12-inch square. Line bottom and side of springform pan with 12-inch pastry sheet. Layer 1/3 of the sausage mixture in bottom of pan. Top with 1/3 of thinly sliced Italian meat followed by ½ of mozzarella cheese. Repeat layers, ending with a layer of thinly sliced Italian meat. Roll out remaining puff pastry sheet to about an 11-inch square. Slice off a thin strip from one side to make cross, if desired. Place sheet on top; fold and tuck pastry edges into pan to enclose filling. Pinch edges to seal. Beat remaining egg in a small bowl and brush surface. Make cross with reserved puff pastry, place on top and brush with beaten egg. Pierce pastry several times to form vents or slits, which will allow steam to escape during baking. Bake 50 to 60 minutes or until top is golden brown. Cool on a baking rack for 10 to 15 minutes. Run small knife around edge of pan before removing. Serves 12. *I used a package of Italian meats that featured calabrese, salami and capocollo. You can also use deli prosciutto and or sliced package pepperoni. Use at least two different types.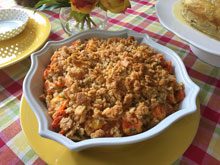 Carrots au Gratin
2 (12-ounce) packages crinkle cut carrots
1 stick butter, divided
1 small onion, chopped
¼ cup chopped fresh Italian parsley
1 (10.75-ounce) can cream of celery soup
½ teaspoon salt
¼ teaspoon black pepper
1½ cups shredded sharp cheddar cheese
1 sleeve townhouse crackers
Preheat oven to 350 degrees. Spray a casserole dish with cooking spray. Bring a large pot of water to a boil. Add carrots and cook until tender; drain. Melt 3 tablespoons of butter in a medium saucepan. Saute onions until tender. Place carrots in a large bowl. Add cooked onions, parsley, cream of celery soup, salt, pepper and cheese. Stir gently to combine. Transfer carrot mixture to prepared dish. Crush crackers in a bowl. Melt 5 remaining tablespoons of butter and pour over crackers. Toss to combine. Scatter cracker mixture over top of casserole. Bake in preheated oven for 30 minutes of until heated through. Serves 8 to 10.
Bunny Tail Truffles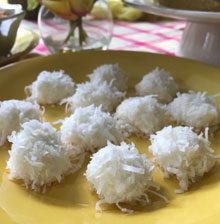 1 (8-ounce) package cream cheese, softened
1 (16-ounce) package confectioner's sugar
1 teaspoon almond extract
1 (14-ounce) package sweetened flaked coconut
In a medium mixing bowl, combine softened cream cheese, confectioner's sugar and almond extract with a electric mixer. Place truffle mixture in refrigerator for 15 to 20 minutes to firm up a bit. Pour coconut into a 9×13-inch baking dish, spread out evenly. Using a small ice cream scoop, scoop out truffle mixture and drop one-by-one into flaked coconut. Make about 10 at a time. Roll in coconut, coating on all sides, and place on a baking sheet. Place coconut covered truffles in refrigerator for at least 3 hours before serving. Makes about 48.
 
The writer owns Catering by Debbi Covington and is the author of two cookbooks, Gold Medal Winner of the Benjamin Franklin Award, Celebrate Everything! and Dining Under the Carolina Moon. Debbi's website address is www.cateringbydebbicovington.com. She may be reached at 525-0350 or by email at dbc@cateringbydebbicovington.com.