The Christmas season inspires comfort food cooking and a warm, crackling fire sets the holiday mood. One of our favorite meals is breakfast for supper. Some nights Vince and I will eat scrambled eggs and pancakes, other nights we'll opt for a frittata and a salad. The best menu combination is something tummy-warming teamed with something sweet and loaded with carbohydrates. These four delicious recipes would certainly fit the bill for a holiday brunch as well. (Photography by Paul Nurnberg)
Vegetable Frittata
Fontina is one of Italy's great cheeses! It has a mild, nutty flavor and melts evenly and smoothly. There's not a better cheese to pair with fresh vegetables in this version of an Italian omelet.
2 tablespoons vegetable oil
1 small red bell pepper, seeded and diced
8 ounces fresh mushrooms, sliced
¼ teaspoon freshly ground black pepper
12 ounces asparagus, cut into ¼-inch pieces
20 grape tomatoes, halved
1/3 cup chopped fresh Italian parsley
8 ounces shredded fontina cheese, divided
Heat vegetable oil over medium-high heat in a large oven-proof skillet. Add onion, bell pepper and mushrooms; cook until tender. In a large bowl, whisk eggs with milk, salt and pepper. Stir in asparagus, tomatoes, parsley and ½ of the fontina cheese. Pour the egg mixture into the skillet; stir to evenly combine. Sprinkle with remaining fontina cheese. Place skillet in a preheated 350 degree oven and bake, uncovered, for 40 to 45 minutes or until frittata is set and golden brown on top. Let frittata stand for 5 minutes before serving. Serves 6 to 8.
Delicate crêpes filled with marjoram-scented sausage and two cheeses are topped with a buttery sour cream sauce and fresh tomatoes. Great entree for breakfast, brunch or dinner!
1 tablespoon vegetable oil
8 ounces shredded cheddar cheese, divided
1 (8-ounce) package cream cheese
1 teaspoon dried marjoram
¼ cup chopped fresh Italian parsley
Beat eggs, milk and vegetable oil with an electric mixer until blended. Gradually add flour and salt, beating until smooth. Cover and chill for 1 hour. Coat the bottom of a 7-inch nonstick skillet with melted butter; place skillet over medium heat until hot. Pour 3 tablespoons batter into skillet; quickly tilt in all directions so batter covers bottom of skillet. Cook for 1 minute or until crêpe can be shaken loose from the skillet. Turn crêpe over, and cook about 30 seconds. Place on a dish towel to cool. Repeat procedure with remaining batter. Stack crêpes between sheets of wax paper. Cook sausage and onion in a large skillet over medium heat, stirring until sausage crumbles and is no longer pink; drain on paper towels. Return sausage to the skillet; add 1 cup cheddar cheese, cream cheese and marjoram; stirring until cheeses melt. Spoon filling down center of each crêpe. Roll up, and place, seam side down in a lightly greased 9×13-inch baking dish. Preheat oven to 350 degrees. Bake covered, for 15 minutes. Meanwhile, stir together sour cream and butter; spoon over crêpes. Bake uncovered, for 5 minutes longer. Sprinkle with remaining 1 cup cheddar cheese, parsley and diced tomato. Serves 8 to 10.
Pimento Cheese Grits
We love our cheese grits! Extra-sharp white cheddar and pimentos will make this version a new favorite.
1-2/3 cups stone ground grits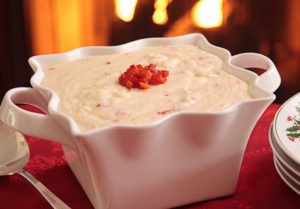 8 ounces extra-sharp white cheddar cheese
2 whole roasted red peppers, chopped
Bring water to a boil in a heavy-bottomed stockpot or large saucepan.  Slowly pour in the grits, stirring constantly.  Reduce the heat to low and continue to stir for 8 to 10 minutes.  Cook the grits over low heat for another 25 to 30 minutes, stirring frequently.  Add the cream, butter, cheese and roasted peppers.  Cook for 5 to 10 minutes more until cheese is melted.  Season to taste with salt and pepper. Serves 6.
Caramel-Pecan French Toast
You can use any kind of rustic bread to make French toast.  It won't even matter if the bread is a few days old. Remember that all of the good stuff is at the bottom of the baking dish. Invert individual portions onto dinner plates to serve.
1 cup light brown sugar, firmly packed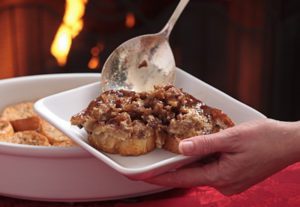 2 tablespoons light corn syrup
8 (1-inch) thick slices French bread
1 teaspoon vanilla extract
1 teaspoon ground cinnamon
Combine brown sugar, butter and corn syrup in a small saucepan.  Cook over medium heat until thickened, stirring constantly.  Pour syrup mixture into a lightly greased 9×13-inch baking dish. Sprinkle pecans over the syrup mixture.  Place slices of bread on top of syrup mixture.  Combine eggs, cream, vanilla, nutmeg and cinnamon.  Pour egg mixture evenly over bread slices.  Cover and chill overnight.  Bake uncovered, at 350 degrees for 30 to 35 minutes or until lightly browned.  Cool for 10 minutes on a wire rack. To serve, remove individual servings with a wide spatula and invert onto serving plates. Serves 6 to 8.
The writer owns Catering by Debbi Covington and is the author of three cookbooks, Celebrate Beaufort, Celebrate Everything! and Dining Under the Carolina Moon. For more great recipes and to view her cooking demonstrations, visit and subscribe to Debbi's YouTube channel. Debbi's website address is www.cateringbydebbicovington.com. She may be reached at 843-525-0350 or by email at dbc@cateringbydebbicovington.com.