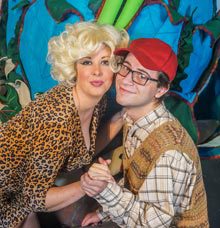 Why is this theatre important to you?
 
            This simple question was posed to the cast of Beaufort Theatre Company's 'Little Shop of Horrors,' opening this month on the 'main stage' of The USCB Center for the Arts. The expectation was that answers would be similar, with echoes of "it is important to the community," or "I love having the opportunity to do something I love." But, they weren't…
            Every player who was asked this straightforward (and leading, we'll admit) question, had a different reason for why USCB Center for the Arts, specifically, the Beaufort Theatre Company was important to them. Here's what they had to say…
            "The Center for the Arts allowed me to break out of my 'shell,' and introduced me to people I would have never had the chance to meet otherwise." – Daniel Bittick, a young actor taking on the big role of Seymour Krelborn. When asked about what is was about Seymour that he liked, he quickly answered: "Because that is who I was in High School, and I really enjoy playing this character that I can relate to and connect with so enormously."
            "It brings culture in the arts to Beaufort County, and you get to work with fabulous, amazing people, and share the love of theatre with others." – Kelly Hall, who will take the stage as the funny and sincere, 'Audrey,' a character she describes as, 'complex,' who is always 'experiencing multiple emotions at one time.' In her time off of stage, Kelly is an arts educator at Beaufort Middle School and a valuable addition to this talented cast.
            "It's the opportunity to work with professionals like Libby Ricardo." – James Duffy, a faculty member at the University of South Carolina Beaufort, "set construction extraordinaire," and 'father' figure to young Seymour Krelborn as he takes on the role of Mushnik; Duffy added, "It is like wrestling a bag of snakes," when asked what it felt like to tango with young Daniel Bittick.
            "The CFA has given me the opportunity to network and meet new friends, and has taught my children hard work and responsibility and that every little part matters." – Colette Merrill, recently seen on the CFA stage as 'Violet,' last December in 'Miracle in Bedford Falls,' is a newcomer to Beaufort and the CFA, Colette has brought huge talent to the CFA this season as a member of the cast of 'Little Shop.'
            "My CFA family and friends are as good as they come: talented, funny and caring. Whenever a show comes to an end I feel like I'm headed home from summer camp – had a great time, can't wait till the next one." – Karl Wells, a staple in the Beaufort community, both professionally and as an important presence at the Center for the Arts (especially after his hunky portrayal of Danny Zuko, last season). Regarding his new role in Little Shop, the misogynistic and pain-obsessed Dentist (portrayed by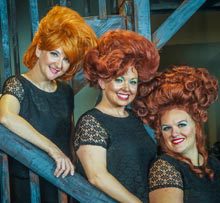 Steve Martin in the film adaptation)' Karl added: "This character is so over the top. I kind of can't overdo it, but man I'm gonna try."
            The Beaufort Theatre Company is comprised of many segments of the greater community in Beaufort and beyond. Tristan Long, Alex Long, Jonathan Boulon and Emily O'Regan all represent the strong presence of Beaufort High School's Theatre Program, under the direction of Laraine Fess, as students or recent graduates. These students grew up in the CFA programming, involved with the Beaufort Children's Theatre in some capacity, attending performances that inspired them to pursue the stage themselves, and are an important fixture of both the Center for the Arts as a whole and this specific project.
            University faculty and staff are prominent in this production of Little Shop as well. Director, Libby Ricardo, joins the faculty of USCB this fall as an Adjunct Professor of Theatre in the same department with James Duffy, an Instructor of English. Kelley Ard, making her premier on the CFA stage with this project, is also a staff member of the Department of English and Theatre, and is thrilled to be joining the cast of Little Shop: "Little Shop has always been a favorite of mine. When I heard the CFA was producing the show, I jumped at the opportunity to audition in the hopes of working with this talented group of people. I'm so excited to see it all coming together." Behind the scenes, Topher Maraffi, (whose wife, Gina Taramasso, is pulling double duty as both choreographer and the voice of the man-eating plant) is an Assistant Professor of Media Arts at USCB and lending his time and talents to ensure the plant is as terrifying as possible with added animation work.
            Veterans of the Beaufort Theatre Company have returned for this project who you may recognize from earlier productions: Elaine Lake, Corrie Frohnapfel, Anna Powell Schaffer and Carol Miller all return after their involvement with Grease, Miracle in Bedford Falls or Piece of my Heart at the Center for the Arts. "It is family, and once you play here, you get 'adopted' into the family," adds Schaffer. "I can't walk in this building without having the feeling, I am where I am supposed to be."
            Performances run September 11, 12, 18, 19 at 7:30 pm, with Sunday Matinees September 13, 20 at 3 pm. Adult Tickets: $25.00, Military/Senior Tickets: $20.00, Student Tickets: $15.00. Tickets may be purchased online, over the phone, by calling the box office at 843-521-4145 or in person at the Center for the Arts, 805 Carteret Street, Beaufort SC 29902. Little Shop of Horrors is presented through special arrangement with Music Theatre International (MTI). All authorized performance materials are also supplied by MTI, 421 West 54th Street, New York, NY 10019; Tel: 212-541-4684; Fax: 212-397-4684; www.MTIshows.com