Necessity is the mother of invention. Last week, after two separate catering events, I found myself with a thawed box of phyllo dough, the large end of a roasted beef tenderloin and an abundance of leftover horseradish sauce. A little bit of creativity kicked in and I ended up with a brand spanking new recipe – Steak and Mushroom Phyllo Roll. I think this will be a great dinner party recipe. With a whole box of phyllo dough, you can make 2 rolls, which is a gracious plenty for serving 6 to 8 people. A side salad with fresh strawberries and an ice cream dessert completes the meal. Invite some friends over for a steak night supper and serve this menu. It's a guaranteed sure-fire hit!
Steak and Mushroom Phyllo Roll
You can substitute the horseradish sauce with Dijon mustard or even horseradish mustard.
½ (16-ounce) box frozen phyllo dough (1 roll), thawed in refrigerator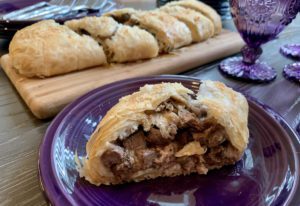 ½ stick salted butter, melted
3 tablespoon prepared horseradish sauce
4 tablespoons grated parmesan cheese, divided
1½ cups shredded mozzarella cheese
1½ cups cooked steak, cut into small pieces
1 (4.5-ounce) jar mushroom stems and pieces, drained
Preheat oven to 350 degrees. Spray a baking sheet with cooking spray. Unfold phyllo and cover with a damp towel to prevent pastry from drying out. On a large cutting board, stagger/layer 12 to 14 sheets of the dough to create a 12-inch square, brushing every sheet with the melted butter. Spread horseradish sauce evenly over dough. Sprinkle with 2 tablespoons grated parmesan cheese. Spread the mozzarella cheese lengthwise down the center of the phyllo stack spreading to within 1 inch of the edges. Top with steak and mushrooms. Fold in the short edges. Roll up, to cover the filling. Place, seam side down, on prepared baking sheet. Cut several diagonal slits across top to let out steam. Brush roll with remaining butter and sprinkle with remaining 2 tablespoons grated parmesan cheese. Bake, in 350 degree oven, for 30 minutes or until golden. Cut diagonally into 6 pieces. Serves 3 to 4.
Strawberry Salad with Honey-Ginger Vinaigrette
This simple vinaigrette works great with any flavored vinegar. I encourage you to try the honey-ginger white balsamic. I purchased my bottle at Olive the Above on Bay Street. You can also order online at olivetheaboveoliveoil.com.
For the vinaigrette:
¼ cup honey-ginger white balsamic vinegar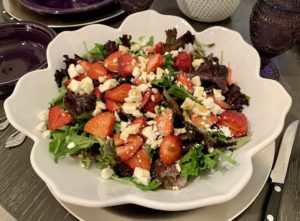 1/3 cup extra-virgin olive oil
1 tablespoon honey
1 tablespoon Dijon mustard
Salt and pepper, to taste
For the salad:
Mixed salad greens
Sliced fresh strawberries
Feta cheese, crumbled
Place vinaigrette ingredients in a small jar with a tightly fitting lid. Shake well to combine. Place salad greens in large bowl, top with sliced strawberries and crumbled feta cheese. Drizzle with vinaigrette before serving. Serves 4 to 6.
Ice Cream Sandwich Dessert
We all scream for ice cream!

21-24 ice cream sandwiches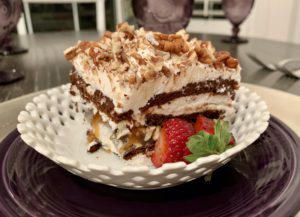 1 (14-ounce) jar caramel topping
1 (12.8-ounce) jar hot fudge sauce
2 cups chopped pecans, toasted
1 (8-ounce) container frozen whipped topping, thawed in refrigerator
Layer half of the ice cream sandwiches in the bottom of a 9×13-inch dish. Trim to fit, if needed. Drizzle with jar of caramel topping. Sprinkle with half of the chopped pecans. Make a second layer with the remaining ice cream sandwiches. Heat hot fudge sauce in the microwave for 30 seconds or until pourable. Pour sauce evenly over second layer of ice cream sandwiches. Spread whipped topping over the hot fudge sauce. Garnish with remaining chopped pecans. Cover and freeze for at least 3 hours. Serves 12 to 15.
The writer owns Catering by Debbi Covington and is the author of three cookbooks, Celebrate Beaufort, Celebrate Everything! and Dining Under the Carolina Moon. For more great recipes and to view her cooking demonstrations, visit and subscribe to Debbi's YouTube channel. Debbi's website address is www.cateringbydebbicovington.com. She may be reached at 843-525-0350 or by email at dbc@cateringbydebbicovington.com.