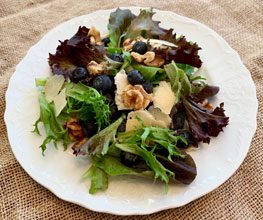 Celebrating BIFF,  Italian Style  
Guess what I just received in today's mail? My very own copy of Dee Dee and Paul Sorvino's cookbook, Pinot, Pasta and Parties. What a great cookbook! The recipes are simple and easy, and totally Italian. I recommend their book with great enthusiasm. You absolutely must purchase a copy!
Inspired by the theme for the 2019 Beaufort International Film Festival, "Goodfellas Meets Broadway with a Bit of Opera," I have created a few easy-to-prepare Italian dishes of my own. Who doesn't love traditional Italian food? We all grew up eating lasagna, spaghetti with meatballs, and pizza – even down here in the Deep South. Italian food, much like southern food, is hearty and comforting and incorporates lots of tomatoes. 
Guess what else? Paul and Dee Dee Sorvino will be in Beaufort this week, at our very own Beaufort International Film Festival. Paul is slated to receive the "Pat Conroy Lifetime Achievement Award" at the Awards Gala on Sunday night. Would you like to meet the Sorvinos? Join us! The 13thAnnual Beaufort International Film Festival is underway but it's not too late to purchase tickets. For more information visit www.beaufortfilmfestival.com. 
See you at the movies!
Mixed Greens with Parmesan and Walnuts
For the vinaigrette:
1 teaspoon dijon mustard
2 tablespoons lemon juice
1 tablespoon honey
¼ cup extra-virgin olive oil
Salt and pepper, to taste
For the salad:
Mixed greens
Fresh blueberries
Shaved parmesan cheese 
Chopped walnuts
Combine vinaigrette ingredients in a small bowl, whisk to combine. Place mixed greens on a salad plate. Top with blueberries, shaved parmesan cheese and chopped walnuts. Drizzle with vinaigrette before serving.
Sicilian Shrimp and Eggplant Mozzarella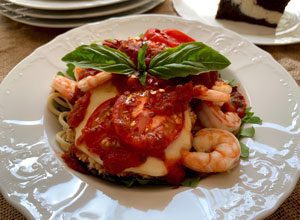 For the eggplant:
1 cup panko breadcrumbs
¼ cup grated parmesan cheese 
½ teaspoon mustard powder
¼ teaspoon cayenne pepper
2 tablespoons chopped fresh Italian parsley
½ cup milk
2 eggs, beaten
1 large eggplant
5 tablespoons butter, melted
12 slices fresh mozzarella cheese 
Sliced campari or roma tomatoes
For the shrimp and pasta:
1 pound medium shrimp, peeled and deveined
1 (8-ounce) package thin spaghetti, cooked al dente
3 cups marinara sauce (jarred or homemade)
3 to 4 cups fresh arugula
Fresh basil leaves
Red pepper flakes, optional
Preheat oven to 350 degrees. Spray a large baking sheet with cooking spray. Mix breadcrumbs, grated parmesan cheese, mustard powder, cayenne pepper and Italian parsley in a shallow dish. In another shallow dish, mix milk with beaten eggs. Slice eggplant into twelve rounds. Dip each slice of eggplant into egg mixture and then into breadcrumb mixture, coating both sides evenly. Place on prepared baking sheet. Drizzle melted butter over eggplant slices. Bake in preheated oven for 30 to 35 minutes until eggplant is browned and crispy. In the meantime, cook shrimp in boiling water until just pink. Cook spaghetti according to package directions until al dente; drain well. Heat marinara sauce. When eggplant is cooked through, remove baking sheet from oven and top each piece with a slice of mozarella cheese and two thin slices of tomato. Return to oven and bake until cheese melted. To plate, place a handful or arugula on a plate. Top with cooked spaghetti and two slices of eggplant. Add 5 or 6 cooked shrimp and ½ cup of the warmed marinara sauce. Garnish with fresh basil and season with red pepper flakes. Serve immediately. Serves 6.
Italian Love Cake
I used a dark chocolate cake mix and Godiva dark chocolate pudding. 
1 (15.25-ounce) box chocolate cake
1 (32-ounce) container ricotta cheese
¾ cup sugar
4 eggs
1 teaspoon vanilla extract
1 (3.6-ounce) package instant chocolate pudding
1 cup whole milk
1 (8-ounce) container frozen whipped topping, thawed in refrigerator
Preheat oven to 350 degrees. Lightly grease a deep 9×13-inch baking pan with cooking spray. In a large bowl, prepare cake mix according to package directions. Pour the cake batter into the prepared pan, using a spatula to spread evenly. In the same bowl, with an electric mixer, beat together ricotta cheese, sugar, eggs and vanilla extract until smooth. Gently spread ricotta mixture evenly over the cake batter. Bake for 60 minutes or until center of cake is set. (The ricotta layer will sink into the cake batter while baking. You will end up with a very thin layer of cake on the bottom, a cheesecake layer and a thicker cake layer on top.) Let the cake cool completely on a baking rack. In a large bowl, whisk the pudding mix with the milk until smooth. Gently fold in the whipped topping until well combined. Spread the pudding mixture over the cooled cake. Cover the cake and refrigerate, for at least 8 hours, before serving. Best served cold. Serves 12 to 15.
The writer owns Catering by Debbi Covington and is the author of three cookbooks, Celebrate Beaufort, Celebrate Everything! and Dining Under the Carolina Moon. Debbi's website address is www.cateringbydebbicovington.com. She may be reached at 525-0350 or by email at dbc@cateringbydebbicovington.com.