With five Academy Award nominations,Green Book is one of 2018's leading films. Controversial. Does it accurately portray the reality of segregation and a black musician hiring a white driver for a concert series in the South? Did the writers have permission from the musician's family? Is it another Hollywood "made to make people feel good" drama/comedy? Film critics are asking these and many other questions but, as a local walking tour guide, the film immediately made me ask, Did Beaufort have a Green Book "hotel"? 
            Knowing where to ask, I contacted Beaufort's guardian of all local history, Grace Cordial, the Beaufort District Collection manager, who quickly provided access to a 1956 edition of the Green Book.  Alas, it contained no Beaufort listings.  But, when responding to a neighborhood invitation to celebrate the new Grace AME church on Lady's Island, Reverend Jeannine Smalls gave me a copy of their church's amazing history.  Pastor Smalls was so pleased to share her church's contributions to our community, I had to read it.  
             Most Beaufortonians know that somehow, during segregation, Beaufort attracted an incredible array of world renown African American artists, athletes, and educators but, who brought them here and, thinking Green Book, where did they stay?
            The answer to the first question, is W. Kent Alston, principal of Robert Smalls High School from 1939-1962. Raised in Summerville, SC and a graduate of South Carolina State University, Principal Alston, as Dave Lauderdale writes, "beat the odds of Jim Crow Beaufort . . .  It was a time when his school and all its students were considered second class by society.  State law and local standards bent over backwards to make sure it was so."  Principal Alston, using connections with white and black leaders, was determined to raise the self esteem and aspirations of his students by bringing "black superstars" to our town.
            He convinced boxing champion Joe Louis to spar with a volunteer from Parris Island.  He brought in the Lionel Hampton orchestra and the Harlem Globetrotters. Somehow, he brought leading African American educators including Dr. Mordecai Johnson, Dr. Mary McLeod Bethune, and Dr. Benjamin Mays. Not long ago, Georgia Public Television aired an hour-long story about Gone With The Wind author, Margaret Mitchell, which included an intriguing story of how she quietly provided Dr. Mays, then president of Morehouse College, with a yearly medical student scholarship.
            In 1957, one of the most celebrated singers of the twentieth century, Marian Anderson agreed to sing at Robert Smalls High School (now the site of the Beaufort County Office Complex). The event was a fundraiser, but Ms. Anderson refused to sing to segregated audiences. Recently, Beaufortonian, Dorothy Mouzon described sitting in the auditorium that evening. "When Marian Anderson came on the stage, she stopped and looked out into the audience to be sure it was integrated." 
            Dorothy Mouzon is the connection to the second question, where did these "black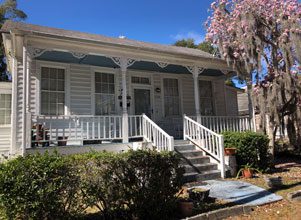 superstars" stay?  Mrs. Mouzon is a member of Grace AME, which was founded in 1869, and is part of the 7th Episcopal District of the AME Church. One of their missions is to "minister to the intellectual needs of all people." During segregation, "In fulfilling her call to Social Action, Marie Mouzon's (Dorothy's mother-in-law) home served as a 'hotel' for famous guests and Civil Rights activists visiting the Beaufort area." Though not listed in the Green Book, their home on Scott Street provided lodging and meals to leading African Americans.  Marie's son, the late Tom Mouzon, is quoted as saying he often came home to find celebrities having coffee with his mother. "One incident was really interesting. When Joe Louis was here, I came home from work and there was a deputy sheriff sitting on the front porch and they wouldn't even let me in! I had to go around to the back of the house to get in . . . I can remember when Paul Roberson was here . . .  He said come on son and have breakfast with me."
            An earlier edition of the Green Book lists D. Brown's Tourist Home and Service Station but we have not yet determined its address. As Grace Cordial pointed out, during segregation, Beaufort was not a major tourist destination for African Americans.  Yet so many incredible people have graced our community with their gifts and walked the streets of our town.
Davis Folsom, Ph.D, is a tour guide with Beaufort Tours, which offers local history and film, Civil War and Reconstruction, and Pat Conroy walking and van tours. He is also available for private tours. Call 843-838-2746 or visit www.beauforttourslc.com