For the record, I'm a carnivore – a meatasaurus, even. I'd grab a cold piece of steak out of the fridge way before digging into a bag of potato chips or eating a piece of chocolate. So, when movie director VW Scheich and his wife Uyen Le asked me to create some recipes for a potential film project, I wasn't sure just what I had to offer. I serve vegetarian options with my catering all the time, but vegan foods are different. To quote Uyen, "we don't eat anything with eyeballs or a mother." That makes food choices very challenging. No eggs, no cheese, no milk, not even honey. I was intrigued. My task was to come up with a few vegan hors d'oeuvres that were so delicious that carnivores and vegetarians would love them as much as the vegans did. What surprised me was that some folks didn't even want to taste them when they found out that they were vegan. They wouldn't even give them a chance. So, I just stopped mentioning it. And guess what? Everybody loved them! I recently catered a memorial reception where we served five vegan guests. Veganism is alive and well in the South Carolina Lowcountry. If you're not sure about your party guest list, I recommend including a few vegetarian and vegan offerings along with the pulled pork barbeque and shrimp. The recipes this week are great for doing just that. They're all simple with easy-to-find ingredients. We're just exchanging the animal-based foods for plant-based components. They're so good your guests will be surprised when they learn that they're eating vegan treats. Give these yummy recipes a try. I'm willing to bet that you'll be glad that you did.
Lemony Beet Hummus
1 (15-ounce) can chickpeas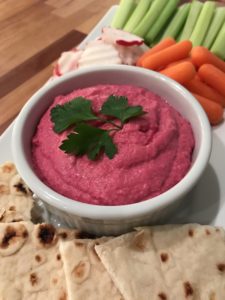 1 cup canned cut beets, drained well
2½ tablespoons lemon juice
½ cup tahini
2 tablespoons water
2 tablespoons olive oil*
2 teaspoons minced garlic
Dash cayenne
Sea salt, to taste
Add chickpeas, beets, lemon juice, tahini, water, olive oil and garlic to the bowl of a food processor and pulse, scraping down sides periodically, until hummus is creamy and has a consistent red color throughout. Season with cayenne and sea salt and process again. Serve chilled with fresh vegetables. Makes about 2½ cups. *I used a lemon infused olive oil.
Sun-Dried Tomato Stuffed Mushrooms
1 (8-ounce) package whole mushrooms
1 (3-ounce) package julienne-cut sun-dried tomatoes
1 tablespoon extra-virgin olive oil
1 clove garlic, minced
¼ teaspoon dried basil
½ (8-ounce) container vegan cream cheese*
Salt and pepper, to taste
1 tablespoon chopped fresh chives
Wash and dry mushrooms, remove stems and set aside. Place sun-dried tomatoes, olive oil, garlic and basil in a food processor and process until well combined. Place vegan cream cheese in a small bowl. Add processed tomato mixture and stir to mix well; season with salt and pepper. Fill each mushroom cap with the stuffing and garnish with fresh chopped chives. Bake in a preheated 350 degree oven for 15 to 20 minutes or until mushrooms are brown and soft. Serve warm. Makes about 18. *Vegan cream cheese is made with almond milk and can be found in the dairy section of your local grocery store.
Vegan Sour Cream
1 (12-ounce) package silken tofu, drained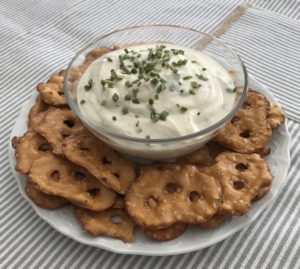 1 tablespoon lemon juice
1 tablespoon apple cider vinegar
1 teaspoon agave nectar
¼ teaspoon salt
Place all ingredients in a blender and process until smooth. Store in refrigerator for seven to ten days. Makes 1½ cups.
Jackfruit Canapes
Triscuit crackers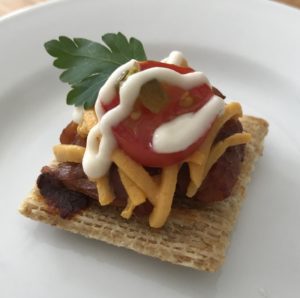 BBQ Jackfruit*
Vegan shredded cheddar cheese
Grape tomatoes, sliced
Chopped pickled jalapenos
Vegan sour cream
Fresh Italian parsley
Prepare a baking sheet with vegetable cooking spray. Top each cracker with a bit of jackfruit, a few shreds of vegan cheddar cheese, a slice of grape tomato and a few pieces of pickled jalapeno. Bake in a preheated 350 degree oven until warmed through. Drizzle with vegan sour cream and garnish with a piece of fresh Italian parsley. *Jackfruit has a meaty texture and is an excellent source of fiber. It's both gluten free and vegan. Look for jackfruit and vegan shredded cheddar cheese in the refrigerated food section of your local grocery store.
The writer owns Catering by Debbi Covington and is the author of three cookbooks, Celebrate Beaufort, Celebrate Everything! and Dining Under the Carolina Moon. For more great recipes and to view her cooking demonstrations, visit and subscribe to Debbi's YouTube channel. Debbi's website address is www.cateringbydebbicovington.com. She may be reached at 843-525-0350 or by email at dbc@cateringbydebbicovington.com.