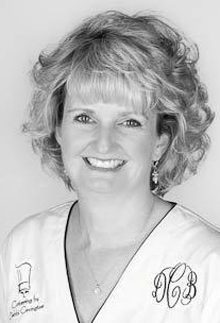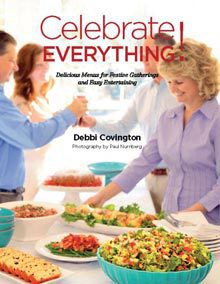 My new cookbook Celebrate Everything! has arrived and I'm in the mood to party! Life is full of happy surprises! Good feelings and good times are meant to be shared with others. Infused with high spirits and full of delicious recipes, Celebrate Everything! is a delightful book that inspires cooking and entertaining throughout the year with lots of new reasons to eat, drink and be merry! Twenty-seven of my favorite menus (yes, I have many more than that!) are included in this book. Some celebrate holidays – with heartfelt traditions to enjoy with friends and family. Some celebrate special moments of our lives that just give us an excuse to party!
All of the menus include recipes for several courses along with suggestions for appropriate wines or other beverages.  The dishes all work together as a complete event, yet there's room for your imagination. Choose your favorites from them – or join me in the magic of making them all.  I hope this collection sparks your enthusiasm and that you'll look forward to each and every celebration with excitement. Enjoy the fanciful and share the feast! Get creative and move dishes around to suit your own tastes. Add your personality to the menus and let's celebrate together! The recipes this week are a sampling from Celebrate Everything! I think you're going to love them!  
Cookbooks are still in the process of being distributed locally and are currently available at the Beaufort Bookstore, The Gallery, Grace and Glory, Herban Marketplace, Indigo Gallery, McIntosh Books, The Out Post at Sweetgrass and The Parish Church of St. Helena Bookstore or through my website www.cateringbydebbicovington.com.
Pistachio Peppercorn Crostini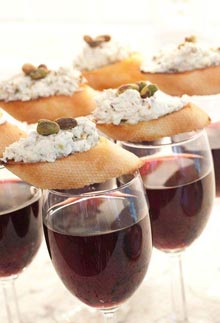 According to Spanish legend, tapas got its start when King Alfonso the 10th issued a decree that all Spanish taverns must serve a bit of food or tapa with each glass of wine. Derived from the Spanish verb tapar, to cover, a tapa is a bit to accompany drinks, customarily eaten when standing up. During King Alfonso's days , a savory treat such as bread or cheese was placed over the top of every glass of wine sold to keep out the flies and dust between sips.  
1 cup crumbled blue cheese
8 ounces cream cheese, softened
1 teaspoon cracked black peppercorns
1/3 cup pistachio nuts, chopped
1 loaf  French bread (12-inches long), cut into  ½ -inch slices
1/3 cup extra virgin olive oil
Pistachios, to garnish
Combine cheeses, peppercorns and pistachios.  Mix well; set aside.  Brush both sides of each bread slice with olive oil.  Preheat broiler; broil bread slices until lightly browned on both sides, turning them once.  Spread each slice with the cheese mixture; garnish with pistachios. Serve 2 slices per person.  Serves 6.
Mixed Greens Salad with Watermelon, Crispy Prosciutto and Balsamic Vinaigrette
This is the best balsamic vinaigrette ever! It's quick and delicious. The better quality the vinegars, the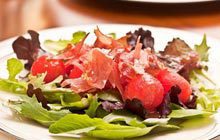 better the vinaigrette!
For the vinaigrette:
2 tablespoons balsamic vinegar
1 tablespoon red wine vinegar
1 tablespoon Dijon mustard
1 teaspoon light brown sugar
¼ teaspoon minced garlic
½ teaspoon salt
¼ teaspoon black pepper
¼ cup extra-virgin olive oil
For the salad:
3 pieces prosciutto, very thinly sliced
3 cups mixed salad greens
1 cup diced watermelon
Freshly ground black pepper, to taste
In small bowl, combine vinegars, mustard, brown sugar, garlic, salt and pepper. Slowly whisk in olive oil to form an emulsion. Cover and set aside. Preheat oven to 350 degrees. Place prosciutto on a parchment-paper-lined baking sheet, bake for 12 to 15 minutes or until crispy; set aside to cool. Divide salad greens and watermelon on two individual salad plates. Drizzle with balsamic vinaigrette and top with crumbled prosciutto. Serves 2.
Pecan Pie Muffins
These yummy muffins are delicious when served warm or at room temperature. Be sure to grease and flour your muffin pan. The muffins are slightly sticky – just like pecan pie!

1 cup chopped pecans
1 cup firmly packed brown sugar
½ cup all-purpose flour
2 large eggs
½ cup butter, melted
Combine chopped pecans, brown sugar and flour in a large bowl. In a smaller bowl, beat eggs until foamy. Stir together eggs and butter; add to dry ingredients, stirring just until moistened.  Grease and flour a muffin pan. Spoon batter into cups, filling two-thirds full.  Bake in a preheated 350 degree oven for 20 to 25 minutes or until done.  Remove from pan immediately and cool on wire racks. Serves 9.
Salmon with Red Pepper-Hazelnut Pesto
Roasted red peppers are the perfect smoky base for this rustic sauce, brightened with a little lemon
and dotted with fresh chopped chives. But it's the toasted hazelnuts that take this pesto to another level. Enticingly fragrant, they lend a wonderfully rich depth to the finished sauce.
1 (12-ounce) jar roasted red peppers
2/3 cup toasted hazelnuts, chopped
1 clove garlic, chopped
Zest of 1 lemon
Juice of 1 lemon
1 teaspoon apple cider vinegar
¼ teaspoon salt
Freshly ground black pepper
½ cup olive oil
1/3 cup chopped chives
8 (6-ounce) salmon fillets
Olive oil, for drizzling
Salt
Freshly ground black pepper
In a food processor, combine the peppers, hazelnuts, garlic, lemon zest, lemon juice, cider vinegar, ¼ teaspoon salt and several grinds of black pepper. Pulse to combine. With the food processor running, drizzle ½ cup olive oil to emulsify and form the pesto. Taste and adjust the seasoning if needed. Adjust the thickness of the pesto with additional olive oil if needed. Remove the pesto to a bowl and stir in the chopped chives. Preheat the oven to 425 degrees. Place the salmon fillets on a parchment-paper-lined baking sheet and drizzle the top of each fillet with a little oil. Sprinkle a pinch of salt and a few grinds of pepper over each fillet. Place the salmon in the oven and roast until the salmon is cooked through, 15 to 20 minutes. Plate the salmon and drizzle a little pesto over each fillet. Serve immediately. Serves 8.
Fettuccine with Clam Sauce

Ground thyme and fresh lemon juice are the secret ingredients in this tasty clam sauce. Serve it over  hot fettuccine or your favorite cooked pasta.
3 (6.5-ounce) chopped clams, drained, reserve clam juice
Water or bottled clam juice
2 tablespoons butter
1 large garlic clove, minced
3 tablespoons all-purpose flour
½ cup white wine
¼ teaspoon crushed red pepper flakes
¼ teaspoon ground thyme
2 egg yolks, lightly beaten
1 tablespoon lemon juice
½ cup heavy cream
¼ cup chopped Italian parsley
Fettuccine, cooked according to package directions
Italian parsley, to garnish
Drain juice from clams into a 2-cup measuring cup.  Add water or bottled clam juice to make 2 cups liquid.  In a saucepan over low heat, melt butter and saute garlic for 1 minute.  Remove from heat and stir in flour.  Return to low heat and cook for 1 minute until smooth, stirring constantly.  Gradually add clam liquid, wine, red pepper and thyme.  Cook until bubbly, stirring constantly.  Stir 1 cup of sauce into beaten egg yolks in a bowl.  Pour egg yolk mixture into the sauce.  Stirring constantly, cook until thickened and bubbly.  Stir in lemon juice, heavy cream, clams and parsley.  Heat through.  Serve over hot fettuccine.  Garnish with chopped Italian parsley.  Serves 4 to 6.
Minted Lima Beans
Mint and lemon juice add a bright flavor to one of my favorite vegetables!

2 cups vegetable or chicken broth
1 (16-ounce) package frozen lima beans
1 cup plain yogurt
1 tablespoon cornstarch
1 tablespoon fresh lemon juice
¼ teaspoon salt
¼ teaspoon pepper
¼ cup loosely packed fresh mint leaves
Bring broth to a boil in a saucepan; add lima beans and return to a boil. Cover; reduce heat; and simmer for 20 minutes or until tender. Drain beans, reserving broth in pan, and keep warm. Whisk together yogurt and cornstarch; whisk into broth. Bring to a boil over medium heat, stirring constantly. Boil, stirring constantly, 1 minute or until thickened. Stir in lima beans and lemon juice. Season to taste with salt and pepper. Stir in mint leaves and serve hot. Serves 6 to 8.
Peanut Butter Toffee Bars
These are a lovely substitute for brownies.  Peanut butter and chocolate fans will love every bite of these yummy dessert bars!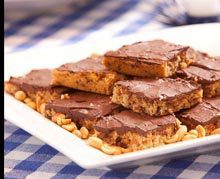 1 package yellow cake mix
1 cup crunchy peanut butter
½ cup water
2 eggs
1 (8-ounce) package toffee bits (Heath)
2 cups semisweet chocolate chips
Heat oven to 350 degrees. Grease bottom and sides of 15x10x1-inch pan; lightly flour. In large bowl, mix cake mix, peanut butter, water and eggs with a spoon. Stir in toffee bits. Spread evenly in pan. Bake for 20 to 25 minutes or until golden brown. Immediately sprinkle chocolate chips over hot bars. Let stand about 5 minutes or until chips are melted; spread evenly. Cool completely, about 1 hour. Cut into bars. Makes 60 bars.
Southern-Style Iced Tea
Iced tea is one of those delicious flavors that just makes the heat of the summer seem worthwhile! It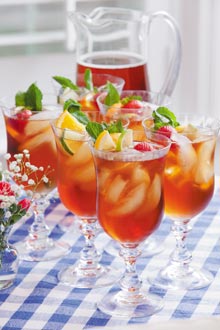 has all the caffeine of soft drinks, but with none of the artificial ingredients. If your tastes run away from caffeine, then try your favorite herbal tea on ice.
8 cups cold water, divided
6 to 8 individual tea bags
1/3 – ½ cup sugar, optional
Fresh mint
Lemon, orange and lime slices
Fresh strawberries
Bring 4 cups water to a rapid boil in a medium saucepan. Remove from heat and add the tea bags. Allow the tea to steep for 10 to 20 minutes. Remove tea bags; discard. Add sugar, if desired, and stir until melted. Pour tea into a pitcher. Stir in remaining 4 cups cold water. Chill until ready to serve. Serve over ice cubes. Garnish with fresh mint, lemon, orange and lime slices and halved strawberries. Serves 6 to 8.
All the photos in this story were shot by Paul Nurnberg for Celebrate Everything!
The writer owns Catering by Debbi Covington and is the author of two cookbooks, Celebrate Everything! and Dining Under the Carolina Moon.  Debbi's website address is www.cateringbydebbicovington.com. She may be reached at 525-0350 or by email at dbc@cateringbydebbicovington.com.