Even though it sounds fancy, dining al fresco just means eating outside. And since we're becoming a bit more social while we're social distancing, eating on the deck has started to become part of our quarantined routine. Vince and I had two of our besties over for dinner last week for a Greek style picnic supper. The entree was Grilled Pork Souvlaki with Dilly Cucumber Sauce from my cookbook, Celebrate Beaufort. The side dishes were new creations and I'm sharing them all with you.
As summer begins to creep up on us, we still have a few more weeks of cooler evenings. Enjoy a delicious meal with friends on your deck or porch while watching the sunset. We're all such social creatures and we do truly need each other. I'm still praying for our lives to get back to the way they were before this wretched virus, which for me includes lots of large events. Until then, small meals with friends will be our new normal. Stay safe and healthy. This too shall pass. xox

Greek Briam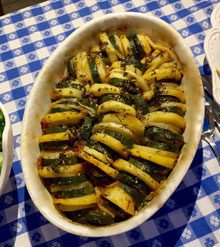 Briam is a simple and absolutely delicious roasted vegetable offering, prepared Greek style. This healthy, vegetarian dish can stand as a main course or can be served with an entree. (If you don't want to arrange the vegetables in rows, simply spread the vegetables flat in the baking dish and bake according to directions. It will look more like a casserole.) 
2 medium baking potatoes
3 medium zucchini
Sea salt and freshly ground black pepper, to taste
2 teaspoons dried oregano
1 tablespoon fresh chopped rosemary
¼ cup chopped fresh Italian parsley
4 garlic cloves, minced
1/3 cup olive oil
1 (14.5-ounce) can fire roasted diced tomatoes
1 large sweet onion
Additional olive oil for drizzling, if desired
Bring a pot of water to a boil. Peel potatoes and slice into ¼-inch rounds. Cook potatoes in boiling water for 7 to 8 minutes, until potatoes start to become tender but are not fully cooked. Drain and place in a larget bowl. Slice zucchini into ¼-inch rounds. Add to the bowl with the potatoes. Season with sea salt, black pepper, oregano, rosemary and parsley. Add garlic and olive oil, toss gently to coat well. Spray a large round or oval baking dish with cooking spray. Pour the undrained tomatoes in dish and spread to cover the bottom. Slice onion in half and then into thin half rounds. Arrange seasoned potatoes, zucchini and sliced onion in the dish in rows, simply going around the shape of the dish and alternating. Pour any remaining olive oil and herbs from the mixing bowl over the top of the vegetables. Preheat oven to 375 degrees. Cover the baking dish with foil, tenting a bit so that the foil does not touch the vegetables. Bake in preheated oven for 45 minutes. Remove foil and bake, uncovered, for another 30 minutes or until vegetables are soft and cooked through. Remove from oven. Serve warm or at room temperature with an added drizzle of olive oil, if desired. Serves 6.

Zesty Hummus Vinaigrette (top picture)
Hummus vinaigrette is a snap to make. It's delicious on all kinds of salads, from mixed greens and vegetables, to drizzling over roasted asparagus or green beans. For this recipe, I used roasted red pepper hummus. You can use any flavor you like, the result will be fabulous.
¾ cup hummus, homemade or purchased 
3 tablespoons water
2 tablespoons apple cider vinegar
1 garlic clove, minced
5 tablespoons olive oil
1 teaspoon maple syrup
¼ teaspoon salt
¼ teaspoon paprika, optional
Pinch cayenne pepper
Place all of the ingredients in a jar with a tightly fitting lid. Shake well to combine. Makes about 1¼ cups.

Berry Baklava Bites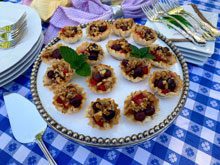 So much easier than traditional baklava and perfect for summer entertaining.
1 (1.9-ounce) package frozen phyllo tart shells, thawed
½ cup diced fresh strawberries
30 fresh blueberries
1/3 cup chopped walnuts
1 tablespoon melted butter
3 tablespoons honey
¼ teaspoon ground cinnamon
Prehat oven to 350 degrees. Place tarts on a lightly greased baking sheet. Divide diced strawberries between the tarts. Top each tart with 2 blueberries. In a small bowl, mix chopped walnuts with melted butter, honey and cinnamon. Top each tart with some of the walnut mixture. Bake in preheated oven for 10 to 12 minutes. Serve warm or within the next hour or so. 

Vulcan Mind Probe Shooter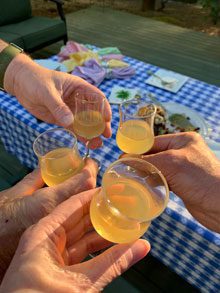 In keeping with my Greek theme, I wanted to incorporate ouzo into the menu. This is the cocktail recipe that I discovered. Beware. There's a reason why they're called "mind probes."
¼ cup ouzo
¼ cup dark rum
Pour ouzo and rum over ice in a martini shaker. Strain into pony glasses to serve. Serves 4.
The writer owns Catering by Debbi Covington and is the author of three cookbooks, Celebrate Beaufort, Celebrate Everything! and Dining Under the Carolina Moon. Debbi's website address is www.cateringbydebbicovington.com. She may be reached at 525-0350 or by email at dbc@cateringbydebbicovington.com.