Weddings are so much fun and offer a zillion reasons for pre-nuptial parties. Do you like to dress up in pearls and heels? If so, then this menu has been tailored just for you. A tea party is a great function for a bridesmaid's event, a wedding shower or even a thank you to the people who have helped you plan and organize your wedding. Very simple to prepare and execute, an afternoon tea can be as casual or as elegant as you desire.
I love every opportunity that I have to pull out my collection of assorted china tea cups and my mother's silver tea service. You may prefer ceramic mugs and earthenware dishes. The details are up to you. These are some of the most requested items from my tea party menu along with a couple of my personal favorites. Every recipe is easy to make and can be prepared in advance. Most importantly, have a good time with your friends. Enjoy every single pre-wedding event that you host or attend. This is such a special time in your life and the beginning of a new adventure with the man you love. Be happy! (Photography by Susan DeLoach)

Cranberry-Pecan Chicken Salad Puffs
I used Pepperidge Farm pastry cups for this recipe. Other serving ideas include filo tart shells, crostini or water crackers.
1 (9.5 ounce) package frozen pastry cups
3 cups diced cooked chicken
2 stalks celery, chopped
1/3 cup mayonnaise
½ teaspoon garlic powder
½ cup dried cranberries
½ cup chopped pecans, toasted
Bake pastry cups according to package directions; cool. In a large bowl combine chicken, celery, mayonnaise, garlic powder, cranberries and pecans until mixed. Fill pastry cups with chicken mixture. Serve chilled or at room temperature. Serves 12 to 15.
Asparagus Tart
Use a tart pan with a removable bottom, any shape you choose!
1 refrigerated pie crust
1 bundle fresh asparagus spears
1 egg, beaten
¼ cup milk
1 teaspoon Dijon mustard
4 ounces fontina cheese, grated
Dash grated nutmeg
Salt
Freshly ground black pepper
1 teaspoon pimento, drained
Preheat oven to 375 degrees. Unroll pie crust. Using a rolling pin, roll crust to fit tart pan. Gently place pie crust in pan, pressing crust into pan evenly. Remove excess dough from edges. Prick bottom and sides of crust many times with the tines of a fork. Place pan on a baking sheet and bake until crust is almost done. Remove crust and let cool for 5 minutes. Cut asparagus spears to fit the crust. Line asparagus tips in a row on bottom of crust. In a medium bowl combine egg, milk, mustard and cheese until mixed. Season with nutmeg, salt and pepper, to taste. Pour cheese mixture over asparagus, to cover. Place any additional asparagus tips evenly on top of cheese mixture. Bake in a preheated 350 degree oven for 15 to 20 minutes or until cheese is melted and egg is set. Garnish with pimento before serving. Serves 6.
Peach Jelly Roll
Use your favorite fruit preserves or jam to fill this delicious cake roll.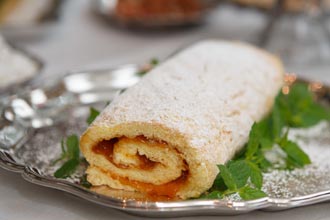 ½ cup all-purpose flour
1 teaspoon baking powder
4 eggs, yolks and white separated
½ teaspoon vanilla
1/3 cup sugar plus ½ cup sugar
Confectioner's sugar
8 ounces peach preserves
Combine flour and baking powder; set aside. In a mixing bowl beat egg yolks with vanilla with an electric mixer on high speed for 5 minutes until thick and lemon colored. Gradually add 1/3 cup sugar, beating on high speed until sugar is nearly dissolved. Thoroughly wash and dry beaters. In another bowl, beat egg whites on medium speed until soft peaks form (tips curl). Gradually add ½ cup sugar, beating until stiff peaks form (tips stand straight). Fold yolk mixture into beaten egg whites. Sprinkle flour mixture over egg mixture; fold in gently until just combined. Spread batter evenly into a greased and floured 15x10x1-inch jelly roll pan. Bake in a preheated 375 degree oven for 12 to 15 minutes or until cake springs back when lightly touched near center. Immediately loosen edges of cake from pan and turn cake out onto a towel sprinkled with confectioner's sugar. Roll up towel and cake, jelly roll style, starting from one of the cake's short sides. Cool on a rack. Unroll cake; remove towel. Spread cake evenly with peach preserves to within 1 inch of the edges. Roll up cake. Dust with confectioner's sugar. Refrigerate until ready to serve. Dust with confectioner's sugar before serving. Serves 8 to 10.

Wedding Cookies
A southern classic!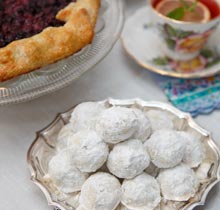 1 cup all-purpose flour
½ cup butter, softened
½ cup finely chopped pecans
¼ cup confectioner's sugar
½ teaspoon vanilla extract
Confectioner's sugar, for rolling
Combine flour, butter, pecans, confectioner's sugar and vanilla in a large bowl. Stir until well blended. Mixture will be stiff. Shape dough into 1-inch balls. Place on lightly greased baking sheet. Bake in a preheated 375 degree oven for 12 minutes. Remove to wire racks to cool slightly. Roll cookies in confectioner's sugar and cool completely on wire racks. Makes 24 cookies.
The writer owns Catering by Debbi Covington and is the author of two cookbooks, 2013 Gold Medal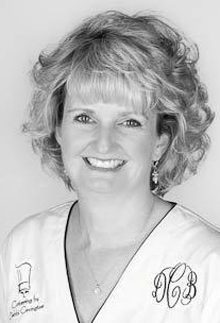 Winner of the Benjamin Franklin Award, Celebrate Everything! and Dining Under the Carolina Moon. Debbi's website address is www.cateringbydebbicovington.com. She may be reached at 525-0350 or by email at dbc@cateringbydebbicovington.com