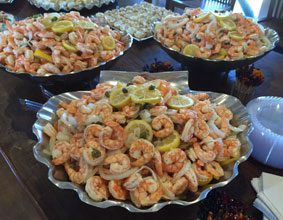 By Debbi Covington, Everyday Gourmet
I had been reading Pat Conroy's cookbook,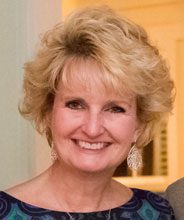 The Pat Conroy Cookbook: Recipes and Stories of My Life, when our telephone rang. Pat's sister-in-law, Terrye, was on the line with a request (actually, bestowing an honor) from the Conroy family for me to cater Pat's funeral reception at the Yacht Club on Tuesday afternoon.
It seemed like fate, or even serendipity, that I had Pat's cookbook on my desk with a folded down corner marking Chapter 15, "Why Dying Down South Is More Fun." Pat had already planned the menu for me. The way I show people that I care about them is through food. So, four of Pat's quotes from Chapter 15 really hit home. "Cooking food for a grieving family and their friends is still one of the classiest ways to send a love note that I can think of." "Pickled Shrimp is my answer to death in Georgia. In South Carolina, I generally respond with a shy and unexpected gift of Dunbar Macaroni." "I cannot think of ham without thinking of Southern funerals." And most importantly, "When I die, I fully expect all the shrimp in Beaufort to be pickled that day." Following Pat's lead, I attempted to create a menu that represented both Pat Conroy and South Carolina. I'm sharing a few of my offerings in this week's column. The recipes for Pickled Shrimp and Dunbar Macaroni are straight from Pat's cookbook. For the reception, because of time constraints, I used my own recipe for Pickled Shrimp, which is actually very close to Pat's version. The Dunbar Macaroni is a classic recipe from the upstate town of Newberry. Ham and Swiss Poppy Seed Rolls have been served at so many Beaufort funerals that they're sometimes called Funeral Sandwiches. Maybe all of the shrimp in Beaufort weren't pickled that day, but I can promise that close to 50 pounds were. The truly sad thing was that Pat wasn't there to enjoy them. Goodbye, our dear Mr. Conroy, you will be missed.

Pickled Shrimp
(from The Pat Conroy Cookbook: Recipes and Stories of my Life by Pat Conroy)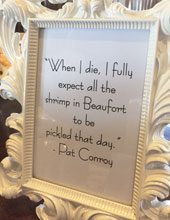 1 cup thinly sliced yellow onion
4 bay leaves, crushed
1 (2-ounce) bottle capers, drained and coarsely chopped
¼ cup fresh lemon juice
1 cup cider vinegar
½ cup olive oil
1 teaspoon minced fresh garlic
1 teaspoon coarse or kosher salt
1 teaspoon celery seeds
1 teaspoon red pepper flakes
2 pounds large (21-25 count) shrimp, peeled and deveined
Mix all ingredients except shrimp in a large heatproof glass or ceramic bowl. In a medium stockpot over high heat, bring 4 quarts abundantly salted water to a rolling boil. Add the shrimp and cook until just pink, about 2 minutes. (The shrimp will continue to "cook" in the marinade.) Drain and immediately transfer to the marinade. Bring to room temperature, cover tightly, and marinate overnight in refrigerator. Transfer shrimp and marinade to a glass serving compote or bowl. Serve chilled.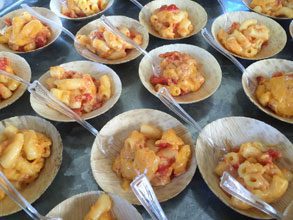 Dunbar Macaroni
(from The Pat Conroy Cookbook: Recipes and Stories of my Life by Pat Conroy)
1½ cups elbow macaroni
4 onions, chopped
2 (16-ounce) cans whole tomatoes, preferably San Marzano, mashed, without their juice
¾ pound sharp cheddar cheese, grated
4 tablespoons butter
Salt and freshly ground black pepper
Preheat oven to 350 degrees. Cook the macaroni. Drain and set aside. Cook the onions in 3 cups boiling water for 5 minutes. Drain. Add the tomatoes and cook over low heat for 10 minutes, until liquid has evaporated. Add the cooked macaroni, cheese, butter, salt and pepper. Mix together and pout into a large greased casserole dish. Bake for 30 minutes, or until lightly browned. Serve hot.

Ham and Swiss Poppy Seed Rolls
24 King's Hawaiian Rolls or Pepperidge Farm Party Rolls
1 pound sliced ham
1 package sliced Swiss cheese
1/3 cup mayonnaise
½ cup butter, melted
1 tablespoon poppy seeds
1 tablespoon Dijon mustard
1 tablespoon minced onion
½ teaspoon Worcestershire sauce
Preheat oven to 350 degrees. To assemble each sandwich: spread mayonnaise onto each side of the opened roll, add a slice of ham and a slice of Swiss cheese. Fold ham and cheese into smaller pieces to fit. As you assemble the sandwiches, place them in a lightly greased glass baking dish. Sides of the sandwiches will touch each other. Place melted butter, poppy seeds, mustard, onion and Worcestershire sauce in a small bowl; mix well to combine. Pour the butter mixture evenly over the sandwiches and bake for 12 to 15 minutes. Serve warm. Serves 24.

The writer owns Catering by Debbi Covington and is the author of two cookbooks, Gold Medal Winner of the Benjamin Franklin Award, Celebrate Everything! and Dining Under the Carolina Moon. Debbi's website address is www.cateringbydebbicovington.com. She may be reached at 525-0350 or by email at dbc@cateringbydebbicovington.com.