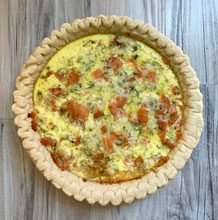 The most fun I've had since this whole social distancing business started has been delivering little surprise treats, breads and casseroles to our friends. Every few days, Vince plays chauffeur and drives Miss Debbi to drop off goodies on the front porches of dear chums that we have been missing terribly. More often than not, we've all been able to chat (within a safe distance of six feet or more), laugh a bit and see each other's smiles. That's how Vince and I are getting through these "unsettling times." My mama believed that food was love and that it could solve all of the troubles of the world. I guess the apple didn't fall too far from the tree, and that's a good thing.
The recipes this week are all sharable. Make two, eat one and give the other one away. We're all social beings and doing something nice for someone else makes us all feel love. Beaufort's favorite literary son Pat Conroy said it best, and I'm paraphrasing, "Cooking food… is still one of the classiest ways to send a love note that I can think of." Stay safe and healthy, my friends. And, keep on cooking!
P.S. Thanks for all of the sweet comments about our precious cat Belle, whose beautiful face graced the cover of last week's issue of Lowcountry Weekly. What a diva!

Savory Smoked Salmon Quiche
If you choose to use 16 ounces of smoked salmon instead of 12, allow 5 to 10 minutes extra baking time for the centers to set. You can also substitute 3 tablespoons of dried onions for the fresh. Be conservative with the salt and pepper. Smoked salmon can sometimes be on the salty side. 
2 deep-dish frozen pie crusts
12 to 16 ounces smoked salmon, diced
6 eggs
1 cup whole milk
2 tablespoons prepared horseradish
1 tablespoon fresh lemon juice
3 cups shredded mozzarella cheese
½ cup chopped onion
½ cup chopped fresh dill
Salt and pepper, optional
Thaw and parbake pie crusts acording to package directions; cool completely. Preheat oven to 350 degrees. In a large mixing bowl, mix salmon with eggs, milk, horseradish, lemon juice, mozzarella cheese, chopped onion and fresh dill. Season, if desired, with salt and pepper. Divide mixture between two prepared pie crusts. Bake in preheated oven for 35 to 40 minutes or until centers are set. Makes two, each serves 6 people. (To reheat: Let quiche come to room temperature. Bake, uncovered, in preheated 350 degree oven for 20 minutes or until heated through.)

Crack Chicken and Vegetable Casserole
Creamy chicken and vegetable comfort food to enjoy and share. Use a rotisserie chicken for even easier preparation. A combination of white and dark meat is tastiest. I used Ritz crackers but buttery Townhouse crackers would be just as delish.
2 cups sour cream
2 (10.75-ounce) cans cream of chicken soup
2 (1-ounce) packages ranch salad dressing mix
2 cups shredded sharp cheddar cheese
1½ cups cooked chopped bacon
1 ½ cups frozen peas, thawed
1 cup fresh shredded carrots
1 (4-ounce) jar diced pimentos, drained
1 (15-ounce) can mushrooms, stems and pieces
4 cups cooked chopped chicken
2 sleeves butter-flavored crackers, crushed
1 stick butter, melted
Lightly spray 2 casserole dishes with cooking spray. In a large bowl, mix sour cream with cream of chicken soup, ranch dressing mix, cheddar cheese and bacon. Stir in peas, carrots, pimentos and mushrooms. Mix well to combine. Fold in chicken. Divide and spread evenly in prepared pans. Combine crushed crackers with melted butter and sprinkle over casseroles. To serve, bake uncovered for 30 to 40 minutes until crackers are lightly browned and casserole is heated through. Makes 2 casseroles, each serves 4 people.

Sweet and Savory Sausage Bread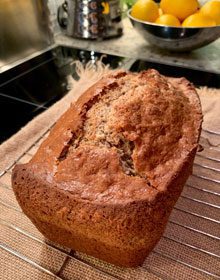 This is a delicious bread to serve lightly toasted and spread with cream cheese or slathered with Irish butter.
1 pound breakfast sausage, uncooked
1½ cups sugar
1½ cups light brown sugar, packed
2 eggs
1 cup chopped pecans, toasted
1 cup raisins
3 cups all-purpose flour
1 teaspoon ground ginger
1 teaspoon pumpkin pie spice
1 teaspoon baking powder
1 teaspoon baking soda
1 cup cold coffee
Preheat oven to 350 degrees. Grease and flour 2 (9×5-inch) loaf pans. Mix sausage with sugars and eggs. Stir in pecans and raisins. Add dry ingredients and coffee and stir into sausage mixture; mixing well. Pour into prepared pans and bake for 60 to 75 minutes or until a toothpick inserted in the center comes out clean. Remove from pans and cool on racks. Makes 2 loaves, each serves 6 people.
The writer owns Catering by Debbi Covington and is the author of three cookbooks, Celebrate Beaufort, Celebrate Everything! and Dining Under the Carolina Moon. Debbi's website address is www.cateringbydebbicovington.com. She may be reached at 525-0350 or by email at dbc@cateringbydebbicovington.com.