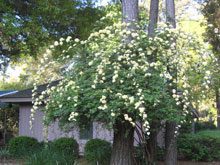 Sometimes you just need a graceful vertical element in your garden. A well placed vine can be used as a focal point or perhaps to screen something unsightly. Caution and careful planning are the watchwords however; you don't want to deal with something like Audrey from Little Shop of Horrors.
Most all vines need some type of support, be it a trellis, a post, a wall or even a nearby shrub or tree. Some vines have tendrils that reach out and grab on to climb. Others are leaners; they lean against and scramble over and around support structures or nearby foliage as they climb to even greater heights. Some vining plants are not even considered vines.
When is a vine not a vine? Climbing roses behave like and are usually treated like a vine. By the time this paper goes to press the antique Lady Banks rose should be in full bloom. The one we see the most would be the variety called Rosa Basksiae 'Lutea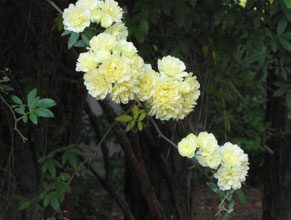 ' with small pale yellow double flowers. When in bloom this iconic southern classic is a sure sign that spring has come. Lady Banks is a tough old gal; she can handle the full Lowcountry sun as well as partial shade. She is an evergreen in our climate and is prized for her resistance to both insects and the diseases that usually plague roses. No spraying necessary. The thornless canes can reach 15′ to 20′ but are easily kept under control where this is desired. The Lady is also a good plant to use as a groundcover or on banks to stabilize soils. Although this rose is quite drought tolerant, for optimal growth always irrigate when the top layer of soil is dry. Lady Banks is a once bloomer and will only flower in the spring.
Another antique evergreen rose, the Cherokee Rose, Rosa laevigata, while not suited for most suburban gardens, makes a striking statement if you have lots of room for this one to grow. I have seen it winding more than 30′ up through the branches of a tree. The primary bloom time is spring but in most years a second smaller bloom will occur in fall. This one has waxy, fragrant, pure white single flowers with prominent golden yellow stamens.  The 3″ to 4″ flowers are arranged densely along the sturdy and thorny canes. If you have the space for this very large and sprawling rose it would make a striking addition to your landscape.   The Cherokee Rose is the state flower of our neighbor, Georgia.    
Another favorite climbing rose that does repeat bloom is the climbing form of Noisette 'Blush'. This too is an heirloom and has few needs, good drainage being the only absolute. It is perfectly happy even in less than full sun and like the others, no spraying necessary. The pale pink double flowers bloom in clusters and have a delightful fragrance. They are thorny, so be sure to plant them where you won't routinely brush against them. The heaviest blooms occur in spring and fall with frequent bursts of flowers through the summer and well into the cold months.  
The Blush Noisette is of special interest to those of us in the Lowcountry, as it literally has its roots here. (Sorry, I couldn't help myself.) John Champney, a rice planter from Charleston, hybridized a rose having clusters of small pink flowers named Champney's Pink Cluster probably in the early 1800s, though some say earlier. This rose was a once bloomer. Around that time, Philippe Noisette, a nurseryman from France also living in Charleston, sowed seeds of the Pink Cluster, but as nature would have it, his plants bloomed multi-petaled white flowers that blushed pink, and these plants were repeat bloomers. The plant was sent to Paris where it was introduced by Philippe's brother as Rosa Noisettiana around 1816. Later this rose was crossed with a climbing China tea rose to become one of the most favored climbing roses of all times.  
 
Follow good basic plant culture when planting heirloom roses. A soil test, available from the Clemson Extension Service, will indicate if there are any nutritional deficiencies to be addressed at planting time. After that, water well and deeply until the plant is established. The roses mentioned above are but a tiny fraction of the varieties available. Heirloom climbers are very forgiving roses requiring minimal care. Some might have different cultural requirements but in general, the rule for all is prune after bloom and annually remove any dead canes.
It is not always easy to find these classic plants but a good, in state, source is Roses Unlimited in Laurens, SC: www.rosesunlimitedownroot.com
The Plantasia Garden Festival put on by the Charleston Horticultural Society is coming up on April 15th. This annual event offers one of the widest varieties of plant material available in the southeast.
See www.chashortsoc.org for more specific information.    
If you need a tall, vine type plant for that exact spot, do consider one of these timeless, classic climbing roses.