Easter Brunch after the Sunrise Service
Awaken this spring to all things new, to gardens revived and friendships revisited. Easter, also called Pascha, is the most important religious feast in the Christian liturgical year. It celebrates the resurrection of Jesus Christ, which Christians believe occurred on the third day after his crucifixion some time in the period AD 27 to 33.
As with many other Christian dates, the celebration of Easter extends beyond the church. Since its origin, Easter has been a time of celebration and feasting. While lamb has become a popular main course, in the south ham remains the all-time Easter favorite. My recipe for Ham and Cheese on Rye Strata is an elegant brunch entree. Pair your strata with a delicious Green Salad with Fresh Fruit and Blackberry-Basil Vinaigrette along with Pecan Pie Muffins and Glazed Baby Carrots. At our house Mama's Deviled Eggs are a must on Easter Sunday! Celebrate the glorious gift of Easter with a scrumptious buffet brunch. The entire menu can be made ahead and combines traditional holiday fare with a few fun surprises! Happy Easter! (The recipes this week are from my cookbook, Celebrate Everything! with photography by Paul Nurnberg. Copies are available at www.cateringbydebbicovington.com.)
Ham and Cheese on Rye Strata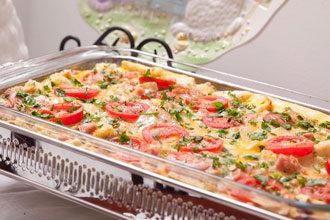 Strata comes from the Latin word that means layers. Its most common ingredients are eggs, bread and cheese, but it can also be made with a variety of meats and vegetables. This easy-to-prepare strata is the perfect entrée for Easter brunch!
10 eggs, beaten
2 cups milk
2 teaspoons Worcestershire sauce
¼ teaspoon cayenne pepper
1 teaspoon dry mustard
½ teaspoon grated nutmeg
¼ teaspoon salt
Freshly ground black pepper
6 cups rye bread cubes (about ½-inch cubes)
1½ cups diced cooked ham
2 plum tomatoes, thinly sliced
2 cups grated cheddar cheese
Chopped fresh Italian parsley, to garnish
Whisk together eggs, milk, Worcestershire sauce, cayenne, dry mustard, nutmeg, salt and pepper; set aside.  Spray a 9×13-inch baking dish with cooking spray. Spread the bread cubes in the bottom of the pan, followed by the diced ham, grated cheese and sliced tomato. Pour the egg mixture over the top; cover and refrigerate for 8 hours. Bake, covered, in a preheated 350 degree oven for 30 to 40 minutes or until set in the center. Garnish with chopped parsley before serving. Serves 8.
Green Salad with Fresh Fruit and Blackberry-Basil Vinaigrette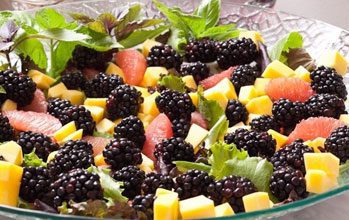 Ripe blackberries are best when used freshly picked. They have a very short shelf life and only last in the refrigerator for a couple of days. 
For the vinaigrette:
5 tablespoons seedless blackberry preserves
¼ cup red wine vinegar
6 fresh basil leaves
1 clove garlic, minced
½ teaspoon salt
½ teaspoon pepper
1/3 cup vegetable oil
For the salad:
8 cups mixed salad greens
1-1/2 cups sliced mango
1-1/2 cups pink grapefruit segments
1 cup fresh blackberries
Place preserves, vinegar, basil, garlic, salt and pepper in a blender.  Pulse until blended. With blender running, pour vegetable oil through lid in a slow, steady stream; process until smooth. Place greens in a salad bowl.  Toss with vinaigrette to coat.  Add fruit and toss lightly.  Serves 6.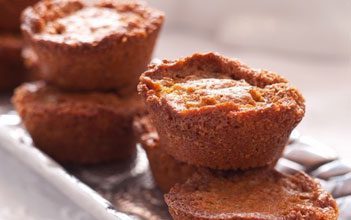 Pecan Pie Muffins
These yummy muffins are delicious when served warm or at room temperature. Be sure to grease and flour your muffin pan. The muffins are slightly sticky – just like pecan pie!
1 cup chopped pecans
1 cup firmly packed brown sugar
½ cup all-purpose flour
2 large eggs
½ cup butter, melted
Combine chopped pecans, brown sugar and flour in a large bowl. In a smaller bowl, beat eggs until foamy. Stir together eggs and butter; add to dry ingredients, stirring just until moistened.  Grease and flour a muffin pan. Spoon batter into cups, filling two-thirds full.  Bake in a preheated 350 degree oven for 20 to 25 minutes or until done.  Remove from pan immediately and cool on wire racks. Serves 9.
Glazed Baby Carrots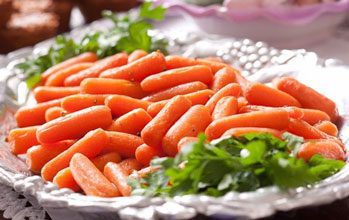 Carrots are cooked with brown sugar and butter, resulting in a sweet and flavorful glaze.
1 pound baby carrots
2 tablespoons butter 
1/3 cup brown sugar, packed
½ cup water
Dash salt
Freshly ground black pepper 
In a medium saucepan, combine the baby carrots with butter, brown sugar, water, salt and pepper. Bring to a boil over high heat. Reduce heat to medium and continue cooking, uncovered, for 20 to 25 minutes or until carrots are tender and the liquid has evaporated. Serves 6.
Mama's Deviled Eggs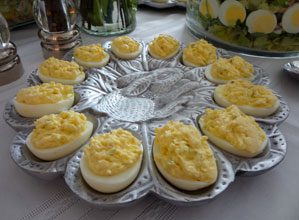 These are the best deviled eggs that I've ever eaten. My mother was an amazing cook! This is her famous recipe. She always used Miracle Whip and so do I.
12 eggs
4 tablespoons salad dressing or mayonnaise
1 teaspoon Dijon mustard
1 tablespoon sweet pickle relish
Salt
Pepper 
Paprika, for dusting
Place eggs in a large saucepan and cover with cold water. Bring to a boil for 12 minutes. Drain hot water from eggs and rinse with tap water until cool enough to handle. Remove eggs from shells and slice in half lengthwise. Separate yolks and place into a bowl. Add salad dressing, mustard, relish and salt and pepper; mash together with a fork until creamy and smooth. Fill the egg white halves with the egg yolk-relish filling. Dust with paprika. Refrigerate; serve cold. Serves 12.

The writer owns Catering by Debbi Covington and is the author of three cookbooks, Celebrate Beaufort, Celebrate Everything! and Dining Under the Carolina Moon. Debbi's website address is www.cateringbydebbicovington.com. She may be reached at 525-0350 or by email atdbc@cateringbydebbicovington.com.