After a hot and steamy Lowcountry summer, aren't you in the mood for cool and crisp temperatures? I sure am! So far, the weather hasn't turned, but harvest festivals and Halloween decorations give me hope for chilly evenings in the very near future. I can't wait to serve fall foods that are seasoned with warm spices and earthy herbs. Visions of apples and pumpkins are already dancing around in my head. Spooky decorations and farmers' market offerings are the inspiration for this week's Eat, Drink & Be Scary recipes. Be sure to pick up a copy of Lowcountry Weekly on October 27th. Part Two will feature appetizers, Halloween treats and a delicious cocktail. Happy Fall! (Photography by Paul Nurnberg)
Crunchy Fennel Salad with Grapes, Dates, Olives and Almonds
You may be reading this and thinking, "Do all of those things really go together?" The answer is yes, yes, yes! This salad is a celebration of vibrant flavors and textures, combining just the right amount of sweet and salty contrast and pulled together by a hint of lemon.
For the vinaigrette: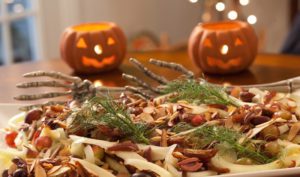 2 tablespoons lemon juice
Freshly ground black pepper
1/3 cup extra-virgin olive oil
3 medium fennel bulbs, thinly sliced
2 cups red seedless grapes, sliced in half
½ cup kalamata olives, pitted and quartered lengthwise
12 dates, sliced thinly lengthwise
½ cup sliced almonds, toasted
4 ounces Pecorino Romano cheese, shaved
Whisk lemon juice, mustard, sugar, salt and pepper together in a small bowl. Slowly whisk in olive oil to form an emulsion. Set aside. Combine the fennel, grapes, olives and dates in a medium-sized bowl. Drizzle with the vinaigrette. Toss to coat evenly. Just before serving, mix in the almonds and shaved cheese.  Serves 6.
Pretzel Crusted Flounder with Piquant Aioli
Buttermilk and pretzels give baked flounder fillets added flavor and a salty crunch.
For the aioli: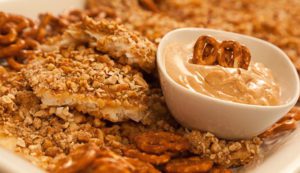 ¼ cup bottled steak sauce (A-1)
2 dashes hot sauce (Tabasco)
1 (16-ounce) bag pretzels
Mix mayonnaise, dry mustard, steak sauce and hot sauce in a small bowl; reserve at room temperature.
Preheat oven to 350 degrees. Lightly grease a baking sheet. Place pretzels in a food processor and process until almost powder. Dip each piece of flounder in buttermilk and coat heavily on both sides with the pretzel crust; place on prepared pan. Drizzle flounder fillets evenly with melted butter. Bake for 10 to 12 minutes or until fish is cooked through. Serve with aioli. Serves 8.
Penne with Pumpkin Sauce
Pumpkin teamed with sage, Gorgonzola and walnuts is delicious!
1 medium onion, diced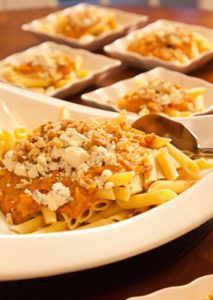 1 medium red bell pepper, diced
2 cups vegetable or chicken broth
1/8 teaspoon ground nutmeg
¼ cup heavy whipping cream
1 (16-ounce) package penne rigate pasta
1 cup Gorgonzola cheese, crumbled
1/3 cup chopped walnuts, toasted
Melt butter in a large saucepan. Add onion, bell pepper and garlic; cook over moderate heat, stirring until the vegetables are softened. Stir in the pumpkin, vegetable broth, sage, nutmeg and cream; simmer, stirring occasionally, for 10 minutes. Meanwhile, cook pasta according to package directions. Drain pasta and place in a serving dish. Top with pumpkin sauce. Sprinkle with crumbled Gorgonzola cheese and chopped walnuts before serving. Serves 8.
Roasted Autumn Squash
Autumn squash, simply roasted with olive oil, is better than candy! Don't believe me? Try it for yourself!
3 pounds Delicata or Sweet Dumpling Squash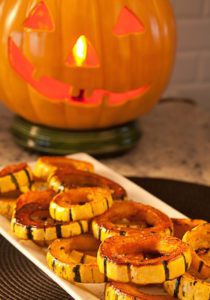 Freshly ground black pepper
Preheat oven to 400 degrees. Cut squash into 1/2-inch rounds; use a paring knife to remove the seeds. (Alternately, you could cut the squash lengthwise and use a sturdy spoon to scoop out the seeds; then make half-moon slices – it's easier!) Place squash on a rimmed baking sheet. Drizzle both sides of the squash with olive oil. Season liberally with sea salt and pepper. Roast squash until they are brown and caramelized, about 40 minutes, turning once after 20 minutes. Serve hot or at room temperature. Serves 6.
The writer owns Catering by Debbi Covington and is the author of three cookbooks, Celebrate Beaufort, Celebrate Everything! and Dining Under the Carolina Moon. For more great recipes and to view her cooking demonstrations, visit and subscribe to Debbi's YouTube channel. Debbi's website address is www.cateringbydebbicovington.com. She may be reached at 843-525-0350 or by email at dbc@cateringbydebbicovington.com.