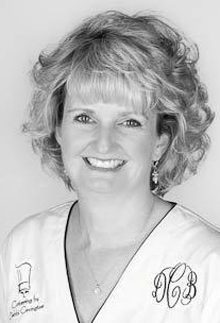 It's that time of year again – Blueberry Season! South Carolina summers bring ripe blueberries to roadside stands, farmers' markets and local grocery stores.  Round and smooth-skinned blueberries are juicy and sweet.  Cultivated blueberries comprise the majority of those that reach the market and the season can span from May through October. 
Choose blueberries that are firm, uniform in size and indigo blue with a silvery frost.  Discard shriveled or molded berries.  Don't wash the berries until you're ready to use them.  They can be stored in a single layer in a moisture-proof container in the refrigerator for up to 5 days.  Fresh blueberries are delicious in muffins, breads, cobblers, pancakes, salads or best of all —- in homemade ice cream!
Blueberry Strata
6 slices bread, cubed and divided
2 cups fresh or frozen blueberries
1/3 cup sugar
4 ounces shredded Swiss cheese
4 eggs, beaten
2 cups milk
1 teaspoon vanilla
1/4 teaspoon salt
1/2 teaspoon cinnamon
Sour cream
Layer half of bread cubes in a greased 8×8-inch square baking dish.  Top with blueberries, sugar, and cheese.  Cover with remaining bread cubes.  Combine eggs, milk, vanilla, and salt.  Mix well.  Pour mixture over bread.  Sprinkle with cinnamon.  Cover and refrigerate for up to 24 hours.  Uncover and bake at 350 degrees for 45 to 50 minutes or until a knife inserted near the center comes out clean.  Top with sour cream.
Serves 6 to 8.
Chilled Blueberry Soup
4 cups blueberries
1/2 cup orange juice
Dash allspice
Dash freshly grated nutmeg
4 cups plain yogurt
Fresh mint
Blend blueberries, orange juice, allspice, and nutmeg in a blender on low speed.  Chill, covered, in the refrigerator.  When ready to serve, ladle into cups and spoon yogurt into the center of each.  Garnish with fresh mint.  Serves 8.
Peach and Blueberry Cobbler
1 tablespoon cornstarch
1/4 cup light brown sugar
1/2 cup cold water
2 cups sliced fresh peaches, sprinkled lightly with sugar
1 cup fresh blueberries
1 tablespoon butter    
1 tablespoon lemon juice
1 cup all-purpose flour (sift before measuring)
1/2 cup sugar
1-1/2 teaspoons baking powder
1/2 teaspoon salt
1/2 cup milk
4 tablespoons butter, softened
2 tablespoons sugar
1/4 teaspoon nutmeg
Preheat oven to 350 degrees.  Combine cornstarch, brown sugar, and water in a medium-sized saucepan. Add the peaches and the blueberries and cook, stirring, over medium heat until the mixture thickens.  Stir in 1 tablespoon of butter and lemon juice.  Pour mixture into a lightly greased 8-inch round baking dish.  Sift the flour, 1/2 cup sugar, baking powder, and salt into a mixing bowl.  Add the milk and 4 tablespoons of softened butter and beat with an electric mixer until smooth.  Pour flour mixture over fruit.  Sprinkle top with 2 tablespoons sugar and nutmeg. Bake for 30 minutes. Serves 6.
Blueberry Ice Cream
3 cups sugar
3 tablespoons all-purpose flour
1/2 teaspoon salt
10 cups half-and-half
8 egg yolks, beaten
1 teaspoon vanilla extract
4-1/2 cups fresh blueberries
1-1/2 cups sugar
1 tablespoon fresh lemon juice
Fresh mint
Combine sugar, flour and salt in a large Dutch oven.  Whisk in half-and-half.  Bring to a boil, stirring constantly, over medium-high heat.  Slowly whisk about 4 cups of hot mixture into egg yolks.  Add egg mixture to remaining hot mixture, whisking constantly, until mixture reaches 160 degrees.  Immediately remove from heat.  Let custard cool completely, stirring occasionally.  Stir in vanilla; chill 8 hours or overnight.  Combine blueberries and 1-1/2 cups sugar in a separate bowl; stir well.  Cover and chill 8 hours, stirring occasionally to dissolve sugar.  Stir in lemon juice.  Stir berry mixture into custard.  Pour custard into freezer container of a 5 or 6-quart electric ice cream freezer.  Freeze according to manufacturer's instructions.  Pack freezer with additional ice and rock salt and let stand 1 hour before serving.  Garnish with fresh mint.  Makes 1 gallon.
The writer owns Catering by Debbi Covington and is the author of the cookbook, Dining Under the Carolina Moon. Debbi's new cookbook, Celebrate Everything! will be released in June 2012. Debbi's website address is www.cateringbydebbicovington.com. She may be reached at 525-0350 or by email at dbc@cateringbydebbicovington.com.