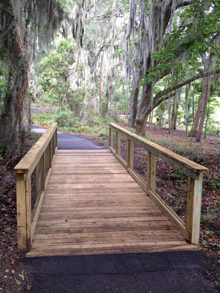 Port Royal's Cypress Wetlands and Historic Walking Trails are more than just beautiful… they're functional.
The Port Royal Cypress Wetlands and Historic Walking Trails are officially open for business – the business of wildlife conservation, community enhancement and stormwater management, that is!
Last week, a group of town officials, town employees, and plain ol' townies gathered in the handsome new amphitheatre on Paris Avenue for the dedication of this very special project, a labor of love that's been almost a decade in the making. Lowcountry Weekly showed up a bit early to walk around and gape in amazement at the finished product – a stunning, secluded wilderness experience right in the middle of town.
Entering the trails from Paris Avenue, you immediately leave your city-self behind, embrace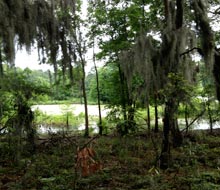 d by a forest of red maples, willow and cypress trees. (The wetland between 15th and 14th Streets has the oldest and tallest bald cypress trees in the area.) Five rustic boardwalks offer striking views of this wetlands flora, and great opportunities to observe its fauna: nesting waterbirds, wading birds, ducks, fish and other wildlife. There are attractive markers here and there to tell you what you're seeing – and what to look for – and benches for resting. The entire trail is a little over half a mile.
"This is a quality of life project that's a real asset to the town," said Town Manager Van Willis at the dedication. And he's not just talking about the obvious benefits. This beautiful haven for living creatures – both human and otherwise – will also be hard at work protecting our rivers and wetlands by managing stormwater.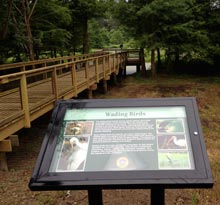 Port Royal explains this concept in the Cypress Wetlands brochure (which also lists significant sites on the tour):
"Stormwater is the water not absorbed into the ground during and after rain storms, which then flows over the land into nearby waters. Stormwater runs off from the streets, buildings, and lawns, and drains into the wetlands through culverts and natural waterways.
"In this watershed, the water flows from north to south through a series of wetlands, ponds and culverts to the Beaufort River and into Port Royal Sound. To restore the watershed, the town of Port Royals installed pipes to connect wetlands that had been isolated by road construction, allowing more natural drainage conditions. To help nature improve the flood control and water quality functions of the wetlands, flashboards control water levels at each pond's inlet and outlet.
"The series of wetlands provide natural stormwater capture, retention, and treatment over the days
that it takes the water to flow through the system. This improves the quality of the water that drains to the river and Port Royal Sounds by trapping pollution, sediments, and excess nutrients. In turn, the habitats, fish and wildlife, shellfish beds, and ecosystems downstream also benefit."
Did you get all that? If not, no worries. These folks understand what they're doing, and it's a very good thing for all of us. Beauty and functionality in one brilliant design.
But don't take our word for it. Come down to Port Royal and wander the Cypress Wetlands Trails yourself. You won't believe the sense of peace, solitude and wonder you'll recover… right in the middle of town.