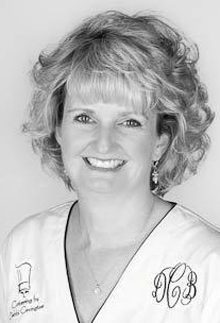 We Southerners revere our mothers!  Since 1912, the second Sunday in May has been set aside to commemorate motherhood.  The mid-spring celebration comes when days are long, gardens are lush with flowers and the promise of summer is in the air.  What better time to honor our Mamas!
This meal is for the very special women in our lives, created from the heart to be served with love. Begin the meal with Dill Seed Biscuits and bowls of silky smooth Cucumber Soup; the delightful combination is a great prelude to the Raspberry-Pecan Salad and Creamy Chicken Crepes that follow. Warm Asparagus with Country Ham Vinaigrette is a perfect side dish! And, Lemon Curd Cakes with Strawberry Sauce make for a sweet, satisfying finish.  All of these dishes can be made in advance so that you will be able to spend some quality time with your Mama on her special day!
Dill Seed Biscuits
1¾ cups flour
4 teaspoons baking powder
2 teaspoons dill seeds
1 teaspoon salt
6 tablespoons cold unsalted butter, cut into ¼-inch pieces
1 cup heavy cream
Heat the oven to 425 degrees. In a medium bowl, whisk together the flour, baking powder, dill seeds and salt. Cut in the butter until the mixture is the texture of coarse meal with a few pea-size pieces remaining. Stir in the cream with a fork just until the dough comes together. On a lightly floured surface, knead the dough gently just until smooth, about 5 times. Roll the dough ¾-inch thick. Using a 2-inch round cutter, stamp out circles of the dough. Place them about ½-inch apart on an ungreased baking sheet. Roll out the scraps in the same way. Stamp out more circles and put them on the baking sheet. Bake the biscuits in the middle of the oven until golden brown, 12 to 15 minutes. Serves 6 to 8.
Cucumber Soup
5 seedless cucumbers, peeled
¼ cup minced garlic
2 cups chicken stock
8 cups plain nonfat yogurt, divided
2 cups coarsely chopped fresh mint leaves, divided
2 tablespoons freshly squeezed lemon juice
Salt and freshly ground black pepper, to taste
8 large red radishes
Cut 4 of the cucumbers into 1-inch pieces and place them in a food processor.  Add the garlic, chicken stock, 6 cups of the yogurt, 1½ cups of the mint, and the lemon juice.  Process until smooth. Transfer the mixture to a large bowl.  Whisk in the remaining 2 cups yogurt and ½ cup mint.  Season with salt and pepper.  Chill, covered, for 2 to 3 hours.  Dice the radishes and the remaining cucumber into ¼-inch pieces and toss.  Divide the soup among 8 bowls.  Top each with the cucumber-radish mixture and serve immediately.  Serves 8.
Raspberry-Pecan Salad
½ cup raspberry spreadable fruit
1/3 cup raspberry vinegar
1 tablespoon honey
1 tablespoon poppy seeds
¾  cup vegetable oil
8 cups mixed salad greens
1 cup fresh raspberries
1 avocado
½ pound mushrooms, sliced
2 bunches green onions, chopped
½ cup chopped pecans, toasted
Combine first 5 ingredients in a blender until smooth.  Place greens in a salad bowl, top with remaining ingredients and toss with dressing.  Serves 8.
Creamy Chicken Crepes
For the crepes:
1½ cups milk
1 cup all-purpose flour
2 eggs
1 tablespoon vegetable oil
¼ teaspoon salt
Combine milk, flour, eggs, oil, and 1/4 teaspoon salt.  Beat until well mixed.  Heat a lightly greased skillet.  Remove from heat.  Spoon in 4 tablespoons of the batter; lift and tilt the skillet to spread batter.  Return to heat; brown one side only.  Invert pan over paper towels; remove crepe.  Repeat with remaining batter, greasing skillet occasionally.  
For the sauce:
¼ cup butter
1 cup chopped onion
¼ cup all-purpose flour
1½ cups milk
½ cup chicken stock
½ cup shredded Swiss cheese
2 tablespoons dry sherry
1 small can mushrooms, stems and pieces
Cook onion in butter in a medium saucepan until tender.  Stir in flour.  Add milk and chicken stock.  Cook and stir until bubbly.  Stir in cheese and sherry.  Remove 1 cup of the sauce; set aside.  Drain mushrooms, stir into remaining sauce.
For the filling:
1 cup frozen peas
2 cups chopped cooked chicken
2 tablespoons minced fresh parsley
Combine peas, 1 cup sauce, and chicken.  Spread ¼ cup filling over the unbrowned side of each crepe leaving a ¼-inch rim around edge.  Roll up crepes.  Place, seam side down, in a baking dish.  Cover, bake in a 375 degree oven for 15 to 18 minutes until warmed through.  Reheat remaining sauce; drizzle over the crepes.  Garnish with fresh parsley.  Serves 6.
Warm Asparagus with Country Ham Vinaigrette
1 bunch fresh asparagus, washed and trimmed
1/3 cup olive oil
4 ounces finely diced country ham or smoked ham
¼ cup cider vinegar
1 tablespoon Dijon mustard
¼ teaspoon salt
½ teaspoon ground black pepper
Bring 1-inch of water to a boil in a saucepan fitted with a steamer.  Add the asparagus, cover with a tight-fitting lid and steam for 3 minutes, until barely crisp-tender.  Remove and set aside. Heat olive oil in a saute pan over medium-high heat.  Add the ham and cook until golden brown.  Stir in the remaining ingredients and bring to a simmer.  Divide the asparagus among 4 salad plates and top with the vinaigrette.  Serves 4.
Lemon Curd Cakes with Strawberry Sauce
For the cakes:
6 tablespoons butter, at room temperature
Additional butter for greasing muffin tins, at room temperature
¾ cup plus 4 tablespoons sugar, divided
1 tablespoon grated lemon rind
3 large eggs, separated
1/3 cup all-purpose flour
1/3 cup freshly squeezed lemon juice
1½ cups whole milk
Preheat oven to 350 degrees.  Butter the cups of a muffin tin. Place 6 tablespoons butter, ¾ cup plus 2 tablespoons of the sugar, and lemon peel into a food processor.  Pulse until well blended.  Add egg yolks one at a time, beating well after each addition.  Add flour and pulse, then add lemon juice and pulse several times.  Gradually mix in milk. The mixture will be thin and may look curdled. In a separate bowl, beat the egg whites with an electric mixer until soft peaks form.  Add remaining 2 tablespoons sugar and beat until stiff.  Gently fold yolk mixture into whites.  Divide batter among muffin tins and bake until puffed and firm to the touch, about 25 minutes.  Set aside to cool.
For the sauce and garnish:
1 (6-ounce) package frozen strawberries in syrup, defrosted
Large fresh strawberries, washed and dried
Pulse strawberries with their juice in a food processor.  Drizzle on 6 dinner plates.  Invert cakes onto a baking sheet and place one cake atop the sauce on each of the plates.  Garnish with fresh strawberries. Serves 6.
The writer owns Catering by Debbi Covington and is the author of the cookbook, Dining Under the Carolina Moon. Debbi's new cookbook, Celebrate Everything! will be released in June 2012. Debbi's website address is www.cateringbydebbicovington.com. She may be reached at 525-0350 or by email at dbc@cateringbydebbicovington.com.