Everyone's a little bit Irish on St. Patrick's Day! There's no better time to sample a few favorite Irish recipes and raise your glass to all things green. Erin go braugh! Ireland forever!
Spinach Salad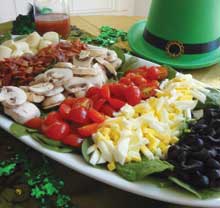 The piquant flavor of the vinaigrette makes this beautiful salad a show-stopper!
For the vinaigrette:
¼ cup red wine vinegar
1 tablespoon Dijon mustard
½ cup ketchup
2 tablespoons sugar
1 tablespoon Worcestershire sauce
1/3 cup vegetable oil
Salt
Freshly ground black pepper
For the salad:
1 (6-ounce) package baby spinach leaves
8 ounces fresh mushrooms, sliced
1 pint grape tomatoes, halved
6 boiled eggs, diced
12 slices bacon, cooked and crumbled
1 (14-ounce) can salad cut hearts of palm, drained
2 (2.25-ounce) cans sliced black olives, drained
In a small bowl, whisk together vinegar, mustard, ketchup, sugar and Worcestershire sauce. Gradually whisk in vegetable oil. Season with salt and pepper, to taste. Spread spinach on a large serving platter. Arrange remaining ingredients decoratively over the spinach. Serve with vinaigrette on the side. Serves 6 to 8.
Corned Beef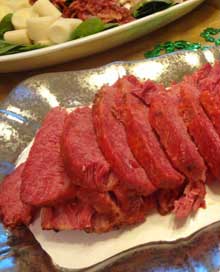 For fork-tender results, never boil corned beef. This is a crock pot version of the classic method still preferred by most chefs. Bottled Catalina salad dressing is our sauce of choice.
1 (4-pound) corned beef brisket
1 cup bottled Catalina salad dressing
Combine mayonnaise with lemon zest, lemon juice, vinegar, Worcestershire sauce, paprika, sugar, salt and pepper in a small bowl until blended. Place coleslaw mix in a large bowl; pour dressing over and toss to coat. Cover and chill until ready to serve. Drain and rinse packaged corned beef. Place corned beef in a crock pot, fat side up. Add seasoning packet and cover meat with water. Cover and cook on high heat for 7 hours or until meat is tender. Remove corned beef from crock pot and place in a baking dish. Using a fork, gently remove fat and discard. Turn corned beef over. Cover with salad dressing. Bake for 20 to 30 minutes in a preheated 350 degree oven until meat is browned and dressing has caramelized. Slice corned beef against the grain, diagonally and thin. Serve with slaw on the side. Serves 10 to 12.
Mama's Potato Salad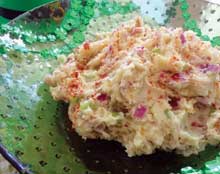 People often ask "why" I use different methods of food preparation than the chefs on television. "Because that's the way my Mama did it" is the best answer that I have!
3 pounds red potatoes
½ red onion, diced
3 stalks celery, chopped
1-1½ cups Miracle Whip
Sweet pickle relish, to taste
Salt
Freshly ground black pepper
Smoked paprika, to garnish
Bring a large pot of water to a boil. Cut potatoes into 2-inch pieces; do not peel. Add potatoes to boiling water and cook until tender. Place red onion, celery and Miracle Whip in a large bowl. Drain cooked potatoes in a colander and add to onion, celery and Miracle Whip. Using a hand mixer, mash potatoes with onion, celery and Miracle Whip to desired texture. Do not over-beat or potatoes will become sticky. Stir in sweet pickle relish and season with salt and freshly ground black pepper. Serve warm or cold in a large bowl garnished with smoked paprika. Serves 8 to 10.
Lemon-Blueberry Cake with Lemon Buttercream Frosting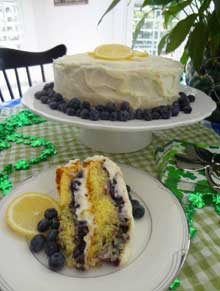 Easy and delicious!
For the cake:
1 (15.25-ounce) package lemon cake mix
1 (21-ounce) can blueberry pie filling
For the frosting:
2 sticks butter, softened
½ cup lemon juice
1 pound confectioner's sugar
Zest of 1 lemon
Fresh Blueberries, to garnish
Preheat oven to 350 degrees. Prepare cake mix according to package directions, making two 8-inch layers. Pour cake batter into greased and floured cake pans. Place dollops of blueberry pie filling evenly on top of each layer. Cut pie filling into batter with a butter knife. Bake in preheated oven for 35 to 37 minutes or until toothpick inserted into center of each cake round comes out clean. Cool for 15 minutes in pans on wire racks then invert cakes onto wire racks to cool completely. Blueberries will be at bottom of cake rounds. Cake rounds will be fragile and dense. In the meantime, prepare frosting by combining butter, lemon juice, confectioner's sugar and lemon zest in a large bowl with an electric mixer. Place one cake round on a platter, blueberries side up and frost. Repeat with the second layer, blueberries side up and frost completely. Garnish with fresh blueberries. Refrigerate for at least 1 hour before serving. Serves 12.
Irish Coffee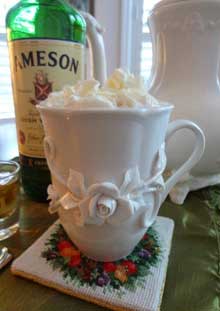 To ensure the integrity of the ingredients of Irish Coffee, Ireland published an Irish standard in 1988. The original recipe explicitly uses brown sugar and cream that has not been whipped. The coffee is drunk through cream that is floated on top. It's actually easier to use cream that has been slightly whipped so that it doesn't mix with the hot coffee.
8 cups freshly brewed coffee
6 tablespoons brown sugar
12 ounces Irish whiskey
Heavy cream, slightly whipped
Fill coffee mugs with hot water to preheat; then empty. Pour piping hot coffee into warmed mugs until they are about ¾ full. Add 1 tablespoon of brown sugar to each mug, stirring to dissolve completely. Add 2 ounces of Irish whiskey to each mug of coffee. Top with whipped cream. Serve hot. Serves 6.

The writer owns Catering by Debbi Covington and is the author of two cookbooks, Celebrate Everything! and Dining Under the Carolina Moon. Debbi's website address is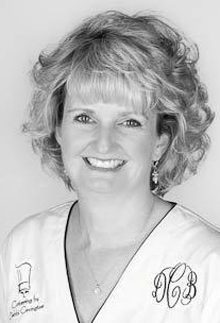 www.cateringbydebbicovington.com. She may be reached at 525-0350 or by email at dbc@cateringbydebbicovington.com.