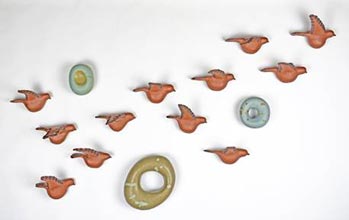 Janis Wilson Hughes at the Art League Gallery
The Art League of Hilton Head announces the exhibition Cycles of Vitality: Ceramic Sculpture by Janis Wilson Hughes opening May 8 in the Walter Greer Gallery on Hilton Head and continuing through June 1.
Hughes' work draws inspiration from various cycles in nature: seasons of planting and harvesting, the migration of birds, the ebb and flow of the tide, changing phases of the moon, and our own arc from infancy to old age. With the Appalachian woods as her childhood playground, Hughes watched the forces of nature both build up and tear down life in an endless cycle. Today the themes of Hughes' work encompass both celebrating the protective shells of latent, dormant life personified in her seed pod sculptures as well as exploring the open spaces created through the weathering of time as embodied in her Traverse pots.
"Life is filled with inevitable and interdependent cycles of vitality", says Hughes. The work included in this show explores vitality through the use of many nature inspired forms including botanical pods, shells, and soaring or sedentary birds that are sculpted from stoneware clay and finished with earthy surface treatments. Hughes creates each piece by hand and uses numerous techniques to construct textured surfaces from adding flowing slip or soft clay to forms to using wood carving tools to sculpt surfaces. Areas of raw clay are left exposed, and colors are applied sparingly using underglazes, stains, engobes, and custom glazes. The scale of work ranges from petite shell sculptures that hang on the wall to floor standing seed pod totems several feet in height.
Hughes explains, "Although I study nature for inspiration, my forms are fanciful archetypes and not literal interpretations. They are meant to suggest questions, entertain, and renew connections through familiarity. When people contemplate my work I hope it rekindles the awareness which has gone dormant in so many of us that we are very much part of nature and not apart from nature."
Janis Wilson Hughes considers herself a native of Johnson City, Tennessee. In 1998 Hughes obtained a degree in Chemical Engineering with an Environmental specialization from Auburn University. After graduation she relocated to Wisconsin to begin an eleven year career as a scientist and engineer. While struggling to find fulfillment in that career, she began her journey with clay. Over the course of several years Hughes studied under numerous talented potters from around the country through workshops and classes. She built her own studio in 2004 after moving to Georgia, and in 2009 Hughes left the corporate world to pursue pottery fulltime. She is now a fulltime ceramic artist and owner of Evolution Stoneware Pottery, LLC.
In 2012 Hughes solidified her creative vision for her body of nature inspired sculptural work during a fruitful artist residency as a Fellow at the Hambidge Center for Creative Arts and Sciences. While Hughes' primary focus is on making art, she also teaches her techniques through workshops, articles for pottery magazines, short videos, and full length instructional DVDs. Hughes has been featured on the cover of Clay Times Magazine and print articles in Pottery Making Illustrated Magazine and the Ceramic Arts Daily website. Hughes' work is carried in several galleries, and her work has been included in more than thirty exhibitions across the United States. Hughes currently resides in Alpharetta, Georgia, a suburb of Atlanta, with her husband and two dogs. She may be contacted through her website www.evolutionstoneware.com.
The public is invited to meet the artist at an Opening Reception on Thursday May 8 from 5 – 7pm at the Art League of Hilton Head, Walter Greer Gallery, 14 Shelter Cove Lane. She will give an Artist Talk at the same location on Friday May 9 at 6 pm. For more information call 681-2399.