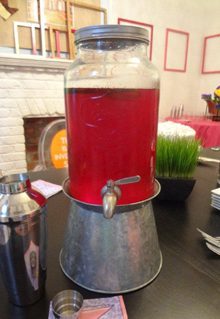 October is a fine time to be in Beaufort, SC! Cooler temperatures invite Beaufortonians out of doors to CELEBRATE EVERYTHING! And, Halloween is a great time to host a Spooky Soiree.
This week's menu is perfect for an autumn luncheon or light supper. Delicious and creamy Pumpkin Bisque En Croute is the starter course. It's a wonderful soup hidden under a fluffy crust of puff pastry. My recipe for Autumn Salad changes with the freshness of the local fruit. This recipes features red delicious apples. You can easily exchange the apples for pears, the blackberries for raspberries, the dried cranberries for raisins and the bacon for chopped walnuts. Make the salad your own. For an extra-special treat, serve a batch of Halloween Martinis at your soiree. Beware! They've been known to bite. (Photography by Susan Deloach. Tablescape by Plum Productions.)
Pumpkin Bisque En Croute
Even without the pastry crust, this creamy soup is a winner!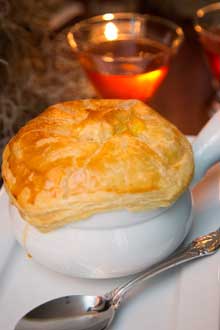 3 cups carrots, peeled and diced
1 medium sweet onion, chopped

4 cups vegetable or chicken broth, divided
1 (30-ounce) can pumpkin
2 (12-ounce) cans evaporated milk
2 tablespoons ketchup
¼ cup dry sherry
Salt and pepper, to taste
Dash nutmeg
2 sheets frozen puff pastry, thawed
1 egg, beaten
In a 3-quart saucepan, cook the carrots and onion in 2 cups of vegetable broth until tender. Remove from heat and let cool slightly. Pour vegetables and broth into a food processor; process until smooth. Pour mixture back into saucepan. Add pumpkin, evaporated milk, ketchup, sherry and spices. Pour soup into four deep oven-proof bowls. Cut rounds of puff pastry slightly larger than the bowl tops and cover each bowl with pastry. Seal the pastry edges and brush lightly with the beaten egg. Place the bowls on a baking sheet and bake in a preheated 400 degree oven for 15 to 20 minutes or until golden brown and puffed. Serves 4.
Autumn Salad
Arugula has a peppery bite that marries well with the sweetness of delicious apples!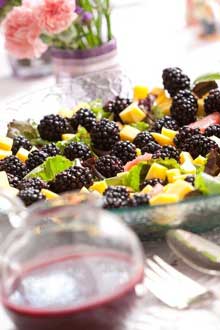 For the vinaigrette:
½ cup olive oil
½ cup balsamic vinegar
1 tablespoon chopped fresh Italian parsley
1 tablespoon chopped fresh thyme
2 tablespoons honey
Salt and freshly ground black pepper, to taste

For the salad:

1 (5-ounce) package arugula
1 large red delicious apple, thinly sliced
2 kiwi, peeled and sliced
Fresh blackberries
½ cup dried cranberries
6 slices bacon, cooked and crumbled
Whisk together vinaigrette ingredients until blended. On a large platter, toss arugula with apples, kiwi, blackberries and cranberries. Top with crumbled bacon. Serves 6.
Halloween Martinis
This is a vodka-based martini with the infusion of tropical oranges — in both taste and color!
1½ cups vodka
¾ cup Grand Marnier
¼ cup orange Curacao
¼ cup maraschino cherry juice

Chill all ingredients before mixing. Pour ingredients into a martini shaker. Shake the alcohol mixture and serve in martini glasses. Serves 10.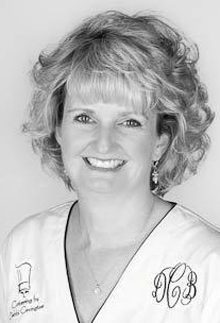 The writer owns Catering by Debbi Covington and is the author of two cookbooks, Celebrate Everything! and Dining Under the Carolina Moon. Debbi's website address is www.cateringbydebbicovington.com. She may be reached at 525-0350 or by email at dbc@cateringbydebbicovington.com.