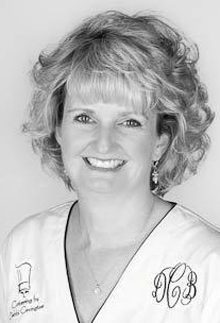 Warm spring weather fills me with added appreciation for the beautiful place in which we live. The air is fresher, the grass is greener, the azaleas are in full bloom – even the water seems bluer! I'm reminded of a time when I hadn't even heard of Tomato Pie or Red Rice, back before I learned how to peel shrimp, before I had ever eaten an oyster –  let alone shucked one!
It's amazing how a palate can change when introduced to exciting new foods! We're certainly blessed with wonderful fresh produce and seafood in our area. The recipes this week are treasured recipes from Beaufort, South Carolina. Many were shared by local friends who have lived in our precious town for most of their lives, the others offer a twist on some Beaufort favorites. They're all simple and delicious!
Oysters Patricia
A treat from the Beaufort River!
3 slices bacon
4 tablespoons chopped onion
3 tablespoons chopped green pepper
2 tablespoons chopped celery
1 teaspoon freshly squeezed lemon juice
1/3 teaspoon salt
Dash pepper
½ teaspoon Worcestershire sauce
2 drops hot pepper sauce
1 pint (16 ounces) fresh oysters, drained
Fry bacon and crumble.  Add onion, green pepper, and celery and cook in bacon drippings until tender.  Add lemon juice, salt, pepper, Worcestershire sauce, and hot pepper sauce and mix well.  Arrange drained oysters in a buttered baking dish.  Spread bacon mixture over oysters.  Bake in a preheated 350 degree oven for about 10 minutes or until brown. Serves 6.
Sea Island Strawberry Bread
Strawberries are the first fruit to come into season in tBeaufort.  When the strawberry farms open, we flock out to the fields to get our first taste of spring.
2 cups sliced fresh strawberries
2 cups sugar (plus extra for sprinkling)
3 cups all-purpose flour
1½ tablespoons cinnamon
1 teaspoon salt
1 teaspoon baking soda
1 cup vegetable oil
4 large eggs, beaten
1¼ cups chopped pecans
Preheat oven to 350 degrees.  Grease and flour 2 (9×5-inch) loaf pans.  Place the strawberries in a bowl. Sprinkle with a little sugar and set aside (to draw out juices).  In another bowl, combine sugar with the flour, cinnamon, salt, and baking soda.  Mix well.  Combine the oil and eggs with the strawberries, then stir them into the flour mixture.  Add the pecans and stir until the dry ingredients are just moistened.  Divide the batter between the prepared pans and bake for 50 to 60 minutes or until a knife inserted in the center comes out clean.  Let the bread cool completely in the pans on a wire rack. Serves 16, 8 slices per loaf.
Pickled Pimento Cheese Tea Sandwiches
Pickled Pimento Cheese tastes best if prepared a day in advance, allowing time for flavors to blend.  Be sure to put lots of filling into the sandwiches.
4 cups (16 ounces) shredded extra-sharp Cheddar cheese
3 hard-boiled eggs, peeled and diced finely
4 tablespoons grated onion
1 (4-ounce) jar diced pimentos, drained
1/3 cup sweet pickle relish
1 cup mayonnaise, or enough to blend mixture smoothly
24 slices white or whole wheat bread
Mix first six ingredients together in a large bowl.  Adjust amount of mayonnaise to make mixture spread easily. Trim edges of bread.  Spread  cheese filling on 12 slices of bread, then put the other 12 bread slices on top.  Slice sandwiches into strips. Serves 12.
Beaufort Tomato Pie
Tomato Pie is a family favorite!  It's especially good during the summer months when local tomatoes are at their peak.
1 (9-inch) deep dish frozen pie shell, baked and cooled
2 or 3 large ripe tomatoes, thickly sliced
Salt, to taste
Pepper, to taste
Dried sweet basil
Chives
3 green onions, chopped
1 cup (scant) salad dressing
1 cup (8 ounces) shredded sharp Cheddar cheese
Fill pie shell with tomato slices.  Sprinkle with salt, pepper, basil, chives, and green onion.  Mix salad dressing and cheese.  Spread over tomatoes, sealing to the edges.  Bake for 35 minutes at degrees. Serves 6 to 8.
Presidential Shrimp and Mushrooms
A richly flavored dish featuring mushrooms, shrimp, and Parmesan cheese in a savory cream sauce.
8 tablespoons (1 stick) butter
¾ cup all-purpose flour
1½ cups half-and-half
1 (10¾-ounce) can condensed cream of mushroom soup
1 (13¼ -ounce) can sliced mushrooms, drained
½ cup grated Parmesan cheese
1½ pounds shrimp, cooked, peeled, and deveined
Garlic powder
Buttered bread crumbs for topping
Preheat oven to 350 degrees.  In saucepan over medium heat, melt butter and stir in flour, then slowly blend in half-and-half, stirring constantly.  Sauce will be thick.  Do not brown.  Add mushroom soup, sliced mushrooms, and Parmesan cheese.  Fold in shrimp.  Add garlic powder to taste.  Pour mixture into buttered casserole dish and top with buttered bread crumbs.  Bake, uncovered, for 25 to 30 minutes. Serves 4.
Red Rice
Another Beaufort staple!
1 cup chopped onion
1 cup chopped green pepper
2 tablespoons butter
1 cup diced smoked sausage
1 (14½ -ounce) can crushed tomatoes with juice
2 tablespoons hot sauce
1 cup tomato sauce
1 cup water
3 chicken bouillon cubes
Pepper
1 cup white rice, uncooked
Preheat oven to 350 degrees.  In a saucepan over medium heat, saute onion and green pepper in butter.  Add sausage and heat until mixture is slightly browned.  Add tomatoes, hot sauce, tomato sauce, water, and bouillon cubes.  Season with pepper to taste.  Stir in rice.  Pour mixture into a greased baking dish and bake for 45 minutes. Serves 6.
Peach and Blueberry Cobbler
South Carolina summers bring ripe, juicy peaches to roadside stands, farmers' markets, and the kitchen table.  Cobbler is a comfort food.  Some desserts, like this peach and blueberry-laden delight, just have a way of making guests feel right at home.  The best peach dishes start with top-quality fruit.  Look for peaches with a deep gold or yellow skin and a strong, sweet aroma. Don't squeeze a peach to check for ripeness; it will bruise the flesh. Serve peach and blueberry cobbler with sweetened whipped cream or vanilla ice cream.
1 tablespoon cornstarch
¼ cup light brown sugar
½ cup cold water
2 cups sliced fresh peaches, sprinkled lightly with sugar
1 cup fresh blueberries
1 tablespoon butter
1 tablespoon lemon juice
1 cup all-purpose flour (sift before measuring)
½ cup sugar
1½ teaspoons baking powder
½ teaspoon salt
½ cup milk
4 tablespoons butter, softened
2 tablespoons sugar
¼ teaspoon nutmeg
Preheat oven to 350 degrees.  Combine cornstarch, brown sugar, and water in a medium-sized saucepan. Add the peaches and the blueberries and cook, stirring, over medium heat until the mixture thickens.  Stir in 1 tablespoon of butter and lemon juice.  Pour mixture into a lightly greased 8-inch round baking dish.  Sift the flour, ½ cup sugar, baking powder, and salt into a mixing bowl.  Add the milk and 4 tablespoons of softened butter and beat with an electric mixer until smooth.  Pour flour mixture over fruit.  Sprinkle top with 2 tablespoons sugar and nutmeg. Bake for 30 minutes. Serves 6.
Lemon Almond Iced Tea
Iced tea was created in the United States over 100 years ago, so it's only fitting that the United States is the only country where most of the tea is enjoyed cold.  Eighty-percent of tea consumed by Americans is served over ice.  Southerners, however, can take credit for making it sweet. To keep iced tea from becoming diluted, freeze some of the tea itself in plastic ice cube trays.  When you're ready to serve, just pop the frozen tea cubes into each glass.
3 quarts boiling water
8 tea bags
¾ cup sugar
1 (12-ounce) can frozen lemonade concentrate, thawed
1 tablespoon vanilla extract
1 tablespoon almond extract
Bring water to a boil.  Remove from heat and add tea bags.  Steep for 15 minutes.  Remove tea bags.  Add sugar and stir until dissolved.  Add lemonade, vanilla , and almond extract.  Chill. Serve over ice. Serves 12.
The writer owns Catering by Debbi Covington and is the author of the cookbook, Dining Under the Carolina Moon. Debbi's new cookbook, Celebrate Everything! will be released in June 2012. Debbi's website address is www.cateringbydebbicovington.com. She may be reached at 525-0350 or by email at dbc@cateringbydebbicovington.com.