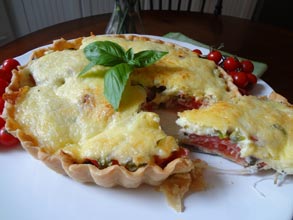 You know it's tomato season in the South Carolina Lowcountry when you can't find one single frozen pie crust in the freezer at Publix. Everyone's making tomato pies. It's a Beaufort thing.
Weeks before local tomatoes are ripe and ready to be picked off the vine, Beaufortonians are saying, "You know, I'm about ready for a tomato pie." We wait for tomato season almost like we wait for Christmas. There's nothing quite like biting into a red, ripe tomato and feeling the juice run down your arm and drip off your elbow. Summer heaven. All you need is a shaker of salt to complete the experience. I remember a time when I didn't believe that I actually liked tomatoes. My Granny Baker took care of that, PDQ. When all that's offered for lunch, a 'mater sandwich, is two slices of white Wonder Bread smeared with Duke's Mayonnaise and filled with three thick slices of peeled tomatoes, you learn very quickly just how delicious tomatoes really are. I've been a fan ever since. And, speaking of locally grown tomatoes, I hope to see you at the very first Beaufort Tomato Festival that will be held on Saturday, July 12th on Cane Island. I'll be the one with the tomato stain on her white shirt. It's best to accept the inevitable.
Beaufort Tomato Pie (above)
1 (9-inch) deep dish frozen pie shell, baked and cooled
2-3 large ripe tomatoes, thickly sliced
Salt, to taste
Pepper, to taste
Fresh basil leaves, julienned
Fresh chives, chopped
3 green onions, chopped
1 cup (scant) mayonnaise or salad dressing
1 cup (8 ounces) shredded sharp Cheddar cheese
Fill pie shell with tomato slices. Sprinkle with salt, pepper, basil, chives and green onion. Mix mayonnaise and cheese. Spread over tomatoes, sealing to the edges. Bake for 35 minutes at 350 degrees. Serves 6.
Herb-Marinated Tomatoes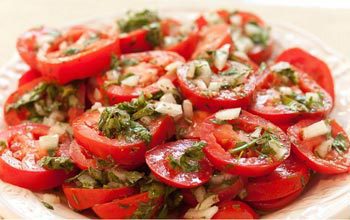 3 to 6 tomatoes, sliced
1/3 cup white wine vinegar
1/3 cup finely chopped onion
1 tablespoon chopped fresh cilantro leaves
¼ cup chopped fresh Italian parsley
¼ cup chopped fresh chives
½ teaspoon dried marjoram
½ teaspoon dried tarragon
½ teaspoon salt
¼ teaspoon pepper
1/3 cup extra-virgin olive oil
ÂÂ 
Arrange tomato slices in a shallow glass dish. In a small bowl, whisk remaining ingredients together; pour over tomatoes. Cover and marinate in refrigerator for a least 5 hours. Serves 8 to 10. (Photography by Paul Nurnberg)
Fancy 'Mater Sandwich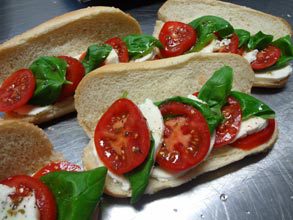 1 sub sandwich roll
Mayonnaise
1 small tomato, sliced
Fresh mozzarella cheese, sliced
Fresh basil leaves
Salt
Freshly ground black pepper
Smear sandwich roll with mayonnaise. Alternately, fill with tomato, mozzarella cheese and fresh basil. Season with salt and pepper. Serves 1.
ÂÂ 
The writer owns Catering by Debbi Covington and is the author of two cookbooks, Gold Medal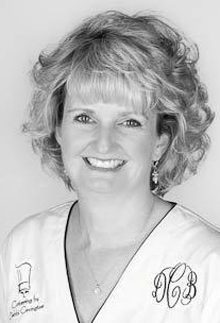 Winner of the Benjamin Franklin Award, Celebrate Everything! and Dining Under the Carolina Moon. Debbi's website address is www.cateringbydebbicovington.com. She may be reached at 525-0350 or by email at dbc@cateringbydebbicovington.com