A couple of weeks ago, my friend Audra and I met for lunch at a new restaurant. It was a typical girls' lunch, a glass of wine, a salad, lots of chit-chat, a bit of catching up and some giggling. We had fun. The food was good. All the normal stuff.
While we were paying our tab, a lady waiting in line behind us kept eyeing me kind of curiously. She finally said, "You look like Debbi Covington." I immediately beamed my hugest ear to ear Cheshire cat toothy smile and declared, "I am!" We shared a few rather uncomfortable niceties and then Audra and I hugged each other goodbye. I hopped into my car still feeling all good about myself and thinking the lady in line was a tad strange. That was until I looked in the mirror. My Cheshire cat grin included a large blob of very dark green spinach in one of my front teeth. I closed my eyes for a couple of seconds, shook my head and then laughed out loud. It's no wonder that sweet lady acted so awkward. It was a humbling moment, a silly humbling moment, but it came with a moral. Don't go anywhere without dental floss. Ever. I promise, if you ever see me out somewhere and find yourself in need, I've got you covered. All you have to do is ask.
The two entree recipes this week feature spinach, of course. I threw in an easy cake recipe, too. Following a blow to the ego, sweet treats are good for the psyche. Human beings. Aren't we an interesting bunch?
Creamed Spinach with Chicken
This is a no fuss crockpot recipe. You can make the same dish in a 350 degree oven. Just mix all ingredients together, cover and bake for 35 to 45 minutes until the chicken tenders are cooked through.
1-1¼ pounds chicken tenders (7-8 tenderloins)
1 tablespoon dry Italian dressing mix
1 (10-ounce) package frozen chopped spinach, thawed and squeezed dry
1 (8-ounce) package cream cheese, softened
½ cup julienned sun-dried tomatoes
¼ cup ketchup
1 cup chicken broth
15-20 pitted whole kalamata olives
Hot cooked pasta
Cooked bacon, crumbled
Capers, drained
Season chicken tenders with Italian dressing mix and place in a crock pot. In a medium bowl, mix spinach with cream cheese, sun-dried tomatoes, ketchup and chicken broth; spoon over chicken tenders. Cover and cook on low for 2½ to 3 hours. Stir in kalamata olives. Serve on hot cooked pasta. Garnish with crumbled bacon and capers. Serves 3 to 4.
Beef, Spinach, Prosciutto and Olive Rolls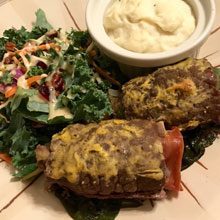 I used beef bottom round steak that was cut extra-thin to make Sabana De Res. Ask your butcher.
1¼-1½ pounds beef bottom round steak, cut extra-thin (8 slices)
Salt and pepper, to taste
1/3 cup yellow mustard
1 tablespoon white vinegar
1 (6-ounce) package fresh baby spinach
1 (3.8-ounce) can sliced black olives (drained weight)
1 (8-ounce) can mushroom stems and pieces (drained weight)
½ medium sweet onion, thinly sliced
4 ounces thinly sliced prosciutto
Season steak with salt and pepper. In a small bowl, mix mustard with vinegar. Lay steaks out on a large cutting board. Brush each steak generously with mustard mixture; reserve some of mixture to brush on finished steak rolls. Spread a layer of 10 to 12 spinach leaves on each piece of steak. Top each evenly with black olives, mushrooms and onion. Finish with sliced prosciutto. Gently roll each steak to secure the fillings. Lightly grease a rectangular baking dish. Spread remaining spinach on bottom of dish. Place beef rolls on top of spinach. Brush each roll with remaining mustard mixture. Cover dish with aluminum foil and bake in a preheated 350 degree oven for 40 to 45 minutes. Let rest for 5 minutes before serving. Serves 4.
Black Forest Cake with Mascarpone Frosting
If you've ever read my column before, you already know that I don't like to bake very much. That's why delicious cakes made with prepared box mixes are my favorites. Canned cherry pie filling makes this cake super-moist. The mascarpone frosting makes this cake divine.
1 (15.25-ounce) box dark chocolate cake mix (eggs, oil & water as directed)
1 (21-ounce) can cherry pie filling
8 ounces mascarpone cheese
1 cup confectioner's sugar
1 teaspoon vanilla extract
1½ cups heavy whipping cream
Chocolate shavings
Bake cake according to package directions, making two cake rounds. Cool thoroughly. In a medium bowl, mix mascarpone cheese with confectioner's sugar and vanilla extract. In a mixing bowl with an electric mixer, whip heavy cream until peaks form. Gently stir mascarpone mixture into whipped cream and then whip again slightly with mixer to completely combine. Gently split each cake layer lengthwise. Place bottom of one layer on a cake plate and top with ½ can of cherry pie filling; top with top layer. Spread a layer of mascarpone frosting on top. Repeat with remaining cake layer. Frost cake completely with frosting. Garnish with shaved chocolate. Refrigerate until ready to serve. Serves 8 to 10.
The writer owns Catering by Debbi Covington and is the author of three cookbooks, Celebrate Beaufort, Celebrate Everything! and Dining Under the Carolina Moon. Debbi's website address is www.cateringbydebbicovington.com. She may be reached at 525-0350 or by email at dbc@cateringbydebbicovington.com.